---
Post Author: Phyllis L. Stutzman
---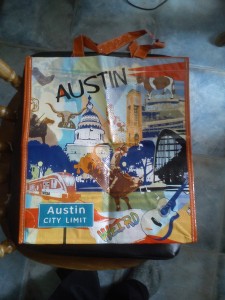 Over two years ago, I responded to a Facebook post, like so many of us do regularly in the virtual community of The Young Clergy Women Project.
The question: Where would you like to see a future TYCWP Conference?
My answer: Austin. Texas! We should go to AUSTIN, TEXAS!
As a pastor, I should know better. Within a matter of months, I was doing initial site inquiries with Austin Presbyterian Theological Seminary. Soon, I found myself on the TYCWP Conference Committee. Last week, I wrapped up one more site visit to put final arrangements in motion. Because, y'all, we are going to Texas!
July 6-9th TYCWP will take Austin, Texas, by storm as we join together in incarnational community for the 2015 Text In Context Conference.
Our keynote speaker is the Rev. Dr. Margaret Aymer. Dr. Aymer spent the last 11 years serving as New Testament professor at the Interdenominational Theological Center in Atlanta and has recently accepted a new call as Associate Professor of New Testament at Austin Presbyterian Theological Seminary, beginning July 1, 2015. At the conference, she will guide us through her work in contextual bible study, join us in conversation and reflection, and give us tools to take contextual bible study back to the unique contexts we each serve in our churches, parishes, hospitals, schools, and all the other places God calls us to ministry.
Contextual bible study comes out of the South African bible studies during apartheid where, historically, white academics were engaged in biblical studies with black women who could not read. The big question: How do you foster the conversation with folks who have wisdom but no formal training? To put it another way, how do we engage our varied communities in authentic and faithful biblical study without simply giving participants the answers or assuming we have all the answers and our communities do not in the first place?
Since TYCWP is nothing if not a varied community, comprised of over 1200 members representing 37 denominations in more than 12 countries, what better place to learn and practice contextual bible study before taking it back to our own communities? With practical applications for creating missions studies, planning year-long youth or small group agendas based on a particular Scripture passage, approaching sermon preparation as a community activity, and ultimately parlaying bible study into inevitable action, this year's conference is a must for my continuing education time and money, and I hope yours, too.
And that's just the keynote. The Conference Committee is hard at work finalizing break-out workshops, self-care opportunities around the city, child-care, spouse/travel companion activities, worship, snacks, meals, quiet prayer space, and all the other community building, spirit renewing, ministry equipping things we've come to love about TYCWP conferences. Because, as important as the keynote sessions and formal learning opportunities are, the networking, brainstorming, and fellowship that happen informally between sessions carry over and keep us connected in our virtual, regional, and denominational communities, until we can all gather together again.
If you haven't experienced a TYCWP conference yet, Text in Context at Austin Presbyterian Theological Seminary in Austin, Texas, with Dr. Margaret Aymer is a great time to start.
Plus, it's in Texas! Austin, Texas: home of cowgirl boots and Keeping Austin Weird, an internationally renowned live music scene and the world's largest urban bat colony, warm summer nights and more Tex-Mex food than we can possibly have time to eat in four short days.
Whether you are a member of The Young Clergy Women Project or On the Road to Ordination (formerly Future Young Clergy Women), make plans to join us this summer, July 6-9th, 2015. Registration, opportunities to help with worship and workshops, and up-to-the-minute conference details are available through the The Young Clergy Women Project website. Y'all come!
---
Phyllis Stutzman pastors First Presbyterian Church in Tecumseh, Oklahoma, is actively involved with ecumenical and interfaith relations work, and continues her ongoing quest to find good Tex-Mex north of the Texas state line.
---
Image by:
Ninian Reid
Used with
permission
https://media.myworshiptimes31.com/wp-content/uploads/sites/3/2015/03/29170251/14126101201_873b59f77d_o.jpg
2592
1944
Phyllis L. Stutzman
https://youngclergywomen.org/wp-content/uploads/sites/3/2017/05/YCWILogo_Vert_Black-300x229.png
Phyllis L. Stutzman
2015-03-31 04:00:33
2019-08-15 14:55:27
Text in Context: TYCWP Conference 2015 is Texas Bound