---
Post Author: Andrea Roske-Metcalfe
---
"What's the focus of that conference you're going to tomorrow, Pastor Andrea?"  The question came from a parishioner following worship, where I had announced that I would be out of the office for the week.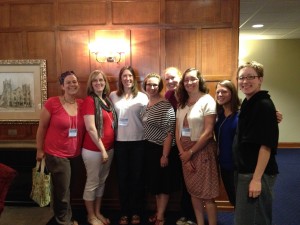 "Um…I can't remember, actually.  I know there's a theme…but it's a conference entirely for young clergy women!"
I'm hesitant to even put these words on the page.  At best, they make me sound disorganized and forgetful.  At worst, like I'm completely disregarding all the hard work that the conference organizers and Ruth Harvey put into creating a cohesive theme for our time together, which they pulled off with both grace and substance.
But the truth is, I didn't give a rat's backside about the theme.  I came for the people.
I came for all of you.  I was hungry for you.  I was coming off of 5 years in Mexico in my first call, where the handful of legitimate colleagues I had in that work were scattered around the globe.  I was the pastor, the administrative assistant, the treasurer, the janitor, the sacristan.  That's not to say that I didn't have amazing people around me, doing similar work, who were part of my support system, but when push came to shove, the buck stopped with me.  In the end, the cheese stands alone, and the cheese can get pretty lonely.
Just under a year ago , I started my second call, as the associate pastor of a Lutheran congregation in the suburbs of St. Paul.  I arrived to the conference in that fuzzy headspace that is the result of piling transitions on top of transitions: my family and I are still living in temporary missionary housing and trying to purchase a home; my husband's employment contract ends in August and nothing else is yet in place; our family of three became a family of four six months ago; and I'm still trying to put names with faces in this new call.
I wondered if I would even be grounded enough to connect with anyone, especially as I arrived late and left early each day in order to shuttle my kids to and from daycare.  I actually wondered if I would be needy enough to connect with anyone, given how much support this project provides for those of us in unhealthy or toxic situations.  I'm lucky to pastor a relatively healthy congregation, and my pastoral colleague – who is, by definition, the opposite of a young clergywoman in every way except for the clergy bit – is a remarkably good match for me in this work.
But in the end, I had no reason to be worried.  In the end, the beauty of this kind of focused peer group coming together is that the piece that often trips us up in meeting new people ("What do you do?"  Oh, gawd…) is the very reason we're all there to begin with.  The truth, however, is that this piece alone is often not enough.  Present pastoral colleague aside, I can't count the number of meetings I've been to where the men seem to have come for no purpose other than to one-up each other, and it's all I can do not to stand up and say, "Do you think we could all just lay them on the table, measure them, and go home??"
In the end, there was no measuring needed.  In the end, it didn't matter how late I could stay or whether I had the right kinds of problems.  What mattered was being in a room with people who were like me, at least in enough ways to allow us to bridge the other differences with little effort.  What mattered was that we were similar enough to start with that we could skip over the small talk, and move right to the big talk.  What mattered was the ease with which we shared ideas and suggestions, support and encouragement, questions and prayers and contact information.
"What was the focus of that conference you went to last week, Pastor Andrea?"
"Um…I can't remember, actually.  I know there was a theme…but it was a conference entirely for young clergy women!"
Honest-to-God, that was the first question a parishioner asked me that following Sunday, and honest-to-God, I still couldn't remember.  I've since gone through my notes, from the plenary sessions and workshops and worship services and even a few lunch conversations and one pop-up parking lot meeting.  There is some good stuff there, let me tell you; the kind of stuff that will serve me well in this work for years to come, in more ways than I can even imagine right now.
But the stuff that will get me through this year, until we meet again in Austin in 2015?  The stuff that will get me through the general highs and lows that are inevitable in ministry, and the particular ones that come with our gender and age? That was the people. That was you.
And I am grateful.
---
Andrea Roske-Metcalfe is the associate pastor at Grace Lutheran Church in Apple Valley, MN.  She is a 2007 graduate of Union Theological Seminary in New York City, and a recipient of the Karen Ziegler Feminist Preaching Prize.  She lives in St. Paul with her husband and two daughters.  She and her family returned in 2013 from Cuernavaca, Mexico, where she served for 5 years as the Mexico Country Coordinator for the ELCA Young Adults in Global Mission program.
---
Image by:
Courtesy of the Twin Cities Young Clergy Women.
Used with
permission
https://media.myworshiptimes31.com/wp-content/uploads/sites/3/2014/08/29170501/Aug-2014-YCW-Twin-Cities.jpg
2448
3264
Andrea Roske-Metcalfe
https://youngclergywomen.org/wp-content/uploads/sites/3/2017/05/YCWILogo_Vert_Black-300x229.png
Andrea Roske-Metcalfe
2014-08-21 04:00:05
2019-08-15 17:26:06
Skipping Over the Small Talk: An Open Letter of Gratitude