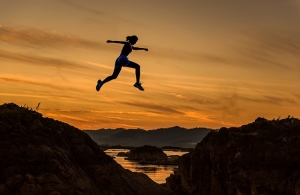 Dear Friend,
I was recently thinking back to my third date with Daniel. He reached across the table for my hand and asked, "What would you do with your life if you knew you couldn't fail?" The question caught me off guard, so I paused before sharing a wild and intimate dream, feeling half embarrassed and half thrilled by voicing this fervent hope.
I'm not as exciting a date, but I'd like to pose a similar question: what would your church be doing if you knew you could not fail? I know you're plagued with fear about how the church is going to pledge the budget. I know the ceiling in the back of the sanctuary is still leaking when it rains. I know that there continue to be arguments in your congregation about whether or not the church can be open and affirming to LGBTQ+ folks. I know that your church bully came to the office this week. And I know that you are exhausted with what the poet John Blase refers to as "the sheer unimaginativity of what passes for wrestling with angels or walking on water."[1] I know because I feel the exact same way.
My friend, I think you need reminding that the Church cannot fail. This beautiful, bedraggled Bride has a future more glorious than we could ever figure out in a planning retreat with our Elders. I think you have temporarily forgotten that all will be well.
I was talking with Zada recently. (Can you believe I have a ten year old now?)
"People are getting impatient," she explained, in response to my question about why she thinks people don't engage in churches in the same way they may have in the past.
"How so?"
"Well, if churches aren't treating all people with kindness and respect, other people aren't going to put up with it anymore, so they stop believing in God or at least stop going to that church."
We are up against a truth that a ten-year-old can plainly see. Our churches have become apathetic and lethargic. I'm not sure that the scholars talking about the decline of church as we have known it use the word "impatient," but it actually feels really accurate. Our congregations are impatient with a world that has left them behind. The world is impatient with a church that seems increasingly irrelevant and wrongheaded. The impatience is frustrating, hard, and sad, but it is not insurmountable. Read more
https://media.myworshiptimes31.com/wp-content/uploads/sites/3/2018/08/29165400/woman-leaping-rock-to-rock-ministry-lab-aug-2018.jpg
415
640
Jenny Lee-Maurer
https://youngclergywomen.org/wp-content/uploads/sites/3/2017/05/YCWILogo_Vert_Black-300x229.png
Jenny Lee-Maurer
2018-08-21 04:00:10
2018-11-13 11:31:37
Fear Not: A Letter to a Young Clergy Woman