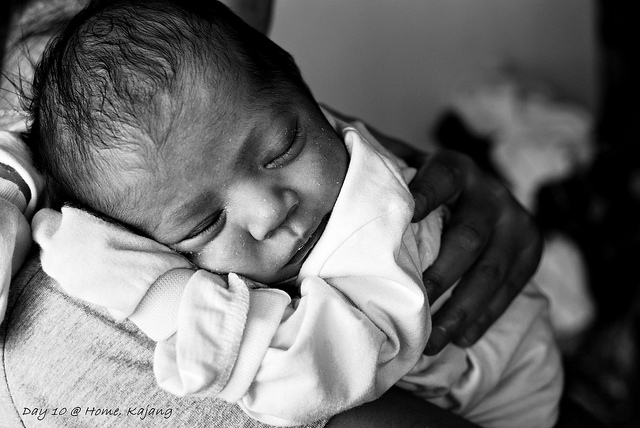 I am sitting in my office at the Seminary where I teach on the second day of a new semester. Last year at this time, I was home on maternity leave, finishing out the summer with my three kids, including my two-month-old infant. One year later, I'm better able to process the importance of the maternity leave I received from my then-new employer.
I remember my mother, who is a pediatrician, telling me how she took as little maternity leave as possible. When she started having babies she was a resident, and would have to make up any hours she missed at the hospital, adding them to an already grueling and sleep-deprived schedule. I was shocked by this, until I faced the same reality thirty years later in a Christian organization.
When I was pregnant with my last baby, I found out that if I missed teaching courses, I'd have to make those hours up in subsequent terms. This would have meant teaching an overloaded schedule for two terms while pumping every three hours, not sleeping well, and adjusting to life with a new baby. I would have done it, because it was my job and my vocation. I would have done it because I have a partner at home who could help and because we had childcare for which we would have to pay. I would have done it. It would have been awful. I would have suffered. My children and husband would have suffered.
This was not the reason I left that institution, yet I am so very grateful that my current institution did not ask me to make up those hours I missed while I was getting to know my new baby, nursing round the clock, and trying to figure out how our family of five was going to function in a new location with both parents starting new jobs. I was able to take my maternity leave and come back to work ready to teach. I jumped into a team-taught class mid-semester and taught a regular load the following semester. No, my baby was not yet sleeping through the night, but I was able to think and function fully in my job. My body had healed. And I knew I had the support of my institution in my calling not just as a professor, but as a mother.
I know that in the United States, I am in a small minority of women who have had such a good experience with maternity leave. According to Pew Research, the United States trails the world in paid parental leave even though we have increasingly more two-working-parent households, and many where the mother is sole or primary breadwinner.[1]
For comparison, my brother lives in Norway. Here's the parental leave policy there: "After every birth, the parents[2] both benefit from a two-week leave and then divide up the 46-week parental leave paid at 100%, or alternatively, 56 weeks paid at 80%. In this way, Norwegian babies spend their first year with both their parents. To encourage men to take care of their children, a special 10-week quota is reserved for them. If they are reluctant to take pappapermisjon [paternity leave], they lose the 10 weeks, since the time can't be transferred to the mother and the whole family loses out. The results have been spectacular. In Norway, 90% of fathers take at least 12 weeks' paternity leave."[3] Read more
https://media.myworshiptimes31.com/wp-content/uploads/sites/3/2018/10/29165324/baby-bw-lift-up-your-hearts-oct-2018.jpg
428
640
Rev. Dr. Emily Peck-McClain
https://youngclergywomen.org/wp-content/uploads/sites/3/2017/05/YCWILogo_Vert_Black-300x229.png
Rev. Dr. Emily Peck-McClain
2018-10-11 09:55:45
2018-11-13 11:31:02
Real Family Values