---
Post Author: Rev. Dr. Emily Peck-McClain
---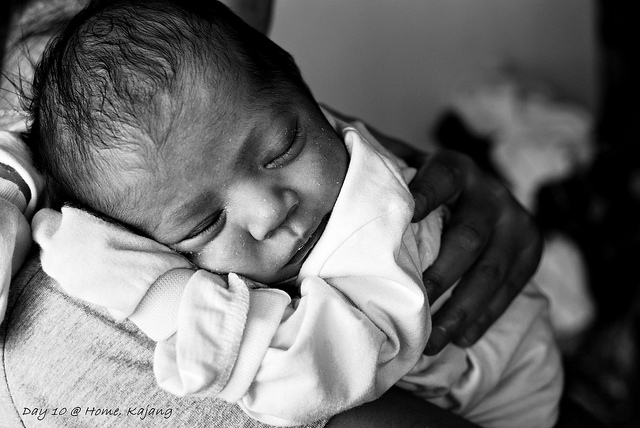 I am sitting in my office at the Seminary where I teach on the second day of a new semester. Last year at this time, I was home on maternity leave, finishing out the summer with my three kids, including my two-month-old infant. One year later, I'm better able to process the importance of the maternity leave I received from my then-new employer.
I remember my mother, who is a pediatrician, telling me how she took as little maternity leave as possible. When she started having babies she was a resident, and would have to make up any hours she missed at the hospital, adding them to an already grueling and sleep-deprived schedule. I was shocked by this, until I faced the same reality thirty years later in a Christian organization.
When I was pregnant with my last baby, I found out that if I missed teaching courses, I'd have to make those hours up in subsequent terms. This would have meant teaching an overloaded schedule for two terms while pumping every three hours, not sleeping well, and adjusting to life with a new baby. I would have done it, because it was my job and my vocation. I would have done it because I have a partner at home who could help and because we had childcare for which we would have to pay. I would have done it. It would have been awful. I would have suffered. My children and husband would have suffered.
This was not the reason I left that institution, yet I am so very grateful that my current institution did not ask me to make up those hours I missed while I was getting to know my new baby, nursing round the clock, and trying to figure out how our family of five was going to function in a new location with both parents starting new jobs. I was able to take my maternity leave and come back to work ready to teach. I jumped into a team-taught class mid-semester and taught a regular load the following semester. No, my baby was not yet sleeping through the night, but I was able to think and function fully in my job. My body had healed. And I knew I had the support of my institution in my calling not just as a professor, but as a mother.
I know that in the United States, I am in a small minority of women who have had such a good experience with maternity leave. According to Pew Research, the United States trails the world in paid parental leave even though we have increasingly more two-working-parent households, and many where the mother is sole or primary breadwinner.[1]
For comparison, my brother lives in Norway. Here's the parental leave policy there: "After every birth, the parents[2] both benefit from a two-week leave and then divide up the 46-week parental leave paid at 100%, or alternatively, 56 weeks paid at 80%. In this way, Norwegian babies spend their first year with both their parents. To encourage men to take care of their children, a special 10-week quota is reserved for them. If they are reluctant to take pappapermisjon [paternity leave], they lose the 10 weeks, since the time can't be transferred to the mother and the whole family loses out. The results have been spectacular. In Norway, 90% of fathers take at least 12 weeks' paternity leave."[3]
In work spaces that are, or have been, traditionally male dominated – including the church and church-related institutions – some of us women are the first to have babies or adopt while on staff. There may be no policies in place even for basic maternity leave. We may be advocating for ourselves with all-male boards. Although legal protections prohibit employers asking prospective employees about family plans or current configurations, inside the church, with volunteer personnel committees, it is commonplace. Women are asked if we plan on having children, or told directly that they are wary of offering us a job because we might get pregnant and expect time off.
As long as organizations are choosing to hire younger adults, they must reckon with the fact that some of them may choose to birth, adopt, or foster children. They can be annoyed by this. They can implement practices that punish women for having babies or adopting by not offering maternity leave, cutting hours, letting them go, or setting up a hostile work environment where the woman needs to quit. They can punish the spouse by offering no parental leave, or if offering it, making it clear that they don't really need to take it.
However, because there is always a choice, an organization can embrace this stage in its community members' lives through family supportive practices. That begins with reasonable, or preferably generous, paid parental leave, regardless of what the law requires. Most daycares are legally not allowed to care for infants under 6 weeks old. At the very least, every workplace should have paid parental leave until the baby is old enough to be allowed to be cared for by the childcare options available.
Even then, at 6 weeks a baby is still not sleeping through the night, and healing from giving birth is not complete. For families who are adopting a baby or child, 6 weeks is barely enough time for a new home situation to start to feel anything like home. If we want parents to be able to fulfill their dual callings to parenthood and to work, to do their best work in both places, we must offer, encourage, support and advocate for paid parental leave.
Parental leave is a moral issue, a faith issue, and a justice issue. Christians are commanded to love their neighbors and to care for the most vulnerable. Christians historically have supported families through programming, education, worship, and advocacy. If supporting parents who are expanding their families by adding children is not a family value, then what is? Unpaid leave is unethical – it allows leave for the wealthy and not for the poor. Jesus' care of those who are poor, and his admonition that his followers do the same, couldn't be any clearer.
Churches and church-related institutions must embrace parental leave policies before they are needed. Policies must be formulated with women centered in the conversation. New parents, clergy included, need advocates and allies. Having children should be celebrated and supported, as a matter of conscience. Christian organizations should be at the forefront of this, as a matter of faith, first by providing generous leave policies for their own employees, and then by advocating for the same to be offered to all families. If we aspire to meaningful family values and support, if we take seriously the sanctity of life, there is no other choice.
___________
[1]http://www.pewresearch.org/fact-tank/2016/09/26/u-s-lacks-mandated-paid-parental-leave/
[2]https://www.theguardian.com/lifeandstyle/parents-and-parenting
[3]https://www.theguardian.com/money/2011/jul/19/norway-dads-peternity-leave-chemin
---
Rev. Dr. Emily A. Peck-McClain is the Visiting Professor of Christian Formation and Young Adult Ministries at Wesley Theological Seminary in Washington, D.C.
She is the author of Arm in Arm With Adolescent Girls and a contributing editor to We Pray With Her. She is also mom to three great kids, all of whom now (generally) sleep through the night. Thanks be to God.
---
Image by:
Haifeez
Used with
permission
https://media.myworshiptimes31.com/wp-content/uploads/sites/3/2018/10/29165324/baby-bw-lift-up-your-hearts-oct-2018.jpg
428
640
Rev. Dr. Emily Peck-McClain
https://youngclergywomen.org/wp-content/uploads/sites/3/2017/05/YCWILogo_Vert_Black-300x229.png
Rev. Dr. Emily Peck-McClain
2018-10-11 09:55:45
2018-11-13 11:31:02
Real Family Values