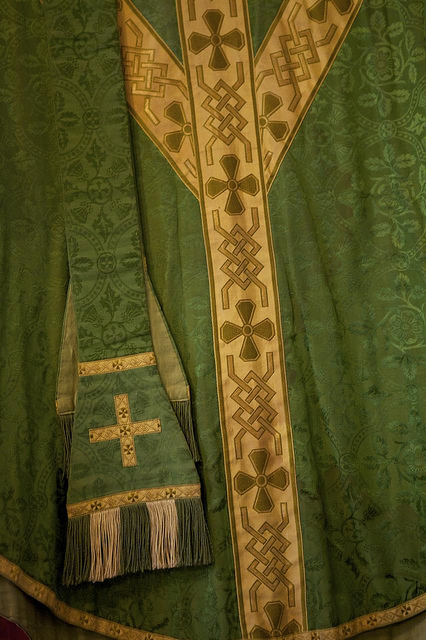 There I stood, looking at myself in the mirror.  I had done this many times before.  As a little girl playing dress up, I recall stuffing tissues into the backs of my mom's heels and proudly stomping around the house.  I recall putting on deep red lipstick, borrowed from my five-year-old best friend, a precious ruby red form of what I thought to be womanhood.  And I recall filling the tops of my dresses with two pairs of socks and staring admirably at the woman I had yet to grow into.
Yet this time was different.  It was November 2011, over Thanksgiving weekend.  My husband and I had volunteered to help my mom clear out my dad's office at the church he served as head pastor for 23 years.  My dad had just died of cancer and there hadn't been time to clean out his office.  We sorted through accordions of files, all dedicated to the ministry.  On the files we saw titles like "Session," "Capital Campaign," "Christmas Eve Services," "Vision Planning."  We sorted books on the church, on trips to the Holy Land, on different Bible translations.  While my husband and mom began toting the trash into the bin outside, I decided to conquer the task of cleaning out my dad's bathroom.
I found them in the closet: my dad's stoles, thick rainbows of fabric hanging on each shoulder of hangers, each strand of cloth representing a strand of ministry my dad performed—a stole for baptisms, a stole for Communion, a stole from mission trips, a stole for Advent.  I was lost in the memories, in the meaning of these stoles until my mom interrupted me.  "Sweetie, you can take any of those you want.  Dad would have loved nothing more than for you to have those."
She went back to sorting files and I eagerly assumed my dress up role.  I placed one stole on my shoulders after another, carefully arranging each one to lay flat over my chest, meticulously pulling my hair out from the collar each time, and there I stood, looking at myself in the mirror. How many times had my dad straightened the collar of his stole here?  How many times had my dad arranged his microphone here?  How many times did my dad go over the order of service here with this stole on?  How many people did my dad hug after he preached in these stoles?  How many people did he baptize and call children of God in this one?  How many people all over the world would recognize my dad as the pastor on the mission field in this one?  How many times did my dad say "On the night he was betrayed" in this one?    How many times did my dad light the Advent candle and preach of Jesus' birth in this one?  I suddenly felt the weight of the fabric and the heat accumulating on my shoulders as I looked at myself.
Near the end of Exodus, God commands Moses to set up a tent of meeting. The passage is full of detailed descriptions of elements in the tabernacle: an altar for incense, a basin for washing, a lamp stand. And there are priestly garments for Aaron.  In Exodus 28:2-3, God commands Moses, "Make sacred garments for your brother Aaron to give him dignity and honor. Tell all the skilled workers to whom I have given wisdom in such matters that they are to make garments for Aaron, for his consecration, so he may serve me as priest."  So Aaron serves as priest throughout Exodus, Leviticus, and Numbers.  And near the end of Numbers, God says to Moses:  "'Get Aaron and his son Eleazar and take them up Mount Hor. Remove Aaron's garments and put them on his son Eleazar, for Aaron will be gathered to his people; he will die there.' Moses did as the LORD commanded: They went up Mount Hor in the sight of the whole community. Moses removed Aaron's garments and put them on his son Eleazar. And Aaron died there on top of the mountain" (Numbers 20:25-28).
There wasn't time for my dad to remove his stoles and place them on me before he died. But in that moment, as I looked at myself in the mirror in my dad's office, I was not a little girl playing dress up.  I was a woman called by God and encouraged and inspired by my dad to continue ministry.  Just as my dad exclaimed in delight "This one's mine!" on the day of my birth because I was the first child with his dimples, so God delights in my calling to ministry, so God delights in watching me play dress up in the stoles I can't wait to wear, so God exclaims "This one's mine!"
The stoles still hang as thick rainbows of fabric, although now they hang as strands of ministry in my closet, strands of ministry to which I am called and to which I will be ordained soon enough.  And although now I do have the adult feet to fit into heels, the option of wearing lipstick, and a chest that doesn't need socks to fill it out, I now have the most excitement about getting to wear my dad's stoles and turning dress up into a real life calling.
https://media.myworshiptimes31.com/wp-content/uploads/sites/3/2012/08/29171010/vestments.jpg
640
426
Mary Beth McSwain
https://youngclergywomen.org/wp-content/uploads/sites/3/2017/05/YCWILogo_Vert_Black-300x229.png
Mary Beth McSwain
2012-08-28 04:00:43
2016-02-17 15:59:50
Playing Dress Up