---
Post Author: Stacy Smith
---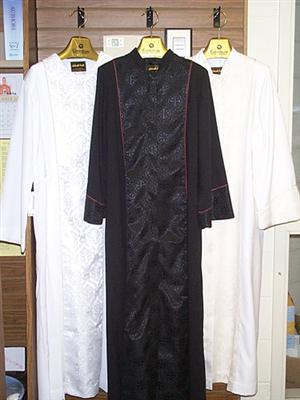 I do not own a robe.
When I was ordained last year, I showed up to the service in Texas without a robe or any plan for procuring one. I think I believed that a robe would magically appear for me. There would be a Fairy God-mother who would use her magic wand to spin me up in a cloud of fairy dust, and out I would emerge, encased in a black, wool evening gown and sequined pastor's stole. Or perhaps tiny bluebirds would each grab a corner and fly my new robe in through the window, while small woodland creatures looked on and whistled a happy tune.
Surprisingly, none of these things happened. Instead, my friend laughed at me and said, "You came to your ordination without a robe? Isn't that like going to your wedding without your wedding dress?"
Funny.
So when I was ordained I was wearing a twenty year-old Geneva-style robe that had been recently cast aside by a pastor who had received her DMin and had purchased a new one with doctoral stripes on the sleeves. It is too short and in the pictures I look like a black marshmallow. I presided over communion for the first time with my best friend, who is also a pastor and was pregnant. She has a fitted woman's robe and although she was pregnant, I look much bigger than her in all the pictures, a stupid injustice I will fully lament after I lose twenty pounds.
Luckily I work at a large church with several pastors on staff, so every Sunday I borrow someone's robe for the service. Sometimes I can wear the associate pastor's robe, which is new and has pockets. But most of the time I wear the robe of an ordained woman who is a full-time pastoral counselor and rarely leads worship. The black velvet is fraying all over the collar and down the front of the robe. Two of the clasps at the top are completely gone, and one is hanging on, literally, by a thread. It has no pockets and I almost always wear a dress to church, so each week we have to rig the microphone pack at the back of my neck. It's uncomfortable and annoying but I have no plans or desire to change anytime soon.
The other pastors are forever asking me to purchase a robe for myself. But apparently I have some strange and growing abhorrence toward buying one of these things. I have no problem dumping money on books or facials or black Cole Haan pumps, but I cannot make myself get my own robe.
It's the double injustice of the situation that really gets me. Most Presbyterian ministers wear the Wesley or Geneva robes, giant things with shoulder pads that make a football player look dainty. They do make these for women, but I swear there is no difference in the style of the robe. Every time I put it on, I can feel the layers of cloth swimming around my neck, choking my speech and hiding my lack-of an Adam's apple. They are built to disguise my curves, to make me appear more like the men on my left and right of the chancel.
But then there are those "woman" robes that are more fitted and taper at the waist. These make me feel like a fraction of a pastor, some diluted version who can't fill daddy's big shoes. Plus, is this how we distinguish ourselves from the male pastors, by dressing in something modeled off of the men's garment and calling attention to our breasts and hips?
These are illogical arguments, I know. They probably point to some deep-seated issues of female identity and a growing inferiority complex.
But I do not feel inferior in worship. When I am leading or singing or preaching or praying, all these fears and issues about what I am wearing fly out the window on the wings of tiny bluebirds. I do not fear that my voice is too high for the old men, or that people are looking at my legs rather than my eyes, or that they are wondering when the Rev. Ms. Stacy Smith will graduate to the Rev. Mrs. Stacy Smith. No, I am focused on God, and on helping the congregation in their worship and praise, and I love every minute of our boring, traditional, Presbyterian worship.
And afterward, when I look down at the scratchy black polyester and fraying velvet, I remember that I am wearing someone else's clothes, and that I cannot or will not purchase my own.
---
Rev. Stacy Smith is a Lake Fellow in Parish Ministry at Second Presbyterian Church in Indianapolis, Indiana. Since the writing of this piece, she has unearthed her robe from the closet and now wears it – with much pride and some trepidation – in Sunday worship. She looks good, too.
---
Image by:
Stacy Smith
Used with
permission
https://media.myworshiptimes31.com/wp-content/uploads/sites/3/2008/08/29164817/robes-divine-details-aug-2008-featured.jpeg
200
300
Stacy Smith
https://youngclergywomen.org/wp-content/uploads/sites/3/2017/05/YCWILogo_Vert_Black-300x229.png
Stacy Smith
2008-08-07 02:33:00
2019-09-04 15:01:30
I do not own a robe