---
Post Author: Emily Elspeth Mitchell
---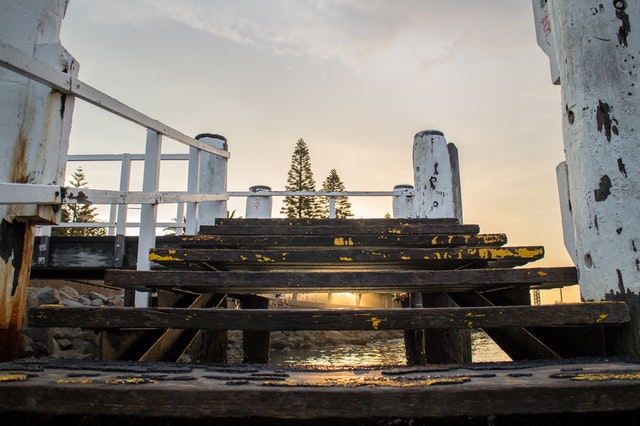 Many years ago, one of my mentors moved from a large, prominent church to serving a mid-sized church. I suspect that she had brought with her some of the big-church cultural anxieties, with an emphasis on high performance and adopting best practices from the corporate world. She told me that a couple of months into working at the new church the senior pastor said to her, "God brought you to this church, and maybe God is not as interested in doing something through you here but more to do something in you here."
She told me this anecdote with evident joy and appreciation. In the years since the senior pastor had made that insight, I could tell that she had given herself permission to relax and find greater freedom and grace in her ministry. I resonated with her story and filed it away in my memory as a good invitation of how to understand my own ministry.
Five months later, I ran a half-marathon. It was an okay experience, but during the race I started to realize just how negative my self-talk was. My thoughts included: "You're so slow." "You didn't train hard enough." "You don't push yourself like you should." I finished the race. I had wanted to complete it in under 2 hours, and I finished it in 2 hours and 20 seconds. I was disappointed with myself.
I went for a run less than a week after my half-marathon, and while I jogged that morning, I thought of how consistently some variation of the line "not good enough" played in my head as I ran. I sensed the Holy Spirit urging me to reframe running, just as that senior pastor had reframed ministry for my mentor. Maybe God gave me running not as something for God to achieve through me but God had given me running to change something in me.
Friends, I needed to be honest: I'm not going to be an elite runner, and I need to be okay with that. My shame and guilt around my slow pace was unhelpful. In the movie "Chariots of Fire," the protagonist said that when he runs, he feels God's pleasure. But that hadn't been my experience: I have been much more attuned to my displeasure than God's pleasure. My displeasure was very much connected to my performance, which I judged to be mediocre. I realized that I placed too much of a value on output and being productive, but, if God is more interested in doing something in me, maybe the outcome of my running didn't matter that much.
I recently read "Nurturing Hope: Christian Pastoral Care in the Twenty-First Century" by my friend Lynne M. Baab, and one of the chapters dealt with listening skills. Baab brought up the importance of coping with inner noise (the emotions and thoughts that impede our ability to listen). During that post-half-marathon run, I realized that I had not been coping at all with the inner noise. I discovered that the change within me God was inviting me to make involved my mental hygiene.
Just as brushing my teeth and cutting my fingernails are important for physical hygiene, mental hygiene is important. There are steps I can take to maintain my psychological well-being. I started to pay greater attention to the thoughts that I had previously allowed free dominion in my mind while I was running.
In 2 Corinthians 10:5, Paul declares, "we take captive every thought to make it obedient to Christ." One way that I take every thought captive is that I subject it to the friend test. If a friend said this thought, how would I respond? If a friend made repeated criticisms about how I looked, smelled, and moved while I ran, I would be shocked and rule her to be a bad friend, a negative person, and someone with whom I should limit my interactions. I would never tolerate a friend who would cut me down with constant criticism, but somehow those comments had been previously acceptable because they were self-directed.
I am learning, therefore, to be a better friend to myself. I am learning to replace the lie "you're weak" with how a friend often encourages me: "stay strong." I am learning to be grateful for my two legs that can carry me forward instead of hating their veins or their sluggishness. I do believe that God has given me running, not as a competitive form of exercise, but as an opportunity for me to ponder anew what the Almighty is doing in me when with divine love God befriends me.
I pray that, just as I am being a better friend to myself by regulating the inner noise, you, too, can cultivate good mental hygiene. May we all give ourselves permission to get off the relentless treadmill of performance and find greater freedom and grace in all facets of ministry and life.
---
Emily has been serving as Associate Pastor of First Presbyterian Maumee in Northwest Ohio since January 2015. She previously served as a pastoral resident at Bellevue Presbyterian in Washington State. She holds degrees from Princeton Theological Seminary and Whitman College.
Emily grew up in Seattle; therefore, she recycles, makes her own granola, and enjoys spending time outdoors. She averages reading over 35 books a year.
---
Image by:
Patrick McLachlan
Used with
permission
https://media.myworshiptimes31.com/wp-content/uploads/sites/3/2018/09/29165347/wooden-stairs-dock-hggb-sept-2018.jpeg
426
640
Emily Elspeth Mitchell
https://youngclergywomen.org/wp-content/uploads/sites/3/2017/05/YCWILogo_Vert_Black-300x229.png
Emily Elspeth Mitchell
2018-09-13 04:00:11
2018-11-13 11:31:02
The Importance of Mental Hygiene