---
Post Author: Kyndall Rae Rothaus
---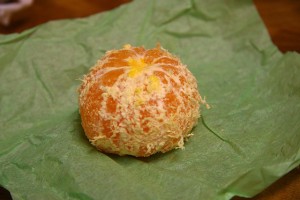 The mandarin was Aurelia's idea. The rest of the rituals had been pre-planned by me, but her spontaneity with the fruit helped. Let me explain. We were throwing a funeral for my marriage.
It seemed to me that my grief needed somewhere to go. My grief needed a container, a sacred space, a ritual embrace. This is what funerals do for the loved ones of the deceased, but no one throws you a wake when your marriage dies. So this was one of those instances where I decided to be a minister to myself and give my marriage a proper burial. I asked Aurelia to bear witness, that is, to preside as priest.
I started the day alone in the woods, writing a letter to my younger self, which said,
Dear Kyndall,
Looking at your favorite wedding gown photo, you almost seem like a different person, like I am looking at someone else. I guess if I could tell you anything, I would say, "Baby, it is going to be okay. You are going to get hurt again, keep getting hurt, but you cannot be faulted for loving. You are passionate and you are all in, and honey, that wasn't wrong. I don't think you made a mistake by getting married. You made a choice, just like you're making a different choice now. You took a risk, and now you are facing the heartache that came from risking, but to take the risk wasn't wrong or stupid. It was full of heart and yes, some youthful naïveté, some loving blindness, and even some desperate willing ignorance at times, but baby, you were doing your damn best at love and forgiveness and mended trust, and that is nothing you ever need to be ashamed of.
You were willing to love every inch of a broken man, and that was an okay thing to do, even if it didn't work. Even though your love didn't win him over or heal him or fix him in the end. Now it is time to give up your hope that he will change, hand it to God or to whoever, but it isn't your burden anymore, to try and make him okay. You are released.
Love,
Your Slightly Wiser Self
Next I wrote the goodbye letter to the marriage. This letter was tougher to write: "I've never had anything this close to me die…when I die, I'd prefer one of those biodegradable caskets so that eventually my body returns to the dust, where it can one day provide nourishment to the trees." And so as I thought about my deceased marriage, I said to it, "I want to plant you into the soil of my becoming. I want to bury you with the fallen leaves and the rotting wood and the smelly manure, and I want to trust that you have nutrients to provide me, even in your painful stench. I want to integrate my past into my future. I want to make you sacred ground with my reverence and my intentional watering. I want to learn all your lessons."
After the letter writing, Aurelia joined me. We sat by the river and I read her some of my darkest poems and journal entries. That way someone could bear witness to the pain. She said some words appropriate to the pain, but also hopeful, like a good minister would. I had gathered a pile of sticks beside me, and then I hurled them, one-by-one, into the water and named what I needed to let go of. Again, she listened.
We needed some comic relief, so Aurelia spontaneously turned our snack into a liturgy too (like a good minister might), such that as we peeled off the skin of the mandarin, we were praying too. It was lighthearted but genuine.
Next we moved to hope. This was symbolized by our hiking up to the top of a hill. Once we reached the top, Aurelia pulled out a candle and lit it as a tiny, nonverbal way to say, "God is here."
I wrote new vows to myself.
We prayed some faltering prayers. Aurelia read out loud to me letter after letter from my friends and family, all of them saying exactly why they felt hope for me. I think in the New Testament, they call this the laying on of hands, though it was just me and Aurelia up there on the mountain top.
After that we began the descent. We headed back down to regular life with all its challenges where we discovered my car battery had died in the parking lot. A helpful transgender stranger gave my car a jump, and then Aurelia and I headed for a gluttonous lunch to wrap it all up, which I believe the Bible calls feasting.
And now here I am, more than a year past divorce, past the day of ritual goodbye, and while it didn't fix my sadness to hold a funeral, it widened my capacity to heal. It provided a place for my grief to go. It helped me move in the direction of hope, which is what a ceremony is meant to do.
To my minister friends, I would say this, no matter how tough it gets, never stop being a minister to yourself, and don't forget to tell your friends when you need a priest.
---
Reverend Kyndall Rae Rothaus is the pastor of Covenant Baptist Church in San Antonio, Texas and the author of Preacher Breath (Smyth and Helwys 2015). She is also a spoken word artist, and she blogs as kyndallrae.com. Kyndall graduated from George W. Truett Seminary at Baylor University.
---
Image by:
Bill Stilwell
Used with
permission
https://media.myworshiptimes31.com/wp-content/uploads/sites/3/2015/05/29170212/71064921_1402685c56_z.jpg
427
640
Kyndall Rae Rothaus
https://youngclergywomen.org/wp-content/uploads/sites/3/2017/05/YCWILogo_Vert_Black-300x229.png
Kyndall Rae Rothaus
2015-06-16 04:00:13
2018-11-13 11:38:34
The Liturgy of the Mandarin Orange: A Divorce Ceremony