---
Post Author: Stephanie Kendell
---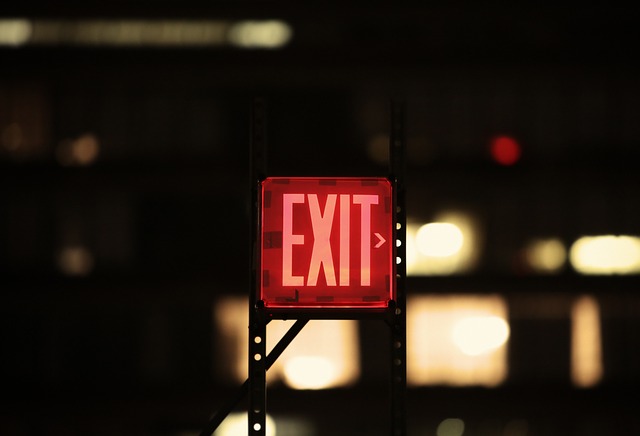 As the new year unfolds, so often does the need for casting new visions for the church. The new year can be a space in which to start anew and a moment for leadership to cast new visions for the communities they serve. Improving the functioning of the church to best support and sustain its more visible ministries is often the first step in achieving these new visions. Unfortunately, this often comes with the prayerful discernment that changes might need to be made to the roles and employment of paid and unpaid lay staff. In short, sometimes in order to strengthen your church's ministry and fulfill its vision, it is necessary to let an employee go.
I used to work a corporate job where, for over nine years, I was instrumental in the hiring and firing of staff from multiple departments. From that experience, I learned what is the best practice when having to give someone the news that they no longer have a job under your employment.
Now let's be honest, this is one of the worst parts of the job. No one wants to be the bearer of bad news…we are supposed to be the good news people! But unfortunately, this is a part of the job and one that is not spoken about enough. Of course, please follow all the employment laws you are required to by your church and state governance and report all unlawful activity to the appropriate authorities. I am also only talking about the specific act of letting someone go, not the process of discernment that should lead up to the decision. This article assumes that a healthy and contextually appropriate discernment process involving church leadership, has been completed and brought you to the need for termination.
Once I started doing this more regularly, although it never got easier emotionally, I became more adept at doing it skillfully and compassionately. I created an acronym to remind me of the things I needed to make this meeting as respectful and dignity-giving as possible.  That acronym is P.H.A.S.E.S. It stands for: Pray, Have paperwork ready, At beginning of shift in private, Supervisor (or HR), Exit strategy, Say as little as possible. I will go through each of these in a bit more detail. All of these steps can also be adapted to your specific context and are only meant to help open the conversation around this part of the pastoral role.
Preparing for the Meeting
Pray
Letting someone go, either staff or volunteer, takes time. So, the first thing that I do when I know I need to let someone go is pray. Prayer helps me focus on the tasks at hand, but also offers insight into the situation that I may not have thought about in the energy of the moment. It also helps sustain you in the process. Letting someone go is something that we "just want to get over," but prayer reminds us that we are relationship people and that this process not only takes time, but it deserves the time that it takes. Finally, prayer reminds you that God is present with you, even in these really hard moments.
Have Paperwork Ready
Before you call the employee, work with those responsible in your organization for HR and payroll. You will need to make sure that any necessary paperwork that needs to be signed is prepared discreetly ahead of time, and, if this is a paid employee, a last paycheck is created to be given to the employee at the time of the termination. Part of my paperwork in the past were pamphlets for state or denominational assistance that was available to that person. They more than likely won't want to go over it, but you should familiarize yourself with the key points such as contacts, overall services, and locations. While the person may not need them, they are always better to have on hand than to lack due to a mistaken assumption. Once you have all of the paperwork ready, put it in a confidential envelope and space until it's time to meet.
At the Beginning of Shift, In Private
While you may want to have this conversation at the end of the day, it is best to do it at the beginning of their shift, so as not to accrue any addition need for pay, or quite frankly to talk yourself out of doing it. Remember that letting someone go is hard work. We are in the business of grace and love, and letting people go feels like it goes against that understanding. However, this isn't personal. They don't work for you, they work for the church and this transition is a necessary one for the health and sustainability of your community. So, when planning the day to terminate their employment, chose a day where you can do it at the start of their shift.
It is also important to do it in a space that gives you privacy. If your office is, like mine at the moment, lacking in privacy, find a space in your church where you won't be bothered or interrupted. Some people suggest going to a coffee shop or restaurant. However, in my experience, many people react to their termination by crying, and while there is not shame in expressing yourself through tears, some people may be more embarrassed than others to cry in a public space. Erring on the side of privacy to offer the most dignity in this moment is always best.
Supervisor (or HR)
As you figure out where and when you want to have your meeting, find the best person to be with you. If you are not the HR representative for your organization, I suggest having them in the room with you during the meeting. If you are the HR representative, invite this employee's direct supervisor to the meeting. They may be able to answer any questions the terminated person may have. If you are a solo pastor, the chair of your board or its equivalent is appropriate. Having an extra person in a meeting is best practice. It not only gives you a witness as to what was said in this meeting, it is a matter of safety for all parties.
Exit Strategy
Finally, plan for a clean exit strategy. Will they need to pack up their belongings and who will oversee this? (Be sure to have boxes ready!) Do you need to collect keys? Will they need to go to multiple locations? Do they need to say goodbye to other staff members? Will you allow it? Can they continue to join you in worship? (This is often a really hard yet important question to have an answer to ahead of time.) Do they need to be escorted off the property? The questions can go on depending on the situation and your individual context. However, these are some of the questions I have had to answer, and I can tell you some were really hard to answer. The point is, you want this to go as smoothly as possible. It is not going to be easy for any of you. Asking yourself the hard questions and having solid answers and clear boundaries for them, that you can enforce, will help you in the long run as you both move forward.
Your exit strategy also needs to include what you will say to your other staff members and the larger congregation. Having everyone on the same page with the facts of the termination, while respecting the privacy of the employee by keeping unnecessary information confidential, will help you stay ahead of any negative press or gossip that may be harmful or toxic to your church and wider community. It's better  for your church to hear an official message from your board chair such as: "Rick was let go from his position; leadership has decided to go in a new direction." Otherwise, your church may hear something like "Did you hear Rick was fired because he didn't always agree with leadership?" from your congregation's gossip mill.  How people hear things can sometimes be just as important as what is being said.
Having the Meeting
Now that you have completed P.H.A.S.E., you are ready to have the meeting. Do what you need to do to center yourself. You want to make sure that you are in a stable place to hold the vulnerability of the person you are letting go. Remember that this is a holy moment and God is there with you, both of you.
Say As Little As Possible
When you call them in, remember to say as little as possible. Specifically, be clear and concise. Use language that gives no room for misinterpretation. The line I use is: "Thank you for joining us, Rick. I am here as your Supervisor and I have asked our HR representative to join us to answer any questions you may have, because effectively immediately you are no longer an employee of this church." Even typing this sounds harsh! But a swift and direct message of termination has, in my experience, reduced the fear and anxiety of the employee and allows the grief and healing process to begin more immediately.
After you deliver the news of termination, give them the gift of silence. Let them process and sit with the news for a minute. It has been my experience that this moment is a bit unpredictable and people shock even themselves with their responses. Make sure you have some tissues on hand, and make sure your phone is on silence, and give them the gift of some time to process.
Once it feels like time to move on, offer them any paperwork you may have and set any boundaries that you have pre-established. If they try and speak at this time, let them know they can ask questions at the end, but that you need to share this information with them now. This helps you avoid getting into a possible negotiating situation.
You want to have as many decisions as possible made in advance regarding boundaries, so as not to be put yourself in a situation where you have to decide reflexively and without counsel. You would be surprised how often this happens. If a question arises, it is okay to say, "I'm not sure, I will reach out to you and let you know." This continues to reinforce that even though they had a question you couldn't answer right away, it does not change that their employment with you is ending.
Finally, offer them the space to ask questions. Keep your answers short and direct, yet always couched in pastoral care. Short answers are easier to process. They also keep you from saying something you either shouldn't say or didn't mean. Short answers leave little room for misinterpretation.
Once you are both ready to leave the meeting, go through your preplanned exit strategy until they have left the premises.
The process of letting people go is hard work. It can be draining, sad, and filled with grief. You don't always fire people you dislike. Sometimes it's necessary to terminate the employment of people you like, or even people you deeply love. No matter your relationship with the person you are terminating, make sure that you build in time to decompress and grieve. This is now your time.
Your time to cry. Your time to breathe deep. Your time to pray. Your time to respectfully name the ways that the process was hard for you.
Remember how I said we work in the world of grace? Well, remember that grace extends toward you as well. Staffing, which includes letting people go, is a ministry, and ministries are born of our spirit and kindled in our passions. When we put so much time and energy into these difficult and discouraging aspects of our work, it can be draining to our energy and drive. Be gracious with yourself and give yourself time to recharge before you jump into another space of ministry.
God is with us in all the ministry we do and that continues into the ministry of staffing. Getting rid of a toxic person, a person not adequately completing job requirements, or even an employee whose position has been cut due to budget are all valid reasons to end an employment relationship; this aids your church to more faithfully pursue the visions they cast, in the same way a wonderful hire or addition to any team may bring new life and energy to a staff. It is a gift to be charged with overseeing the operational ministry of a church. I hope these guidelines help you faithfully engage in staff changes, so that your ministry can be fruitful and faithful.
---
The Rev. Stephanie Kendell is Executive Minister at Park Avenue Christian Church (The Park). She received her Master of Divinity with an additional certificate in History, Theology, and Ethics from Brite Divinity School. Ordained in the Christian Church (Disciples of Christ), Stephanie is passionate about justice-seeking ministries that aid in the value and understanding of intersectional perspectives.
Stephanie is a native of the San Francisco Bay Area where she continues to be an avid supporter of the San Francisco Giants. In 2005, she graduated with a degree in Musical Theater and Theater Arts from the University of Redlands. Before her call to ordained ministry, Stephanie was a Producer and Operations Manager for an international theatrical marketing agency based in Los Angeles.
---
Image by:
life-of-pix
Used with
permission
https://media.myworshiptimes31.com/wp-content/uploads/sites/3/2019/02/29165222/exit-sign-hggb-feb-2019.jpg
436
640
Stephanie Kendell
https://youngclergywomen.org/wp-content/uploads/sites/3/2017/05/YCWILogo_Vert_Black-300x229.png
Stephanie Kendell
2019-02-21 04:00:51
2019-02-28 15:09:04
Tools for Good News People When Sharing Bad News: How to Let a Church Employee Go