---
Post Author: Chelsey Hillyer
---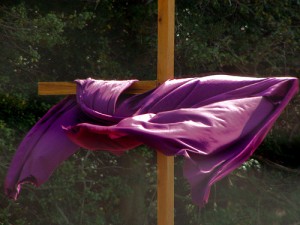 "It is finished," I said, turning toward the altar. It was sparse and striking, with only a black cloth and a candle. A crown of thorns pierced the wax, seeming to hang as some horrible halo around the flame. The Good Friday service I had planned and preached was drawing to a close. I blew out the Christ light, and turned to the worshippers gathered in the chapel. As far as the bulletin showed—and as far as my own planning was concerned—the service was over. I simply had to step down from the chancel, signaling that people were free to leave or to sit in contemplative silence. Instead, an image from the morning flashed in my mind, and I heard myself saying, "Let me offer a benediction…"
Two years prior, I wouldn't have been able to tell you what Good Friday was all about. I was your classic unchurched Millennial, having attended church only a handful of times growing up. It wasn't until I married my husband (a good United Methodist boy) that I attended church with any intentionality. But we found ourselves in a community where I began to feel the stirrings of something deeply meaningful, and at the age of 24, I was baptized as a Christian and joined a community of faith.
In the ensuing months, I was caught up in the whirlwind that is the Holy Spirit. Before I knew it, I found myself heading up the adult Christian education ministry of a large church. I was in the midst of that glorious time of discovering that faith is real, that there is a palpable spiritual force in the world, and that I could be a part of it. It was exciting in the way a new romance is: all stomach-flutters and awe. The Christian story was true, and I was learning how to live it out each day.
But when I found out that part of my job duties included planning and leading the Good Friday service, I was terrified. Perhaps if it had been the Pentecost service, I would have felt more at ease with the task before me. I could connect with the idea of the Holy Spirit being poured out, of being pulled into a new life. But Good Friday? Wasn't it basically a memorial service for Jesus?
You might think I'm kidding, but I didn't have a clue as to where to start. This is it, I remember thinking. This is the moment when everyone figures out that I have no business being in ministry. And so, desperate to keep from looking completely incompetent, I turned to the resource I knew wouldn't laugh at me when I asked a few dumb questions: Google. (Again, not kidding.) An afternoon of internet-perusal later, I felt like I had an idea of what was expected of me, but I still didn't know what I would say.
To this point in my faith life, I had focused on all the lovely stories in Scripture: The poetry of the Psalms, the great heroics of Exodus, the healings and parables of Jesus. I had read the passion narratives. I just didn't know what I thought about them, and so I didn't think about them. But now? Now I was expected to say something about Jesus' death—something meaningful, something true. I just had to figure out what that was, exactly.
As Lent progressed, I read as many commentaries as I could get my hands on. I felt like I was making up for decades of missed Sunday school lessons in a matter of weeks. I chose two texts: Matthew 27: 28-50 and Psalm 22. I put together a sermon. I chose hymns, created a liturgy. I planned the altar. I proofed the bulletins. But there was still a certain emptiness I sensed in the service, a disconnect between the service and the joyful faith I had begun to experience firsthand. Was this just the way Good Friday was supposed to go? Was it just supposed to feel off?
With the arrival of Holy Week also came a turn toward spring, and I could finally begin to putter around my yard. On Palm Sunday, I cut back all the shrubs and grasses in the plant beds. On Monday, I cleared away dead leaves from all the hosta and ferns. Tuesday and Wednesday, I plotted a new bed. And on Holy Thursday, I mulched. I laid the ground work for many plans I had for the coming planting season, and I was satisfied with my work.
On Friday morning, to calm my nerves, I paced the yard, surveying my work. I admired the straight rake grooves winding their way around the sweet gum tree, and as my eye followed their path, I saw something that made me pause. I stepped closer and bent down. There, where there was nothing the day before, a tightly wound, perfect fern frond had popped up. Its greenness was startling against the dark mulch, and I experienced a rush of excitement at the coming spring, the summer to follow, the march of days that would unfurl like the frond—unknown but anticipated, guided by God's grace.
It was this image that I shared as a benediction. In the places where it seems there is nothingness, where hopes are crushed and all seems lost, suddenly there is a miracle. Good Friday, I explained, was necessary to the joy of Easter. Without its emptiness, how could we experience the fullness of Easter?
At the end of the service, I breathed a sigh of relief: I would not have to preach again until next Good Friday. Little did I know that the frond of my calling to ministry had begun to unfurl. Though as I began planning the Good Friday service I was convinced of my certain failure, in retrospect I can see that God was working to show me that even unqualified, unchurched, uncertain me could find a way to say something meaningful, something true about faith. After facing Jesus' death, other new experiences in ministry seemed less daunting. But it took feeling hopeless, feeling lost, feeling out of my depths to really understand how God moves us beyond those trappings toward something new.
The Lenten season is a powerful time for me as a woman discerning her call. It reminds me that I am a simple human, imperfect and impermanent. But it also reminds me to search for the spaces in my life that seem barren, to claim them honestly, and then to watch for God to bring about the miracle of new life. Just as God brought life to what I thought was an empty Good Friday service and to the fern lying beneath the soil, God brings life to us in the most unexpected of ways.
photo credit: Sister72 via photopin cc
---
https://youngclergywomen.org/wp-content/uploads/sites/3/2017/05/YCWILogo_Vert_Black-300x229.png
0
0
Chelsey Hillyer
https://youngclergywomen.org/wp-content/uploads/sites/3/2017/05/YCWILogo_Vert_Black-300x229.png
Chelsey Hillyer
2013-02-26 04:13:44
2018-11-13 11:45:56
A Good Friday