---
Post Author: Melissa Wilcox
---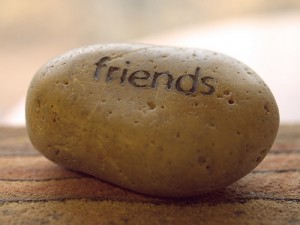 The new president of Princeton Seminary wrote an article last December, titled "Pastor, not friend."  In that article, he reflects on his relationship with a devoted elder of the parish who was shocked—and saddened—when Craig Barnes announced his leaving the parish.  He said "friends don't treat each other like that."  Craig responds, "He was right, but I was not his friend, I was his pastor."
Craig goes on to argue that pastors can not truly be friends with parishioners. And yet, he argues when you do the math, there is little time leftover for other relationships because parishes are such "demanding lovers."  And, on the one hand, as an Episcopal priest (who happens to be married to an Episcopal priest) I completely understand where the author is coming from. It is difficult to be aware of parish issues, like an on-going fight with one person or another on a committee, and not engage in any discussion about that topic.  Or even something as regular as our stewardship campaign.  Does this parishioner, who is my friend, understand that we have a deficit right now?  Should I mention it or not?  Should I assume they know about the deficit and talk about my anxiety with regard to the budget this year?  These are indeed delicate topics and each one must be discerned from moment to moment.  But, I can't embrace not having parishioners as friends.
As a mother of two young children who moved across the country to have my husband serve as a rector to a parish in a Philadelphia suburb, the first people to bring us lasagna and take my kids to the playground were parishioners.  The first people who threw me a baby shower for the birth of my third child was the parish's Moms' Group.  And, over time we have developed close relationships with some members of the parish.  Of course, there are times when I am deeply aware that I need to be careful about what I say or do, but where would I be without these people?  Where would I find Christian friends who are willing to brainstorm ways that we can observe Lent in our home? Where would I find comfort when I needed people with whom I could pray and not feel weird asking them to do so?
There is something deeply resonant about the incarnational nature of our God.  And, as a priest, I know I have been set-aside to live a life that can be terribly lonely. You live with people's joy and pain very close to your heart.  But, with that knowledge, I refuse to divorce myself prematurely from relationships because of the belief that I should "not" cross a line and make friends with parishioners. Even our ordination service from the Book of Common Prayer, asks us to pattern our life in holiness, but not alone. After all, in what other aspect of life are you expected to participate fully in the life of your husband's faith community (which is his work), and your own, and yet not make a single friend?  I don't believe it's possible.
Yes, there are times when I wish I could say more to my "church" friends about my life, but with time I have come to understand that I have to reserve these conversations for my husband, a dear friend who lives out of town, or my spiritual director.  It has taken me almost three years to finally feel comfortable as a clergy spouse fully knowing that, at times, people will not like my husband's decisions—or even him.  And yet, my children will continue to worship in that parish every week, sing in the primary choir, and run around like crazy at the parish pancake suppers.  Indeed, the Christian life is full of paradoxes.  If my husband were a doctor, I would not have to live next door to his medical practice, send my kids to him for weekly medical check-ups, and have chili cook-offs at his office.
In all my time as a seminarian, I never fully thought about what it would be like to be a clergy spouse.  And, now I know that it can be odd to be fully educated and formed as a priest, and be married to a priest.  The dinner table conversations can be interesting when we begin to compare newcomer programs and debate the use of Eucharistic Prayer C.  But, with regard to friends, we both recognize our need to have them—both within and without the parish.  And, because we are merely human we make friends.  And, of course, as mere humans do, we hurt our friends sometimes and they will hurt us, too.  But forgiveness and reconciliation seem a better path than distance and loneliness.
So, I say to the faith communities of which we are a part I will always be your pastor (or your pastor's wife.). I may also come to be your friend.  Just as in any trusting and mature relationship, together we will discern what is best to share with each other—and when.  But, please don't write me off as some pie-in-the-sky priest or pastor who doesn't feel, think, and desire relationship just as much as you do. After all, in John's gospel, Jesus even goes as far as to say that he will lay down his life for his friends.  And, he's not talking about Facebook friends.  He's not talking about pastoral boundaries. Instead, he is offering us a relationship with him of deep intimacy—a holy offer for sure.   A friend is a holy and beautiful gift, parishioner or not. A friend is someone with whom we share the integrity of our lives and live out the incarnational nature of our Christian faith.
---
The Rev. Melissa Wilcox is the Assistant Rector for Youth & Campus Ministries at the Church of the Redeemer in Bryn Mawr, Pennsylvania.
---
Image by:
nègFoto
Used with
permission
https://media.myworshiptimes31.com/wp-content/uploads/sites/3/2013/02/29170848/friends-stone.jpg
375
500
Melissa Wilcox
https://youngclergywomen.org/wp-content/uploads/sites/3/2017/05/YCWILogo_Vert_Black-300x229.png
Melissa Wilcox
2013-02-21 04:00:07
2018-11-13 11:45:56
Pastor and Possible Friend: A Perspective of a Clergyperson and Clergy Spouse