---
Post Author: Gia Hayes-Martin
---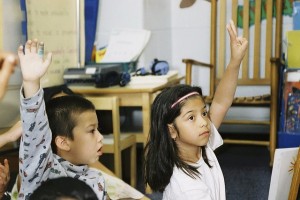 How do you know God is real?
Why is Jesus special?
Are there any Bible stories you don't like or don't believe in?
Why do we have to believe that Jesus is alive and the stories about him are true?
No, those weren't questions posed by the Commission on Ministry during my ordination process. They weren't topics raised by a search committee. They were asked by students in grades kindergarten through five at my parish's day school. It was Ask a Priest Day in school chapel, and the kids pulled out all the tough topics for me.
Being the rector of a parish with a school generally means some involvement with the administrative side of the school: sitting on the school board, working closely with the head of school, coordinating facilities use, and so on. Some schools, including ours, also want the rector to take part in the spiritual life of the school community. In my case, that means leading school chapel once a week, presiding at monthly celebrations of the Eucharist, visiting religious studies classes, and being a supportive presence in children's faith lives. I've baptized students and talked about death with them after the loss of a grandparent. Interacting with students was not something I expected to enjoy when I accepted this call, but it's turned out to be one of my favorite parts of my job. The kids are engaged, curious, creative, profound, and often hilarious.
Silicon Valley is a challenging cultural location for a faith-based school. This part of the world can be anti-religious, sometimes aggressively so, yet there is also great religious diversity here. Our school, like most Episcopal schools, serves mostly non-Episcopalian families––Catholics, Presbyterians, Orthodox, Hindus, Muslims, the spiritual but not religious, and those who have no particular interest in religion but chose a school that emphasizes character formation and serving the common good. A chapel leader has to speak to fourth-grade atheists as well as children formed in the Sunday school of a conservative-evangelical megachurch. It's a difficult balance. We address it in daily chapel services by focusing on the narrative arc of the Bible. Whether children approach the stories from a faith perspective or not, it is important for their cultural literacy that they hear and know these stories. Ask a Priest Day was a new variation, an idea from our team of chaplains. "Let's see what the kids are curious about," we said. "It'll be fun, and we'll learn what's on their minds and hearts."
The religious-studies teacher collected students' questions in advance, so I knew what was coming, although I was sure the kids would ask more questions once we got to talking. We received a number of specific questions about Bible stories, which cued us in to gaps in our chapel storytelling that we needed to address. Some children were curious about me, personally: where I grew up, whether I had brothers and sisters, what I liked about being a chaplain. Others––many others––wanted to know about the nature of religious belief when it cannot be proved. They are at a developmental stage that doesn't yet recognize nuance. Something is either true or false, real or made-up, and in this hyper-technological culture, scientific proof is the only kind that counts for them.
Those questions gave me and the rest of the chaplain team insight into our students' faith formation. What they needed was to see adults working out their own salvation. They knew the stories of the Bible; they wanted to know what Christianity means for people trying to practice it. I could offer that to them. Because we are a faith-based school, we adults have the luxury of talking explicitly about our own faith. So in response to their question, "Has anyone seen God?" I told the story of Moses seeing God's backside, then pointed to the ways we can see and experience God through other people. I recounted a time when an angry, violent person had come to my church's community dinner and a stranger offered to protect me. Through this stranger, I saw God, and God said, "Gia, you don't have to be afraid. You are safe here." The students were rapt. Their attention always tapers off near the end of the school year, and this was the most focused they had been in chapel in several weeks. I realized it may have been the first time all year that they had heard a grownup talking about Christian faith as a lived experience. That kind of modeling is important in a context in which many children are growing up without examples of thoughtful, mature religious belief.
Ask a Priest Day forced me to answer basic questions about my faith at a level I had not encountered since the ordination process. My churchgoing friends, colleagues, and parishioners tend not to ask me those kinds of questions, and my non-churchgoing friends, despite their skepticism, are too polite to raise those topics with me. (It's okay to ask. It doesn't make me defensive, nor am I going to judge you for having different beliefs.) "Always be ready to make your defense to anyone who demands from you an accounting of the hope that is in you," the apostle Peter wrote (1 Peter 3:15). While I may not have expected that demand to come from a gaggle of schoolchildren, their questions reminded me that my hope rests in my experience of the God who created me, calls me, and sustains me. That's the God I point to as a chaplain and priest.
We're planning another Ask a Priest Day for this coming year. Only God knows the questions the students will bring up this time, but two things are certain: it'll challenge me, and I'll enjoy it more than I ever thought I would.
---
Gia Hayes-Martin is rector of St. Bede's Episcopal Church and serves on the chaplain team of Trinity School in Menlo Park, California. She knits obsessively and will eat as much eggplant as she can.
---
Image by:
U.S. Department of Education
Used with
permission
https://media.myworshiptimes31.com/wp-content/uploads/sites/3/2015/11/29170046/9602545478_048121b4aa_z.jpg
427
640
Gia Hayes-Martin
https://youngclergywomen.org/wp-content/uploads/sites/3/2017/05/YCWILogo_Vert_Black-300x229.png
Gia Hayes-Martin
2015-12-08 04:00:19
2018-11-13 11:37:16
Ask a Priest Day