---
Post Author: Stacy Sergent
---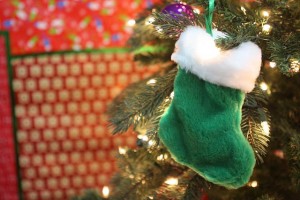 Like most folks in ministry, I don't get a lot of holidays off. I'm a hospital chaplain, and the hospital never closes. Someone has to be there to minister to those in crisis even when the crisis happens on Christmas Day. And since my family of origin is several states away, I can't just pop in for a few hours on Christmas Eve then come back for work. As a single clergywoman, I have had to learn how to do Christmas on my own.
When I first realized that big, "traditional" family holiday celebrations were no longer an option for me, I grieved that loss. But instead of dreading Christmas as a sad, lonely time, I chose to develop my own traditions to prepare for the celebration of Christ's birth. Some of them were carryovers from my childhood. My parents are now retired, and they no longer buy a real tree every year like they did when my brother and I were little. The smell of a Fraser fir is one of the signals for me that Christmas is approaching, so I decided to invest in one every year as part of my holiday celebration. I couldn't get a tree from the lot to my living room without help, so several of my friends have comical memories of helping me wrestle the tree onto my car and into my home to decorate. I love that we share those stories.
I thought it was a shame that I would be the only one to see my tree in all its final tinseled and lighted glory, so I began the tradition of my annual Christmas party. My family was never one for big, loud parties, but I have come to look forward to the rowdy gathering of friends around my tree each December. I invite coworkers, neighbors, friends, and fellow church members of all ages. Some bring their children or their pets. Everyone contributes to the potluck buffet table, and everyone comes prepared for the games. By now they know that I will have all manner of silly games that I've made up or found on the internet. This may involve guests putting pantyhose over their heads for their teammates to stuff with wrapping paper in an attempt to look like reindeer antlers. It may mean throwing large marshmallow "snowballs" at a partner across the room. It could be a race to my Christmas tree to find the Starship Enterprise or Yukon Cornelius among the ornaments before the opposing team spots it. The competition gets pretty fierce considering I get all the prizes from the Dollar Tree, but win or lose, everyone ends up laughing.
Although I know in my heart of hearts that Christmas is not all about the gifts, it was still hard to imagine waking up alone on Christmas morning and not having any presents to open. So I came up with a creative solution. When I know that I will be on my own on Christmas Day, I save all the Christmas cards that arrive in the weeks leading up to it. They are placed unopened in my stocking, and I have the excitement of opening them one by one on the big day and taping them up on doors and thresholds, each one a tangible reminder that I am loved by friends and family all over the world. That's a pretty great gift.
In recent years, another stocking has hung next to mine. When I adopted a rescue dog, I decided to make the holidays special for him, too. Hurley may not know the significance of the date, but he has learned that when I pull the red paw-shaped stocking down from the mantle, good things are coming. In the weeks leading up to Christmas, I buy small toys and treats that he does not get the rest of the year, and I get excited about watching my furry child enjoy each one. It's impossible not to smile and share in his joy.
Some of my traditions are born out of the years I lived in France. There for the first time, I learned that Jesus should not be put in the manger until Christmas. In all the Nativity scenes I had known as a child, the manger was occupied from the time we decorated right after Thanksgiving until the decorations were boxed up a few days after December 25th. But in France, all the crêches were empty until midnight on Christmas Eve, and it was an honor to be the family member who placed the baby Jesus there. Now when I unpack the two Nativity scenes I was given by my mother and grandmother each year, I leave the mangers empty until Christmas Eve.
That empty spot has become an important part of my Advent meditation. When I see all the other figures in the scene turned toward the empty manger in anticipation, the incompleteness, the not-yet-ness is striking. Their waiting reminds me that I and my world are waiting, too, that we are incomplete and still ardently anticipating the coming of a Savior. Long after the needles are falling off my Christmas tree and the stockings and Santa figurines have been packed away, I leave my crêches in full view until the day of Epiphany, just like we did in France. It is a reminder to me that one day is not enough to celebrate Christmas, and helps me to wonder at the Incarnation for at least a few more days.
Maybe those Nativity scenes help me remember something else, too. I'm not alone in being away from family and having to improvise. Mary and Joseph were far from home when they arrived in Bethlehem, after all, separated from all that was familiar at a very important time. Whatever rituals and traditions would have accompanied the birth of a new baby back home were unavailable to them in this strange city. They were on their own. And yet they weren't. New friends, unexpected gifts, and the undeniable presence of God surrounded them. I find the same to be true for me at Christmas every single year.
---
Stacy N. Sergent is a graduate of the School of Divinity at Gardner-Webb University. She now serves as a chaplain at Medical University of South Carolina (MUSC) Medical Center in Charleston, and lives in nearby Mount Pleasant with her awesome dog, Hurley. She wrote about her first year of chaplaincy in the book Being Called Chaplain: How I lost my name and (eventually) found my faith. Her continuing adventures are blogged at stacynsergent.com.
---
Image by:
Michael Dorausch
Used with
permission
https://media.myworshiptimes31.com/wp-content/uploads/sites/3/2015/11/29170047/6449449295_f3ec0b56eb_z.jpg
426
640
Stacy Sergent
https://youngclergywomen.org/wp-content/uploads/sites/3/2017/05/YCWILogo_Vert_Black-300x229.png
Stacy Sergent
2015-12-03 04:00:51
2018-11-13 11:37:16
Celebrating Solo