---
Post Author: Elsa A. Peters
The Young Clergy Women Project offers this review in celebration of first publication of our book series with Chalice Press. We look forward to gifts and insights that our published young clergy women will bring.
---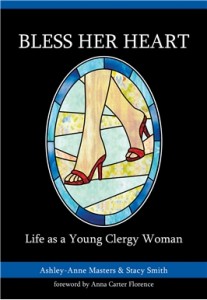 Ashley-Anne Master and Stacy Smith's Bless Her Heart: Life as a Young Clergy Woman will be on the bedside table of every young clergy woman. Whether these women are seminarians, a local church pastors or a chaplains, these young leaders will turn to these pages because it truly is our story. In these nine short chapters, our story is told.
It's told as if a group of young clergy women are sitting around sipping wine — including those stories that will raise our glasses and bring us all to tears. It offers that assurance that we offer to each other as young clergy women. Because you're not the only one. This has been the catchphrase that defines The Young Clergy Women Project. This book publishes what we already knew to be true and offers us each strength to look into the future of our own call.
Bless Her Heart is like an old friend. It's conversational as well as instructional. The stories the authors choose to tell highlight the challenges and blessings of being young clergy women. Luckily, one of these authors is an old friend of mine. I was honored to attend seminary with Stacy Smith which allowed me to send repeated emails while I was reading. In my first email, I wanted to know how the authors had collected these stories. After all, we're friends on Facebook. Surely I would have seen the invitation. But I didn't remember one. It turns out I just missed it. Some of these stories were indeed gathered through the varied faithful family through social media while others were requested from friends of the authors and still others were just found.
Admittedly, I asked this question because one of my stories was told in these pages. My story is tucked so gingerly into the narrative that I wasn't sure if it was really mine. Instead, I wondered if there was another young clergy woman with a similar story. However, this could be said for every story in the book. Any one of these stories could be my story or the story of a friend from seminary or a story of someone I only know through Facebook. For me, this is the power of telling these stories on Fidelia's Sisters and now in this published work with Chalice Press.
The book releases in August 2011. I truly hope every young clergy woman's bedside table does find a copy waiting for those days when ministry is too hard or too lonely or too wonderful.
If hearing the refrain Because you're not the only one again is the last thing you need, there are still other reasons to get yourself a copy of Bless Her Heart. (And if that statement is true for you, please tell me your secret. No. Do better than that. Write it for all of us to read on Fidelia's Sisters.) If you really don't need that affirmation, I'd recommend this book as an added gift to the context you serve.
When I arrived in my current call, the Pastor Parish Relations Committee had faithfully read every article they could find about what an Associate Pastor wants. It became clear to me that these weren't the real questions that we need to ask together. Instead, they needed to wonder what the difference were between their newly called 20-something pastor and their 50-something previous pastor. If it had been published 5 years ago, what difference could reading Bless Her Heart together have made on our shared ministry? How would offering this book to the 60-something Senior Pastor have made in our relationship? How else could this resource be used to engage in deeper conversation about the unique gifts and talents I have as a young clergy woman that I rarely know how to describe?
Finally, I would recommend this book because it's encouraged me to imagine the Holy Trinity in a whole new way. (I'm not going to say anything more than that. You have to read it yourself.) I will turn to these pages again when I try to explain these theological question mark to teenagers and adults. I will turn to these pages again to remember that there are a myriad of young clergy women friends that share my story. Indeed, we are not alone.
---
Elsa A. Peters is the current Managing Editor of The Young Clergy Women Project Magazine. She is a United Church of Christ pastor serving in Maine.
---
Image by:
Chalice Press
Used with
permission
https://media.myworshiptimes31.com/wp-content/uploads/sites/3/2012/03/29171116/BlessHerHeart_400.jpg
386
266
Elsa A. Peters
https://youngclergywomen.org/wp-content/uploads/sites/3/2017/05/YCWILogo_Vert_Black-300x229.png
Elsa A. Peters
2011-06-30 04:00:00
2018-11-13 11:49:24
Bless Her Heart: Because You're Not the Only One