---
Post Author: Jes Kast
---
"Becoming an artist consists of learning to accept yourself, which makes your work personal, and in following your own voice, which makes your work distinctive"
-Art & Fear: Observations on The Perils (and Rewards) of Artmaking by David Bayles & Ted Orland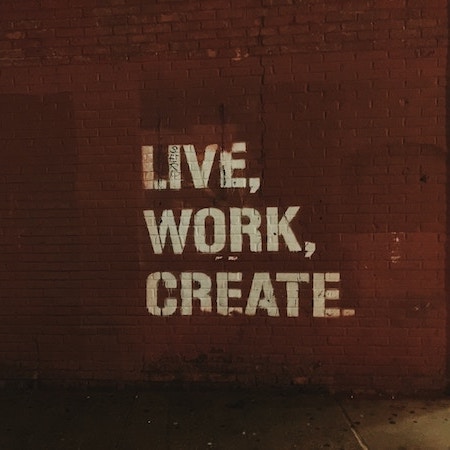 To be an artist one must be true to the voice that God has given you. I came to learn this in my last year of seminary when I left the world of West Michigan where I grew up and journeyed to New York City for an internship at a church. The creativity of the city invaded my soul. The city was like one giant orchestra and each one of the 8.4 million citizens was trying to figure out which instrument was ours to play. It is in New York where I first understood my calling as a pastor was to a calling to first and foremost be an artist. The medium with which I make art is through being a pastor and preacher.
A painter walks up to her canvas full of ideas that she has collected that she desperately needs to convey to the world through the medium of paint. I am the painter and my sermon is the painting. My canvas is my approach to the text. How I choose to paint that text is the grueling creative process. The sermon is begging to come out of me but I have to do the hard work of trying on different inspirations that come to me the week before.
To be an artist one must be true to the voice that God has given you.
For inspiration I sit with the poets, the musicians, and the writers. Everyday I get a poem sent to me in my email from poets.org and I take the time to read each word and look at its construction. Music is one of the languages my soul speaks. I also peruse music blogs and websites voraciously to hear the current cultural trends coming out in instruments and voices. These people finesse words and have the courage to write Truth. Some are more honest than others but all trying to capture the currents of life and mystery. People like Mary Oliver, Adrienne Rich, The Civil Wars, Dinah Washington and so many others have become my friends.
Inspiration is not just in writing but it is everywhere for an artist. Whether I am listening to a new song, marveling at the eccentric fashion style on Broadway, or walking in the park I always wonder what these encounters have to teach me. What truth are these everyday artists telling me? One thing about art – really good art – is that it is honest. No matter how terrifying, angry, colorful, confusing, inspiring it is, good art tells the truth. Good art helps us become better truth-tellers.
As Adrienne Rich says in her essay Women and Honor: Some Notes on Lying, "When a woman tells the truth she is creating the possibility for more truth around her." Truth-telling is what we as preachers are called to do. Truth-telling takes courage and creativity. Jesus reminds us that truth sets people free. Sometimes it is scary to preach truth from the pulpit. Truth stirs people up. Preaching truth into powerful systems like heteronormativity, consumption, exploitation and racism will require the preacher to become creative and look at her work as art.
To be an artist one must be true to the voice that God has given you.
While I first saw myself as an artist in New York it was my friend Rob who planted this idea in my head. Rob is a well-known pastor and preacher, but that is not how he primarily sees himself. He said to me a few years ago that he is an artist first and foremost. He makes art in three ways: by preaching, writing books, movies and public speaking on tours. That is how his art comes out. Rob is one of those people that you know when he speaks it is a good idea to listen to him. As a budding preacher myself I held onto his words though the truth behind what he said I did not understand at the time.
The other day I had lunch with one of my favorite persons, the Reverend Kenita. We both have taken up the discipline of blogging this year. We shared the writers/musicians who have been inspiring us lately: Betty Carter for her, Adrienne Rich for me. We discussed why art is so important to us as pastors. Good artists are truth tellers. Good art mirrors the truth of the stories we find ourselves in. Art can expose, subvert, heal and open up new possibilities. Preachers, we both agreed, are artists.
To be an artist one must be true to the voice that God has given you.
I understand the depths of what Rob told me that day. Yes, to be a good preacher one must look at herself as an artist first. Artist take risks to find the right colors, the right words to convey what must come out of them. It can be a messy process but in the end the artist massages each word like clay to make sure it is exactly what she wants to say on Sunday morning. After delivering the art, she then steps back to let those engaging the art take it in and massage each hungry body and heart. Some will respond with tears, some with fear, some with conviction and others it half-heartedly dismiss it. This is the risk the artist takes each Sunday at the pulpit.
---
Jes Kast is a 2011 graduate of Western Theological Seminary, and a pastor in the United Church of Christ.
---
Image by:
Jon Tyson
Used with
permission
https://media.myworshiptimes31.com/wp-content/uploads/sites/3/2011/06/29164847/live-work-create-jon-tyson-christ-creativity-june-2011.jpg
450
450
Jes Kast
https://youngclergywomen.org/wp-content/uploads/sites/3/2017/05/YCWILogo_Vert_Black-300x229.png
Jes Kast
2011-06-28 03:41:36
2019-08-29 19:43:04
Pastor and Preacher as Artist