---
Post Author: Diane Faires
This article is one in an occasional series called "All About the Benjamins," running this fall on Fidelia's Sisters. As many congregations and organizations are running stewardship campaigns and lining up budgets for 2012, we'll be taking a look at the sometimes-taboo topic of money, and the roles it plays in our ministries.
---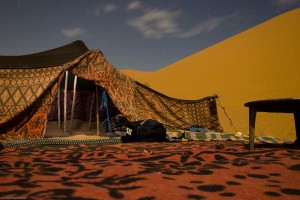 I haven't had a boyfriend in a very, very long time. Or even a good date.This long stretch of singlehood has made me identify more closely with the women in the Bible who are dealing with their barrenness. Not the literal lack of children in my womb, but the inability to form the family I long for, to fall in love and find a partner to share my life with. Like many of those Biblical women, I sometimes wonder what I have done wrong to earn this fate – what deficiencies keep me from experiencing what seems to come naturally to so many other women? I wonder,like Sarah, if after so many years I will ever get to experience the pleasure I dream about. I struggle, like many of the barren women of the scriptures, with how to define my worth as a woman in ways that don't fit with society's expectations.
Two scriptures, in particular, have stuck with me recently, and led me to sit with the ideas of barrenness and hospitality, and how they relate to my life as a single woman. "Sing, O barren one who did not bear," urges Isaiah 54, "burst into song and shout, you who have not been in labor." Sometimes the hardest thing is keeping hope, after a string of uninspiring dates, that there is someone out there I can connect with. Isaiah urges not just hope, promises not only joy, but reminds me to LIVE like I believe in the promises these verses contain. "Enlarge the site of your tent," instructs the prophet. Make your home, your heart, your world big enough to hold all that you dream will happen. Make room for the people you want in your life.
This passage, "enlarge your tent" stood out to me because I just bought my first house — a house that is really too big for me as a young, single woman. A house that contains big dreams. On one level, buying a house is a financial investment. It seemed like a good idea, considering the weak housing market, the savings I had in the bank, and the fact that I enjoy my job and hope to stay for awhile. Money has never really been a primary factor motivating my personal decisions, though, as you might guess from my chosen profession. What really inspired me to go house-hunting had more to do with a desire to foster community and to create a space where I could practice hospitality. I was drawn to this particular house partly because of its large, open kitchen with plenty of counterspace for cooking meals with friends; its dining area that opens to a patio so I can have dinner parties inside or out; a sprawling living room with a cozy gas fireplace for intimate conversations with loved ones, or hosting community meetings. It's also a house that could accommodate a family – three bedrooms and two baths, so plenty of room for kids. An elementary school within walking distance. A yard to play in. It's a house to grow and dream in, a tent with space to foster hope. It's a home that helps me believe that this barrenness may not last forever, and to live like it won't. It's a home that allows me to practice hospitality and foster other relationships in the meantime. In the few months I've lived there, I have already hosted a baby shower for a refugee woman from our church; a dialogue circle on immigration; and several gatherings with friends and food.
The community that surrounds me has also supported me in tangible ways that made it financially possible for me to make this place a home. A church member who is a lawyer did my closing for free; others from church volunteered to be my moving crew; various friends donated used appliances that they no longer needed, which meant that I didn't have to buy a washer, dryer or lawnmower; and many friends spent hours scraping wallpaper, painting, and cleaning. My parents spent a week helping me rip out the hideous magenta carpet and installing hardwood floors. On a single income, working the crazy hours that ministry requires, I could easily have felt overwhelmed by taking this all on by myself.
It's in the sharing of this space, in using my precious new home to offer hospitality to others, that I feel the strongest sense of hope and delight. It was actually during a young adult Bible study I was hosting at my house that we were discussing another text about a barren woman who gives birth – Genesis 18, the passage in which Sarah and Abraham welcome three strangers to their tent. When Sarah hears the visitors declare that she will give birth to a son, she laughs out loud with skepticism. "Is anything too wonderful for the Lord?" the strangers reply. This scripture, too, connects the practice of hospitality with the hope of new life, of an expanded family. Instead of withdrawing in loneliness and disappointment that her life hadn't turned out exactly how she planned, Sarah makes a home for herself and Abraham wherever they go, and generously welcomes unexpected guests. She finds meaning and value in loving and serving those who are present with her, instead of defining herself by the children missing from her home. Sarah may not have much hope left in her dream, but she still has enough spirit in her to laugh.
And so, I paint the walls of my spacious split-level, and plant a garden and have a roommate that helps me pay the mortgage and make good use of the space for now. At times, it feels empty and lonely, but then I put a big pot of rice on the stove and call some friends. Who knows, maybe one of the guests who makes his way into my house will bring me some good news, too, like Sarah's visitors – maybe he'll even be a cute, single guy who's attracted to a progressive young clergy woman who knows how to install her own hardwood flooring. I might not share my home with the partner and children I dream of, but I am enlarging my tent and putting down roots that help me to feel strong and grounded. I am making an investment – both financial and emotional – in my own future. I sing and laugh – and sometimes cry – and pray in this place, and remind myself that God's promises have seemed impossible to women for centuries before me, too, but that nothing is too wonderful for the Lord.
Are you an ordained woman under the age of 40? Email youngclergywomen(at)gmail(dot)com to become a member of The Young Clergy Women Project! Members receive access to a password protected online community, monthly e-newsletters, and advance notice of upcoming conferences and events.
---
The Rev. Diane Faires serves as Associate Minister at St. Paul's Christian Church (Disciples of Christ) in Raleigh, NC. She makes great Indian food which she enjoys sharing with her friends.
---
Image by:
Martin Allen
Used with
permission
https://youngclergywomen.org/wp-content/uploads/sites/3/2017/05/YCWILogo_Vert_Black-300x229.png
0
0
Diane Faires
https://youngclergywomen.org/wp-content/uploads/sites/3/2017/05/YCWILogo_Vert_Black-300x229.png
Diane Faires
2011-10-11 04:00:00
2018-11-13 11:48:47
Blessed Be the Tentmakers