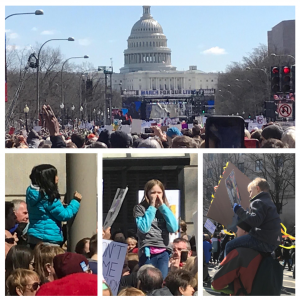 Looking younger than her eleven years, Naomi Wadler stepped up to the microphone to address more than half a million gathered in Washington, DC. She recalled how she and a classmate at her school in Alexandria, Virginia, organized an eighteen-minute walkout on March 14th, along with students across the country. With others, they walked out one minute for each of the victims of the Parkland shooting, but Naomi added an additional minute for Courtlin Arrington, the young black teen killed at Huffman High School in Birmingham, Alabama, weeks after the Parkland shooting.
Naomi named Hadiyah Pendleton, Tiana Thompson, and other black and brown girls who are killed by gun violence but whose names aren't known and spoken, who become relegated to statistics rather than lives. Their names joined a chorus – a communion of saints – lifted by the young speakers throughout the afternoon: Stephon Clark, Cynthia Williams, Zaire Kelly, Ricardo Chavez, DeShawn Moore, Victoria Soto, and too many more. I was grateful to be part of the great cloud of witnesses to this hallowed event, which culminated in an extended period of silence as Emma Gonzalez gave space for all gathered to experience the six minutes, twenty seconds, that it took for a gunman to kill seventeen souls on that Ash Wednesday.
The numbers impacted by gun violence are staggering, and we heard some of the numbers. But over and over, we heard names. Names were lifted, and like the church in El Salvador, naming the losses and disappearances during the reign of terror by death squads, I wanted to shout, "Presente!" In naming those young lives cut short by gun violence, we honored their lives, and asserted that they were more than statistics.
The passage from Isaiah that I kept hearing was from Isaiah 11, about God's peaceable kingdom, in which "a little child shall lead them." That was certainly appropriate as we saw these children – many a few years away from voting themselves – speaking powerfully and prophetically, and calling for change. But my mind kept finding Isaiah 43 instead: "I have called you by name, you are mine." God assures Israel that God will be with them – through waters, fire, and flame, they will not be overtaken. God will save them.
The act of naming is a sacred one. Christening is now a synonym for naming, but it quickly shows its Christian roots, where a new name and new identity as one claimed by Christ is bestowed. God names us and claims us. As these young people whose lives have been permanently scarred by gun violence named lives lost, it seemed to me as though God was shouting the names for all to hear, saying "These are not numbers or statistics. They are not unfortunate casualties of unavoidable tragedies. These are my beloved children, and their blood cries out from the soil."
Also in Isaiah 43, God says, "Do not fear…you are precious in my sight… I love you. Do not fear, I am with you." Just after Naomi, 16-year old Mya Middleton came to the stage. She shared her own story, living in Chicago and going to the store to buy some food for her mother, sick at home. The young man in front of her ended up pulling a gun on her. If she ever told anyone, he threatened to find her and kill her. But she told the crowd, "I will not be silent! I will not live in fear!" Read more
https://media.myworshiptimes31.com/wp-content/uploads/sites/3/2018/03/29165509/march-our-lives-such-time-mar-2018-featured.png
200
300
Stephanie Sorge
https://youngclergywomen.org/wp-content/uploads/sites/3/2017/05/YCWILogo_Vert_Black-300x229.png
Stephanie Sorge
2018-03-27 04:00:21
2019-08-15 14:19:27
Marching for our Lives: Called and Named