---
Post Author: Julie Jensen
---
On the way to Jerusalem Jesus was going through the region between Samaria and Galilee. As he entered a village, ten lepers approached him. Keeping their distance, they called out, saying, "Jesus, Master, have mercy on us!" When he saw them, he said to them, "Go and show yourselves to the priests." And as they went, they were made clean. Then one of them, when he saw that he was healed, turned back, praising God with a loud voice. He prostrated himself at Jesus' feet and thanked him. And he was a Samaritan. Then Jesus asked, "Were not ten made clean? But the other nine, where are they? Was none of them found to return and give praise to God except this foreigner?" Then he said to him, "Get up and go on your way; your faith has made you well." ~Luke 17:11-18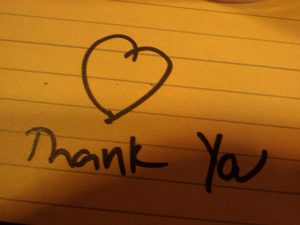 I think a lot about the lepers these days. In my current ministry setting of waiting tables at a restaurant, I am asked for a lot of things every shift. A. Lot. More napkins? Sure. Another Coke? Absolutely. A seventh basket of chips and salsa (yes, seven!)? I'll be right back. It's my job to meet these needs the best way I can while doing what is right for the customer. So I grab a clean fork when you drop yours on the floor and remember the lemons and deposit them on the table with a smile. The words I only hear sometimes are "thank you." I get ignored, I get looked at, people are rude, or stare at their phones not even noticing that someone has just set a plate hot enough to boil water on their table. I would venture to say that about 50% of the time, the people who sit at restaurant tables do not say "thank you" during their entire visit. Which is why it is so noticeable to me when they do.
So I think about the lepers. Especially that last one – the one who took the effort to go back to Jesus after he had received what he desired to say "thank you." As the text makes clear, the leper is an outsider and one who is very different from Jesus. Which, to me, makes the act even more noticeable. I wonder how Jesus reacted, internally. Did he smile inside? Did he feel a sense of accomplishment? Did he feel valued and noticed? Those emotions are ones that many of us feel when someone says "thank you."
I have been blessed that in my 10 years of doing ministry, the times I have been thanked and appreciated have outnumbered the times I have not felt appreciated. This is not the case for many of us. All too often, we as clergy–especially young clergy women–can feel unvalued, invisible, or overlooked. So when the "thank-you's" come our way, we see them and feel them deeply. They add water to our wells, power to our batteries. After we spent hours trying to find the angel wings for the Christmas pageant, or planning a menu for 30 youth with 47 different food allergies, the simple acknowledgement that these things do not magically happen can make the difference in our days.
The Mission Coordinator for Cherokee Presbytery, Rev. Nicole MacMillian, has a particular practice when she preaches at churches. She adds a phrase to her charge and benediction, asking members to be kind at lunch and during the week. The idea is that we should take what we see and do in the pews on Sundays out into the world; that includes being kind to others. I keep hoping she will come preach that message at my restaurant one day for those who came from church to lunch and have already forgotten what they heard.
It takes effort to notice and appreciate what someone is doing, and even more to acknowledge it. As a pastor, I tried to send out thank you notes regularly to committee members, board members, volunteers, our staff, as often as I was able. Because just as we as pastors can feel invisible, taken for granted, or ignored, so can our volunteers. How can we model a culture of gratitude in times when it seems to be fading?
Our world feels like it unravels a little more every day. Violence, racism, politics, people moving faster than we ever have before. It's no wonder that the effort of saying "thank you" gets put into something else. Yet, Jesus was pleased with the leper who took the time to offer thanks. As I write this in a Starbucks, I am hearing customers say "thank you" to baristas who have been running in circles filling orders for the last 30 minutes, and it makes a difference. They seem lighter and ready to take the next order with genuine happiness. When I leave a check at a table and the guest says "thank you" it can brighten my entire mood and shift my entire night.  As pastors, we don't often challenge people to channel their inner lepers, but I am challenging us. How can we take a moment or two to say "thank you" to the ones who heal us, to the ones who care for us, to the ones who serve us, and to the ones whom we serve? How can modeling that behavior help us empower and enable others to channel their inner lepers and do the same?
---
Julie Jensen serves on the Board of TYCWP in the Community Life Work Group and is also the Registrar. Julie is ordained as a Teaching Elder in the PC(USA). She lives in Cartersville, GA and is paying attention to where God may be calling her to serve next. While she waits, she provides pulpit supply and session moderation and serves chips and salsa at a Tex-mex restaurant…sometimes on the same day! When she isn't doing Zumba, she enjoys cooking, knitting, and being with her friends.
---
Image by:
Iain Farrell
Used with
permission
https://media.myworshiptimes31.com/wp-content/uploads/sites/3/2016/08/29165926/4101881178_fefea807b5_z.jpg
480
640
Julie Jensen
https://youngclergywomen.org/wp-content/uploads/sites/3/2017/05/YCWILogo_Vert_Black-300x229.png
Julie Jensen
2016-08-16 04:00:32
2018-11-13 11:35:37
Channeling Your Inner Leper