---
Post Author: Erica Schemper
---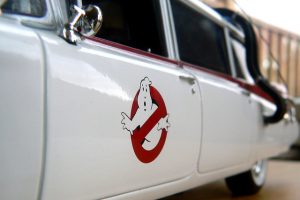 When the Ghostbusters reboot was announced, I was pretty sure I'd want to see it, at least when it came out on streaming: I love the first movie. But when the hullaballoo over an all-female cast hit social media, I knew I'd be there with bells on. Even if the stars had been women other than Kate McKinnon, Leslie Jones, Melissa McCarthy, and Kristen Wiig, all of whom I find incredibly funny, I was ready to support my sisters in this movie.
I say "sisters" deliberately, because for about a decade now, I've been convinced that comedy has become the dominant secular prophetic voice in North America. Depending on which sociologist you consult, I'm either a very young Gen Xer or a very old Millennial, and for people in my age bracket, the desk of a comedy host (Jon Stewart, Stephen Colbert, SNL "Weekend Update") has become the closest thing there is to a pulpit. And I feel a special kinship with the current generation of female comedians who, if they're not my sisters, are at least my cousins.
And if a group of men were going to get cranky about the Ghostbusters cast as women? Well, you've got to support family. Count me in for opening night!
The appeal of Ghostbusters is, of course, not limited to women with careers in ministry. If you're a woman in any profession that has a history of being dominated by men, Ghostbusters is going to resonate with you.
Now, I never entertained the illusion that physics or engineering could be a career field for me. (I had a habit, in high school physics lab, of disproving long-accepted scientific principles. Somehow, in spite of me, my lab partner did go on to be an engineer.) But I had a sense that this movie was going to be about me.
There are things women in ministry share with other all-female professionals, particularly within fields that have a history of being dominated by men. The pushback against the female actors on social media was a reminder of how much this is the reality of life as a professional woman.
The movie hit on so many moments clergywomen know too well: men who dismiss you for your clothing; the impossibility that your girl-brain could grasp a complex idea; the suggestion that your clothing is inappropriate (even when your slightly baggy shirt is buttoned all the way to the top); and, of course, the moments where you put up with what can only be described as inappropriate insanity (see the antics of the director of the institute which had housed McCarthy and McKinnon's lab). These dismissals culminate in the moment when one man (making an incredible cameo appearance) is literally blown out of his chair by his refusal to believe that these women are not charlatans.
There are also moments that show the shadow side of women professionals: we've been told that there isn't enough room for all of us women in our field, and sometimes that narrative of scarcity results in the ugliness of pushing down another woman: the split between McCarthy and Wiig's characters at the beginning of the movie; the deviousness of Cecily Strong as a government aid; and, adding in the sad story of white women dismissing women of color, the three white Ghostbusters' initial uncertainty that Leslie Jones' character really has anything to contribute to their group.
There's even a thread through the movie that turns the entire idea of objectification on its head: Chris Hemsworth is used throughout the movie as a dumb male blond, right up until the end when the credits roll over him dancing, as if he were the sexy girl at the beginning of a James Bond movie.
But there are other things in the movie that resonated with the specific experience of being a woman in professional ministry. Sometimes I'm not taken seriously because I'm a woman. Sometimes I'm also not taken seriously because my job is weird.
Let's be honest: those of us who went to seminary have a graduate degree in stuff that many people believe is pure hooey. We spent years of study predicated on the idea that there is a God, and that something beyond science is active in this world. Even if we don't believe in ghosts or demons, we deal in things that are supernatural.
There are times when people might "see" but not have the eyes to understand what's happening, like concertgoers in the movie who assume the ghosts are just part of the pyrotechnics show. And there are times when my expertise is questioned because it doesn't fit with a certain view of the world, just as the Ghostbusters are dismissed by the city government, until things get really out of control.
I get it: my job is weird because I'm trained to think about such specialized subjects as the Trinity and to look for meaning that goes beyond what we see with the naked eye. Ghostbusters fulfills my (impossible) wish that I could prove that my beliefs and profession aren't a waste, or at least that the doubters could be slimed. Unfortunately, there's no proton pack and trap to catch what I claim to be true.
But I'm planning to buy a copy of the movie when it's out of theaters. I'll probably take my ten year old daughter to see it. It's a movie that makes me hopeful about the future for women who are funny and movies that tell the truth. It reminds me that good is stronger than evil. And it's always good to see sisters who aren't afraid of their calling.
---
Erica Schemper is a Presbyterian minister in the San Francisco Bay area. She is not afraid of ghosts, except when it's very late at night and she's alone in a dark, empty, creaky old church. She blogs at "Don't Flay the Sheep."
---
Image by:
John Wardell
Used with
permission
https://media.myworshiptimes31.com/wp-content/uploads/sites/3/2016/08/29165927/345487149_9a3d3e1b2a_z.jpg
426
640
Erica Schemper
https://youngclergywomen.org/wp-content/uploads/sites/3/2017/05/YCWILogo_Vert_Black-300x229.png
Erica Schemper
2016-08-11 04:00:20
2018-11-13 11:35:37
My Sisters, the Ghostbusters