---
Post Author: Molly Field James
---
There is a great divide in my closet. There are the conservative, mostly black and white and shades of grey professional clothes that go with my black clergy shirts and white collars. And there are the more colorful, fun dresses, sweaters, tops and blue jeans that I wear when I am off duty. While a few colorful jackets, sweaters or skirts occasionally do double duty and have been seen on a Sunday morning or at an evening meeting, it is rare. And while I don't consider myself a paragon of fashion or particularly trendy, I have felt chic and trendy in some of my off-duty clothes. I never thought I would use the word "chic" to describe something that involved my collar. That is until one of Camille Daley's dresses arrived on my doorstep.
Like many of my fellow women clergy, I have frequently complained about the poor choices we have when it comes to official garb – it is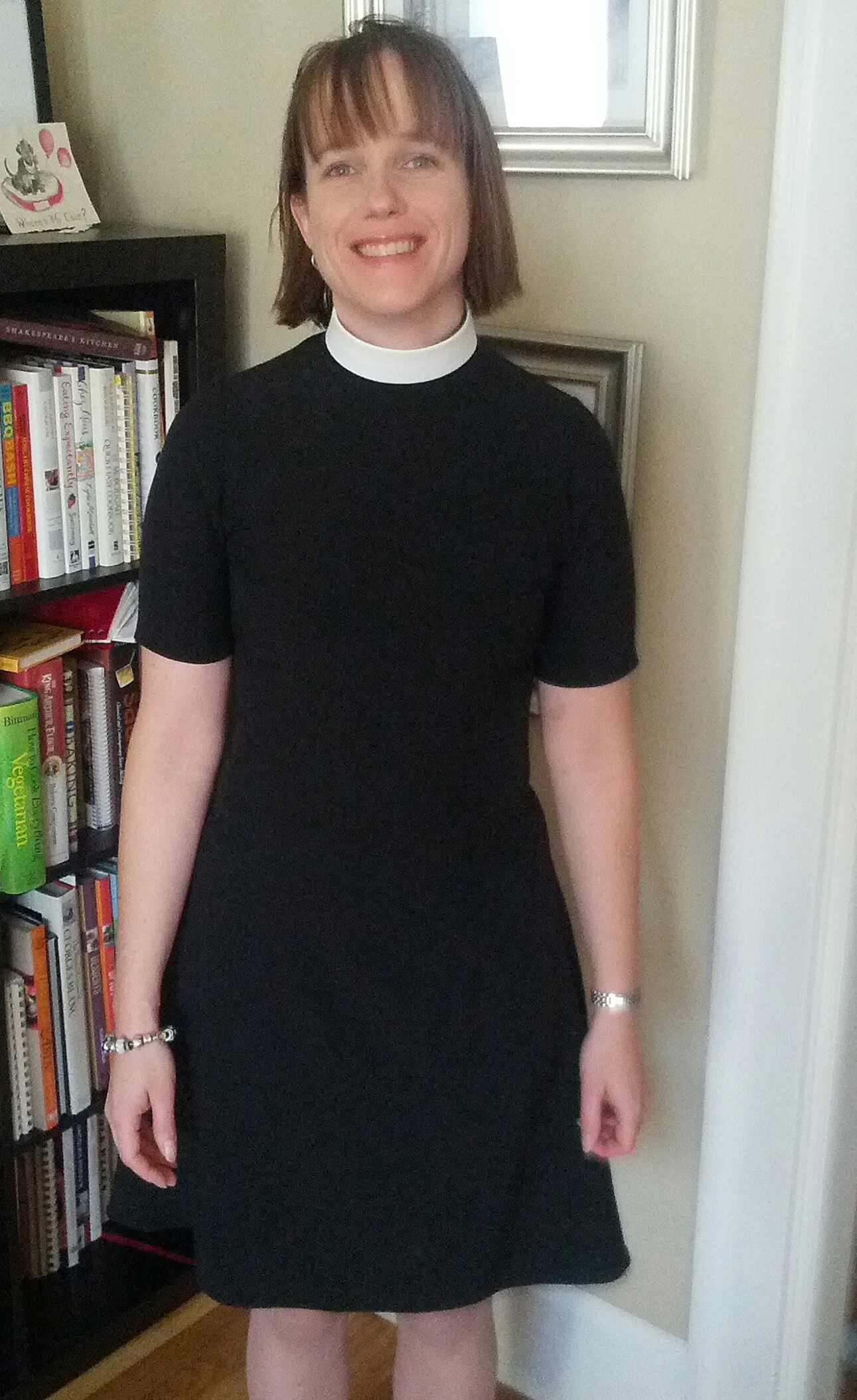 shapeless and ill fitting – designed for some mythical woman who I have never met and I am pretty sure does not exist. I have made do with janies and t-shirts or modified black blouses from Target or Old Navy. While those solutions have allowed me to have something that is somewhat tailored or at least a bit more fitting than most clergy blouses, they are still not ideal, and I wouldn't call them trendy.
The dress that arrived on my doorstep was a knee-length dress, and I love it. For the first time I actually had my collar on AND felt chic. It is comfortable and fun. It comes with a tab collar, but I found I could also wear it with a full collar (see picture). Best of all it is machine washable and does not wrinkle. I just pulled it out of a suitcase and it looks perfect.
While I know this dress (or its variations) may not be for everyone, take comfort that there are fashion minded people out there seeking to provide us clergy women with trendy comfortable clothes. House of Ilona will soon be offering a line of clergy shirts as well. Camelle (owner/designer) is also interested in creating what we want, so if there is something particular you would like, please be in touch with her through her website. She would love to have our feedback! http://houseofilona.com/clergy-collection
And if you decide to order from her, let her know you are a member of TYCWP and she will donate a percentage of her sales back to the Project.
Photo Credit: Molly Field James
---
https://media.myworshiptimes31.com/wp-content/uploads/sites/3/2012/11/29170923/dress-photo-MFJ.jpg
556
269
Molly Field James
https://youngclergywomen.org/wp-content/uploads/sites/3/2017/05/YCWILogo_Vert_Black-300x229.png
Molly Field James
2012-12-06 04:00:35
2018-11-13 11:46:38
Clergy Dress Review