---
Post Author: Erica Schemper
---
Several hours into hard labor, no drugs, with my second child, I had to pee.  I made the decision that it was too much work to walk to the bathroom. "I'm gonna pee!" I announced. And as the urine hit the hospital bed, my first thought was, "Well, this certainly moves my relationship with Martha from pastor-parishoner to something entirely different."
I am chief among those who extoll the importance of boundaries between pastors and their congregations. (I'm the child of a minister and a clinical social worker: I was raised speaking family-systems.) Urinating on a bed in front of the church people is definitely not a part of my understanding of appropriate boundaries.
Martha was a member of my congregation, part of the committee that had called me as pastor for children and youth five years earlier. After a few years, I had identified her as one of the "safe" people, people who got it that pastors are human (she's a PK, which is no coincidence). But when my husband and I had trouble getting pregnant again, I found myself telling Martha about it. She was a natural birthing instructor, and I admired her combination of granola-crunchy sensibility tempered with a healthy respect for the wonders of modern medicine.
That was the beginning of a journey toward the peeing. A year later, after some medical assistance, I was pregnant. My first child, who had been shockingly easy to conceive, had blessed us with a dicey pregnancy and then was an absolute nightmare to get out, culminating with an exhausting emergency c-section after several hours of pushing. My plan for not having another one of those involved an attempt at an unmedicated birth this time around. And so my husband and I found ourselves enrolled in Martha's birthing class, sitting on the floor of her living room with four other couples every week for three months, discussing the utmost of private details, emotions, anatomy, and fears.
And then we decided to ask her to be our doula, too. (A doula is a professional who supports a woman before, during, and immediately after labor. Recognize the word, Greek scholars?) I wavered on that decision for weeks. Was this maybe too personal? Wouldn't the boundaries get too blurry? But we knew her and we trusted her and, boundaries aside, it made sense.
The day Abram was born was a Sunday: our head pastor was able to announce in church that I was in labor, and the whole congregation was able to pray together for me. I was a couple miles away from church, in a room with my husband; my Mom; (my Dad, popping in and out while reading the Sunday New York Times in the waiting room); a fabulous hospital staff, and my OB; and Martha, too. She was there through the whole messy and wonderful thing. (If you love birth stories, here's my take and here's Martha's.)
My church, boundaries and all, is my spiritual family. And they were there with me, body and soul, that day. I am grateful for their presence, because it wasn't an easy birth (though the outcome was exactly what we had hoped for).
Giving birth was the most embodied experience of my life. Birth is embodied from the down and dirty minutia of muscle and blood and fluid and excretions, to the pain and sensation, to the rhythm of breathing and contracting and pushing, heartbeat and blood pressure, right on to the big moment of a new little person coming out of your body and being placed on your chest. If the experience of birthing is not about bodies, I don't know what is.
I have a hard time with idea of birth as a spiritual experience: that rubs me the wrong was theologically. God made us as beings with bodies. We are embodied creatures. We are meant to experience God not just in "spirit" but also in the embodied creation around us: the real life, physical, touchable world.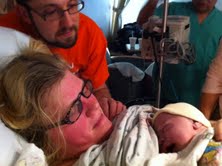 I believe in embodied ministry, too. It matters that we are able to talk and touch and hug our congregations. It matters that we are with them, body and soul. Living and experiencing God through the body is a key part of the Christian understanding of who God is and how God relates to us. Don't forget: we believe that in order to carry out salvation, God became flesh (incarnation), embodied. We live this out as pastors.
I still believe in boundaries. But there are always a few people in each call who play multiple roles in our lives and blur the boundaries. We take those relationships with us when we leave a church. Last week, Martha and her family had a four hour layover at the airport in our new town. We got a few precious hours with them.
My oldest child, now almost seven, said, as we drove to pick them up, "Martha's really like family, isn't she?"
"Yeah, pretty much."
---
Image by:
Erica Schemper
Used with
permission
https://media.myworshiptimes31.com/wp-content/uploads/sites/3/2013/06/29170809/Birthing-Abram-The-Detailserikanderica-1.org_.jpeg
166
222
Erica Schemper
https://youngclergywomen.org/wp-content/uploads/sites/3/2017/05/YCWILogo_Vert_Black-300x229.png
Erica Schemper
2013-06-27 04:00:32
2018-11-13 11:45:29
My Doula