---
Post Author: Katherine Willis Pershey
What would it be like if we were able to view tasks as creative opportunities? From writing new lyrics set to familiar hymn tunes to the visuals we choose for a worship bulletin's cover, liturgy in and of itself can be a chance to be imaginative. Even more interesting, sometimes creativity comes from having boundaries, from having your choices limited by, for example, the lectionary.
When forced to deal with what we are given, a different type of fruit often emerges. Katherine describes how, somehow, what could have easily been viewed as just another stressful hurdle – a worship service for a search committee – became an unexpected chance to be artistic.
---
Part of the interview process for my new congregation involved leading a worship service for the search committee. I was spinning my wheels about what to do until three ideas arrived to save the day.
The first was from a friend who encouraged me to use the daily lectionary instead of picking a scripture on my own. That was insanely good advice, as the daily lectionary text ended up being perfect – though one I would have never selected of my own volition.
The second idea was to write an original hymn, which I did, to the tune of Come, Thou Fount.
Hymn of Discernment
Congregations are the vessels where Christ's presence can be known.
Here the gift of incarnation perseveres in flesh and bone.
We together are his body, head and shoulders, knees and toes.
Laughing, loving, always serving, praising God, forgiving foes.
In the church, you call forth servants to be preachers of the Word.
Ordinary souls responding to the still small voice they heard,
Saying, Go, and serve my people. Tend their wounds and help them see
that the love of God is endless as the vast and salty sea.
Holy Spirit, we have gathered in this place to find our way.
Telling stories, casting visions, seeking guidance as we pray.
Calm our nerves, dispel our worries, send us forth in clarity.
Let our practice of discernment be imbued with charity.

Hymn of Discernment by Katherine Willis Pershey is licensed under a Creative Commons Attribution-Noncommercial-Share Alike 3.0 United States License.
The third idea was to take the entire manuscript of the service – prayers, scriptures, hymn, etc., and create a Wordle image to use as cover art for the bulletins. The larger the word, the more commonly it was used in the text.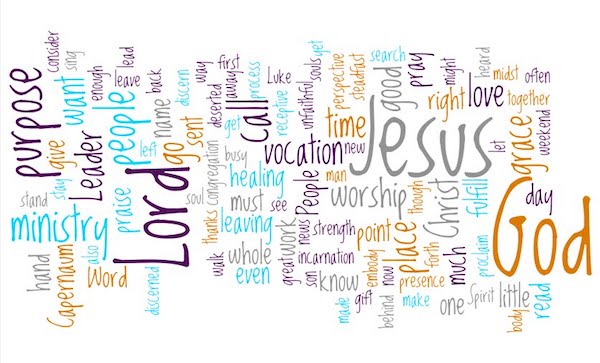 It took me awhile to make the Wordle work correctly, and in the meantime, I spent a lot of time unintentionally meditating on the words included.
All of this contributed to the discernment process, in which the operative word was:
---
Katherine Willis Pershey graduated from Claremont School of Theology and was ordained to the ministry by the Christian Church (Disciples of Christ) in 2005. She serves as the solo pastor of South Bay Christian Church in Redondo Beach, California, and will soon move to the Chicago area to be an associate minister at First Congregational Church of Western Springs.
She's a music enthusiast and a book lover, and blogs about these and other obsessions at any day a beautiful change, where this post originally appeared. She and her husband, Ben, have a daughter named Juliette.
---
Image by:
Katherine Willis Pershey
Used with
permission
https://media.myworshiptimes31.com/wp-content/uploads/sites/3/2010/04/29164901/kwp-wordle-christ-creativity-apr-2010.jpg
363
600
Katherine Willis Pershey
https://youngclergywomen.org/wp-content/uploads/sites/3/2017/05/YCWILogo_Vert_Black-300x229.png
Katherine Willis Pershey
2010-04-27 04:21:00
2019-08-29 14:13:13
Discernment