---
Post Author: Brenda Lovick
---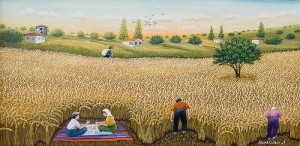 I am thrilled to introduce this new column to you. "Here I stand, I can do no other, God help me. Amen." This famous quote from Martin Luther inspires us to be who God created us to be in whatever context we find ourselves. As children of God, called to wholeness, who we are shapes how we serve.
We invite submissions for this column at stand(dot)ycw(at)gmail(dot)com. Subjects might include (but are not limited to): reflections on your place in ministry, contemplations on how your life situation influences your ministry, stories of how your passions integrate into your work, or times when you suddenly realized that God helped you find and use your gifts for ministry despite your quirks and foibles. These may be moments when your convictions may challenge others around you to see God in new, unconventional ways.
Today, this is where I stand.
As a farmer's daughter, I am blessed to be serving a congregation that is in a rural setting. In many ways my people and I understand each other in ways that someone could not who lacked the same experience. Farmers are deeply faithful people. As a child, I was privileged to watch my grandfathers and father prepare the land, and plant the crops. Then, they would faithfully wait. They would watch for rain or sun, and when harvest came they reaped what they had sown. They would watch the cycles of the moons and the patterns of the birds' flying in the sky. They knew that they were working for a great purpose – to feed the world. They relied heavily on God's faithfulness and goodness through the process of growing crops and caring for God's creation.
I see people in my congregation dedicated to the same purpose. It is beautiful to pastor people who want to make an impact to our local and global communities with their vocation. Thanks to farmers, we have an overabundance of food. Nonetheless, the United States has 50 million people who go to bed hungry. Even surrounded by crops, our community is not immune to this statistic.
I recently watched the documentary A Place at the Table and was shocked to learn that hunger was less of an issue in the 1970's because there were programs in place to make sure that people could get their basic needs met. Today, millions of people are hungry in the United States because these programs are no longer available. The government now relies on charitable organizations to make up the difference. Still, the food that charity can give is limited, tightly controlled, and non-perishable. The result is that the food that the hungry receive does not adequately fulfill their needs. Most food that's available is highly processed "junk" food leaving people less hungry but nutritionally deprived. Although they may not look like it, their bodies are starving.
I knew hunger was an issue in my community, but I had no idea how bad it was. I prayed that God would show me how I could help our community and especially our children. Soon after these prayers began, God answered. A group of women came to me asking if we could do a weekend lunch bag program for school-aged children similar to one modeled by a neighboring community. We called a community meeting to see who was interested and talked to the school superintendent about the possibilities. Soon, we were packing a few bags to help young children.  Now, we pack bags that help youth ages PreK – 12th grade. We are blessed to be a blessing to our children and schools, but it makes me so disheartened that we have many people who are hungry.
There are people in our community, and in our country as a whole, who believe the hungry are fully served by food pantries and food stamps. In fact, many believe users of these services are not in need and are abusing the good will of the community. There are those who will not support our ministry because it is not in line with what they believe politically. My experience is that the face of hunger is often hidden. Families who are hungry look exactly like families who are not. As a pastor, I see what others sometimes do not. Hungry families face a stigma of failure and often will not willingly share their distress openly but, as a pastor, I hear and share in their pain and struggle to feed their children.
Jesus' response to this is very clear: "For I was hungry and you gave me something to eat, I was thirsty and you gave me something to drink." (Matthew 25:35) Denying people food is denying Christ, who is the leader of "the least of these." (v. 40) Saying that children can take care of themselves or that their parents need to step up is ignoring the issue. Some children don't have food for whatever reason. When they are hungry, they can't think straight; and when they can't think straight, they can't learn. Feeding children helps our children learn and through learning breaks the cycle of hunger.
I knew that something needed to be done in this community about hunger. I thank God for all of the grace has brought this ministry together. I thank God that I was brought here to pray. I thank God for the women who came forward to do the work. The Holy Spirit calls us to do God's ministry. As farmers who make a living by growing food, it only makes sense that we can show people our vocational passion by helping people receive the food they need. The reality is that even though farmers provide food, hungry people are still in our midst. We cannot assume otherwise. By God's grace, may God's people have enough food to serve all to promote a healthier world. Please consider a children's hunger ministry in your church or your community. Share with your people the need so that they will become passionate about it. If we all work together, 50 million people can rest better as they go to bed because they know from where tomorrow's meals come.
Photo by Chris Beckett, http://www.flickr.com/photos/chrisjohnbeckett/3734993993/, September 12, 2013.  Used by Creative Commons License.
---
https://youngclergywomen.org/wp-content/uploads/sites/3/2017/05/YCWILogo_Vert_Black-300x229.png
0
0
Brenda Lovick
https://youngclergywomen.org/wp-content/uploads/sites/3/2017/05/YCWILogo_Vert_Black-300x229.png
Brenda Lovick
2013-09-12 03:00:20
2013-09-12 03:00:20
Full Fields, Empty Cabinets.