How to Dress for a Protest
---
Post Author: Melissa Bills
---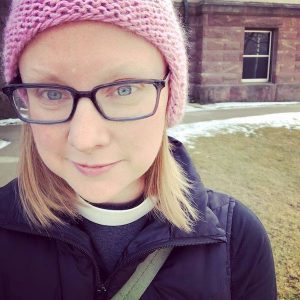 This past Saturday, our Iowa winter weather pushed above forty degrees. The sun was warm, the air was humid, and the sidewalks were filled with puddles. It was a perfect day for our community's Women's March. It was a terrible day for figuring out what to wear.
I knew that I wanted to wear my clergy collar. I knew that I didn't have any shoes that were both waterproof and comfortable for walking. I knew that I would regret looking too casual. I knew that I would regret looking too fancy.
I pulled on some black leggings and my gray jersey-knit clergy dress (with collar). I layered a half-zip fleece and a black puffy vest. I zipped up my brown boots (the flat ones) and challenged myself not to step in too many puddles. I slung my green cross-body backpack over my shoulder and filled it with meager essentials – wallet, cell phone, water bottle, a granola bar, some lip balm.
Finally. Dressed and ready.
Except for one thing. A hat.
The week prior to the march, I had purchased a skein of the bounciest, softest, squishiest pink alpaca yarn – the sort of yarn that I can only afford to buy one skein at a time. I loaded it onto my knitting needles and, a year out of fashion, knit myself a pink hat, square at the top so that subtle kitten ears would emerge when I pulled it onto my head. I'd finished the hat on Friday night and deemed it the softest, warmest, most comfortable had I'd ever knit.
I grabbed it on my way out the door. But instead of putting it on, I shoved it into my backpack, woefully indecisive about whether to wear it. Woefully indecisive about whether I should have made it in the first place. Woefully indecisive about whether I should be wearing my collar to the day's march and rally. Woefully indecisive about whether I should be heading out the door at all, especially with my four-year-old son in tow, who had resolutely informed me that: He. Was. Going. With. Me.
He and I walked, hand in hand, along the bike trail toward Mary Christopher park, the kickoff spot for the the Decorah, Iowa edition of the Women's March. As we walked, I tried to explain to him, in four-year-old terms, that this march was a way to say that everybody is special, and everybody deserves love and homes and food and doctors and jobs, no matter who they are. I tried to explain that we were marching because we believe that God loves everybody – everybody!
As a person of faith, I am convinced – convicted, even! – that God's love and mercy are for everyone. I believe that God's grace is the great equalizer. I believe that we receive God's gifts of forgiveness and wholeness and hope in order that we can offer those gifts into the world. I believe that following Jesus means that we have an inescapable call to serve one another and to show self-giving compassion for all people and all creation.
It should have been easy for me to march. It should have been easy to wear my faith on my sleeve.
But the closer we got to the gathering crowd, the more insecure I felt. I was conflicted about bearing my faith into the public sphere. I worried about what I was wearing. I felt anxious about who would see me, what people would think. I was wearing an incredibly comfortable outfit, and still I felt so very uncomfortable.
It is hard to get dressed for a protest. My collar, my hat, my very presence are all laden with symbolism and power and burdens, no matter how smooth the leggings or how buttery the hat.
When I wear my collar to a rally, am I a symbol to those present that faith and justice go hand in hand? Or does it look like I am siding with one political party, to the rejection of those in my congregation who identify with other political ideologies? Is my collar a sign of solidarity, or is it an irresponsible flaunting of my position and my authority? Am I standing up as a representative of my denomination, or am I being careless with my credentials? If I wear a collar and a pink hat, am I interpreted as a witness to God's justice, or I am an embarrassingly insensitive display of white, cisgender, heteronormative, educated, upper middle class privilege?
My relationship with living my faith and my vocation in public is a complicated one. The issues surrounding this one-year anniversary of women's marches around the country are complicated as well. Just as I needed to check myself, often, through the afternoon, so also do we need to check ourselves, often, as protesters, citizens, and members of this shared human existence. Because there is no perfect outfit to wear to a protest, and there is not one of us who comes perfectly to this holy work of resistance. We are always discerning.
We put on some layers and we shed others. We recognize our baggage, our lumps, our incompleteness. We give credit where credit is due. We offer grace where grace can be offered. We receive correctives when correctives are necessary. We act in faith as best we are able. We advocate for the vulnerable, even as we learn the best words and the best channels through which to do so. We make space for voices that have too-often been silenced, even as we humbly admit our clumsiness in getting out of the way. We listen and we learn, even when it is painful to admit that we have been wrong. We challenge one another to recognize privilege and we keep seeking the intersections. We recognize that all of our symbols are incomplete and finite; all of our symbols grow and change and fade.
As we started walking down the street together from the park to the courthouse, I started paying attention to what everyone else was wearing. I started identifying friends and neighbors in the crowd and thinking about the reasons that they were choosing to march.
I hugged friends wearing rainbow flags around their shoulders. I waved to congregation members wearing pink caps. I marched with neighbors carrying clipboards who were wearing magenta capes that read, "Ask me how to register to vote!" I walked with a fellow community-choir member who wore a bullhorn over her shoulder and raised it to lead chants about democracy. I stood at the courthouse and sang protest songs alongside groups of international students and LGBTQ+ students from our local high school and college who were wearing message t-shirts and face paint. I listened to a diverse panel of speakers while also watching my son play tag with a whole gaggle of excited children wearing winter coats and rain boots.
I came to realize that we were all wearing different things to the march; not one of us was wearing the "right" thing or the "wrong" thing. We were all wearing our hopes and dreams in different ways. We all put on mix-and-match outfits of passion, anger, solidarity, faith. And yet we all wore the same base layer: the core conviction that we are called and obligated to stand up for the well-being of all people, and especially those who are the most marginalized and least represented in our society.
By the end of the rally, I had finally gotten comfortable in my clothes. And I had figured out the right things to wear: I clothed myself in gratitude for the boldness of advocates and organizers. I put on a mantle of humility and hope. I wrapped myself in the work of prayer. I cloaked myself in faith.
I wiggled my toes inside my comfortable shoes. I pulled the sleeves of my fleece over my cold hands. I kept my collar on. And I wore the hat.
---
Melissa Bills is ordained in the Evangelical Lutheran Church in America and is currently serving First Lutheran Church in Decorah, Iowa.
---
Image by:
Melissa Bills
Used with
permission
https://media.myworshiptimes31.com/wp-content/uploads/sites/3/2018/01/29165534/Womens-March-hat-such-time-jan-2018-featured.jpeg
200
300
Melissa Bills
https://youngclergywomen.org/wp-content/uploads/sites/3/2017/05/YCWILogo_Vert_Black-300x229.png
Melissa Bills
2018-01-25 04:00:36
2018-11-13 11:33:04
How to Dress for a Protest