---
Post Author: Emily Peck-McClain
---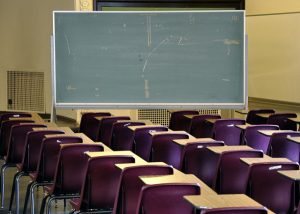 As we begin a new semester, and a new school year, after the summer we have had as a country, I am thinking about academic freedom. In 1 Corinthians, Paul writes twice that "all things are lawful but not all things are beneficial" (6:12 and 10:23). Paul was likely responding to a saying in the community at Corinth with the "all things are lawful" part.
There are, as with many Greek words, different ways to translate the second half: is he saying that not all things are edifying? profitable? expedient? helpful? I choose to translate it "beneficial" because I think that covers pretty much all those other options. All things are allowable, but not all things are beneficial. As a seminary professor and Christian, I think of this as a good way to consider the topic of academic freedom.
The academy (including Christian college, seminary, or secular state institutions), is a place where ideas should flow freely. Mistakes should be made, and even encouraged, so that everyone in the community (professors and students alike) can learn and grow. I often assign readings that I agree with wholeheartedly — readings that have challenged my thinking and broadened my perspective. I also assign readings that I don't agree with, because they are important to have as part of the conversation in the class.
My students can expect to be challenged in their thinking in my courses. If they make a theological statement that I can see might be problematic in some way, they can expect that I will question them about it and ask that they think through the implications of what they are saying. For example, if they say something sexist or racist, they can expect that I will do my best to control my anger and shock and call them out on it.
I remember one instance when a student began a comment in class with the words, "This might sound racist, but…" I cut him off. I said, "If you are starting a sentence with those words, it's probably best not to finish it." He rephrased and continued, though his comment was definitely still racist, making a broad assumption about people of color. His freedom to speak in the classroom clashed with the freedom of other students to not be stereotyped. His freedom to speak clashed with my responsibility as the instructor of the class to manage the classroom environment and make certain that students are treated with the dignity and respect they deserve.
I do not insist that students agree with me in order to get a good grade. I do insist that they think through what they say, allow themselves to be changed, challenged, or supported by our readings and class conversation, and be able to engage in that conversation even when disagreeing with me or other students. This, to me, is beneficial.
In the United States, we have a Bill of Rights that protects free speech. There are limits on speech, however. Threatening another person, for example, is not acceptable. Neither is defamation of character, though that also can be speech. There are often stories about how freedom of speech and academic freedom intersect, and whether there is a line between was is allowable and what is beneficial or acceptable on campuses. In the wake of clashes between white supremacist protesters and anti-racist counterprotestors in Charlottesville, Virginia, prominent white supremacist Richard Spencer is planning another rally in September; this time at Texas A&M. Is this academic freedom? Is it beneficial?
Controversial figures are frequently booked to speak in academic settings, because these are places where learning is held in high esteem, where different viewpoints are part of the curriculum and content of courses and the community. Students, professors, student groups, administration, and the community at large (especially once media is involved) argue and question the legitimacy of controversial figures and question whether hearing from them explicitly or implicitly legitimizes what they say. For me, as a Christian and seminary professor, I come back to Paul's statement: these things might be lawful; but not all things are beneficial.
Free exchange of ideas that complicate our "bubbles" and challenge our perspectives should be welcome and encouraged. Speech that is violent, whether in class between course participants, in course readings, or from the mouths of controversial public figures visiting campus, is not beneficial. It is harmful. Speech that dehumanizes a segment of the population or encourages behavior that would be physically, emotionally, or spiritually damaging to a segment of the population, is harmful, not beneficial. Part of academic freedom is the freedom to say "no" to someone because we know that they are causing harm.
The biggest question then follows, who gets to decide where that line gets drawn?
As a Christian I trust the process of "discerning the spirits," something a favorite seminary professor of mine, Christopher Morse, often pointed to from 1 John 4:1: "Beloved, do not believe every spirit, but test the spirits to see whether they are from God; for many false prophets have gone out into the world." If a Christian academic community is struggling to figure out where the line between academic freedom and academic harm lies, then entering into intentional discernment seems the only adequate solution.
Will a speaker be challenging or only harmful? Does a school see itself tacitly supporting a viewpoint by hosting it on campus? Are the students raising concern mostly students who are members of oppressed or minority populations? If so, this should cause the majority to consider how their own power and privilege might cause them to find something acceptable that others find harmful. What do our faith, our scriptures, church history, and theologies show us about this kind of conversation or topic?
These questions might be helpful for a community seeking to discern around the important matter of taking both faith and freedom seriously, a dilemma with which institutions must grapple. I ask myself a similar set of questions when conversations take place in my own classrooms. I try to facilitate learning and do so with an intentionality of anti-racism and a commitment to seeking justice in my ministry of teaching. All things may be lawful, but it is better for our learning, growing, and living together as a community for our words to be not just lawful, but also beneficial.
---
Rev. Dr. Emily Peck-McClain is an ordained elder in the United Methodist Church and Visiting Professor of Christian Formation and Young Adult Ministries at Wesley Theological Seminary in Washington, DC. She is currently beginning this semester on maternity leave and is eagerly anticipating returning to the classroom later this fall.
---
Image by:
Chris
Used with
permission
https://media.myworshiptimes31.com/wp-content/uploads/sites/3/2017/09/29165627/chalkboard-classroom-such-time-this-sept-2017.jpg
457
640
Emily Peck-McClain
https://youngclergywomen.org/wp-content/uploads/sites/3/2017/05/YCWILogo_Vert_Black-300x229.png
Emily Peck-McClain
2017-09-12 04:00:43
2018-11-13 11:33:26
Lawful and Beneficial: An Exploration of Faith and Academic Freedom