---
Post Author: Diana Hodges-Batzka
---
Editor's Note: This article is one in an occasional series called "A Lenten Pause," running on Fidelia's Sisters until Easter. As many young clergy women plan to come to our summer conference, Sabbath in the City, in Chicago we'll be taking a look at the sometimes terrifying topic of sabbath and the role it plays in our ministries.
Church without meetings. Imagine it.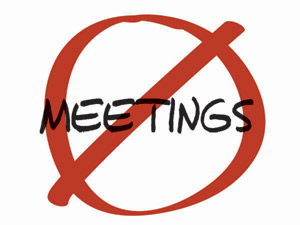 For some this is the dream of a lifetime-never having to sit in an uncomfortable chair, late at night after a hard day's work to hear people discuss things that seem unimportant ever again. This is fantastic!
For some this is inconceivable nightmare – never sitting down with other people and planning and making sure we hear everyone's thoughts and know what is going to happen in the church. This is fantastical!
For me and my church this was our spiritual practice this Lenten season.
Like so many other churches, our worship attendance has been declining for many years. Our wonderful, faithful members are aging, getting a little grayer and frailer every year. We are blessed with legacy resources from previous generations which continue to uphold us, but these are dwindling. We are disconnected from our community and struggle with how to reach out and communicate. Six-months ago, I was blessed to be called as the pastor of this wonderful congregation, filled with faithful followers of Christ who nurture each other but struggle with how to be church in the 21st Century.
After a few months of living into my church's rhythm of meetings and activities, I began to wonder what our life would be like if we didn't have meetings and instead focused our time and energy on worship and prayer. Then as I was sitting in a Church Leader's Planning Retreat this January and we were thinking about our activities for the year, I asked the question: "What can we let go of?" Meaning – what activities, programs, things that we always do can we not do this year?  The only response was: meetings.
This statement really struck me because after only a few months, I was tired of our meeting schedule. We had meetings almost every Sunday, immediately following worship. Every Sunday. Even with worship at 10:15 a.m., the meetings wouldn't start until 11:45 a.m. and sometimes would last until 1:00 or 1:30 p.m. I would be drained from worship, hungry, and disappointed that I didn't have time to visit with the visitor or members I wanted to – because I had to go to a meeting where people were waiting for me.
Now I will be honest. I like meetings! I think meetings are important ways for people to share ideas, communicate, brainstorm, plan, get on the same page, resolve miscommunications, and get to know each other. The challenge is when meetings become routine and space is not made for creativity. The setting is difficult when people are tired and hungry and don't want to be there. The problem occurs when meetings don't lead to actions that are faithful to the Good News.
So, I began wonder what life would be like for my congregation without meetings.
According to most descriptions of congregational life-cycles, my congregation would be in the 4th quadrant or at the end of the curve where most of our time is spent in managing and maintaining ourselves. If didn't have meetings, I wondered how we would use our time instead? More importantly – how would God use our time instead? It seemed as if we needed a break, a rest, a way to letting go of our routine to make room for God in the life of our congregation.
Eugene Peterson, in his book Working the Angles, describes sabbath as a "uncluttered time and space to distance ourselves from the frenzy of our own activities so that we can see what God has been and is doing" (72-73). This is exactly what my congregation needed! A sabbath time to focus on what God has been doing and what God is calling us to do, rather than doing what we have always done.
From these musings, there emerged this idea for a church sabbath this Lent from all regularly scheduled activities (including Sunday school!). After sharing this idea with people for a few months, laying the groundwork, calming fears and anxieties (Ex. "It really only means canceling one board meeting."), my brave church decided to follow their new pastor's strange idea and they embraced this Lenten sabbath.
Now, this idea for a sabbath was not done in isolation. It has been a part of a larger transformation process of visioning in which my congregation and I are engaging. During Lent, we have offered prayer and conversation groups to begin discerning our congregation's vision. It has also been an important exercise in our theme of "Letting Go in Lent" as we have explored the idea of how we can let go of those things that separate us from God. It has been a practical way for our energy to be focused on God rather than on maintaining the church.
So far it has been a practice with few tangible results, but I have seen evidence of God's nudging among us. The first Sunday one member did confess to me that she ended up being late for church. She got up at her normal time, remembered that she didn't need to be at church until later and then got so involved in another activity that she forgot to leave in time to be a greeter!
People have been staying longer talking to each other after worship at our fellowship time. While coffee and cookies have always been provided, people aren't rushing off to a meeting. They are now enjoying each other's company and fellowship more.
I know I have enjoyed not having as many meetings. It has made me a better pastor. I have been able to spend my time on worship and pastoral care rather than writing reports and agendas. I have been able to have important conversations after worship. And the church has continued to function as it always has. Bills have been paid. Worship has been filled with God's presence. And it has been a time of rest as we have prepared to think about the future where God is calling us.
I look forward to hearing how people have felt about the practice as we get back to our regular activities. My hope is that they are filled with God's activities rather than our own.
---
https://media.myworshiptimes31.com/wp-content/uploads/sites/3/2012/04/29171058/nomoremeetings.jpg
225
300
Diana Hodges-Batzka
https://youngclergywomen.org/wp-content/uploads/sites/3/2017/05/YCWILogo_Vert_Black-300x229.png
Diana Hodges-Batzka
2012-04-05 04:00:55
2018-11-13 11:48:10
Letting Go…of Meetings!