---
Post Author: Diana Carroll
If you are interested in using this hymn, please contact the author by emailing for permission.
---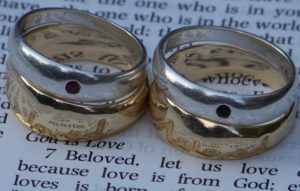 "My beloved speaks and says to me: Arise, my love, my fair one, and come away."
I've been involved in planning quite a few weddings over the years, including my own, and I can tell you that one of the trickiest parts is choosing music. I'm a big fan of our Episcopal hymnal, but it really falls short when it comes to wedding hymns. There are precisely four hymns in the section titled "Marriage." They are numbers 350 to 353, and I can pretty much guarantee that even if you are Episcopalian, you've never heard of any of them, because they're never used. There are plenty of other fabulous hymns that people use at weddings, and of course, there are many songs for choirs or soloists. But there are hardly any actual wedding hymns.
So a few years ago, when my wife and I agreed to make each other Christmas presents instead of buying things, I decided to write her a wedding hymn. I drew on the image of the beloved in Song of Songs, which is often read at weddings, and I set it to the tune of her favorite Christmas carol: "In The Bleak Midwinter."
You are my beloved.
You, I'll have and hold,
comfort, love, and cherish
as our lives unfold.
Whether sick or healthy,
whether rich or poor,
you are my beloved
now and evermore.
I am your beloved.
All I have I share.
All I am I give you.
All things I will bear.
With this solemn promise,
two have become one.
I am your beloved
till our lives are done.
We are God's beloved.
In God's love we live.
When we hurt each other,
may we soon forgive.
May our life together
joy and healing bring
to all God's beloved
who are suffering.
We are God's beloved:
all who gather here.
May our lives be strengthened.
May we persevere.
As we journey onward,
we are not alone.
We are God's beloved.
God will be our home.
The marriage service in the Episcopal Book of Common Prayer is, in my opinion, one of the most beautiful liturgies out there. There is a reason that the vows in our service — the ones written by Thomas Cranmer in the 1500's — are used by so many other churches, not to mention courthouses and Hollywood script writers. So when I looked for inspiration for this hymn, I figured I could do no better than the marriage service itself. The words in the first verse are taken from those famous vows. At the same time, they begin to name what a faithful Christian marriage looks like. This theme continues in the second verse, which draws on the words used with the exchange of rings. It then expresses the belief that this sacrament unites two people together into one.
The word "beloved" appears in all of the verses and ties the hymn together, but it is used in several different ways. At the beginning, as in the Song of Songs, it is the way the couple addresses one another. "You are my beloved." "I am your beloved." But the second part of the hymn shifts to a much wider meaning for "beloved." We recognize here that the two people are not alone in their love, for they are also God's beloved, individually and as a couple. Even more than that, they belong to a beloved community. Recall how the Letter of James addresses the whole church as "my beloved." In the church, we are beloved of one another and of God.
For verses three and four, I turned to the wedding prayers — the prayers that are offered not only for the couple, but also for the gathered community and the world. Here, we see an aspect of Christian weddings that is easily overlooked in secular culture: that the marriage is not just about two people. The life that the couple builds together is intended to be a sign of Christ's love for a world that is deeply in need of it. And, as the final verse brings out, the same is true of our life together — all of us — in the church.
When I first wrote this hymn, there were only three verses. But it felt like something really important was missing. This is a congregational hymn, not a solo or an anthem. It's meant to be sung by everyone. And yet, the first three verses all seemed to be written from the perspective of the couple. It needed the last verse to the throw the circle of love wide open and include all of us in it. The final lines contain a sense of something that is true for most weddings: that those who gathered for this one day will all go their own ways when it is over. Yet, even as the congregation goes out to their homes, and the couple goes to theirs, all remain connected by the love of God, who is their true home.
---
Diana Carroll is the not-quite-full-time rector of St. Luke's Eastport, a small and fabulous Episcopal church in Annapolis, Maryland, where this hymn had its world premier in August 2015. She also moonlights as the chaplain for St. Anne's School of Annapolis. Diana and her wife Sarah have had three weddings (due to the constantly shifting legal landscape for same-sex couples), and they fervently hope they will not need a fourth – even though it would give them the opportunity to include this hymn.
---
Image by:
Sarah Lamming
Used with
permission
https://media.myworshiptimes31.com/wp-content/uploads/sites/3/2016/06/29165945/OnesWeLoveJuneImage.jpg
300
472
Diana Carroll
https://youngclergywomen.org/wp-content/uploads/sites/3/2017/05/YCWILogo_Vert_Black-300x229.png
Diana Carroll
2016-06-21 04:00:18
2018-11-13 11:35:58
You Are My Beloved