---
Post Author: Katie Churchwell
---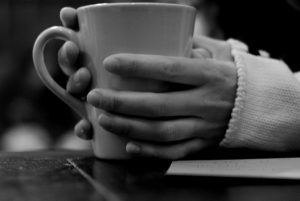 "Smile, sweetheart, the c*** lost," he said.
Not exactly how I pictured starting my morning the day after the election, the first day into a President-elect Trump world.
"It's inappropriate to speak to me in that way," I said, before walking away from the man in the infamous red hat. Yes, that red hat.
It was 8:30am, as I stood in line at Starbucks to pick up my grande coffee with steamed non-fat milk before driving across the state of Florida to go home after vacationing with family. Good morning y'all!
And then it began, the running tirade in my mind:
I'm not your sweetheart.
I don't exist to give you smiles.
How dare you violate me in this way, with that word?
And in one of my sacred spaces on top of it all.
Anyone who knows me could tell you how much I love coffee. I love the ritual of it, the pouring of the water and the measuring of the grounds. How time seems to stand still as it brews. I love the smell and heat of the cup in my hand.
Coffee for me is a way to tap into my memories of early mornings with my now deceased mother. It's bonding with my family. It's quiet and holy time alone with God, and loud and holy time with God and friends.
Coffee is where God and I meet in the morning. And this man cussed all over it.
How do we reclaim our sacred space when it has been so utterly violated? This was the last question I was left to wrestle with, after wondering: Is this is how it feels, to be a person of color or LGBT? Are there safe spaces anymore? Are even our sacred spaces not safe?
The next day I stood in my local Starbucks with my baristas Tyrone and Myra behind the bar, and I felt icky. And if I am really honest, I didn't feel safe. It was the first day the holiday cup was released and the place was packed. I wanted to leave. I didn't want to be in a place that I, for personal and professional reasons, am in at least every other day. This really pissed me off.
And then it hit me: I can accept this or I can change it. I can choose love or I can run.
So I took back Starbucks.
I looked at the people I was in line with. The people who sat and chatted, the ones who were working, the ones wrangling their kids, and decided then and there that these were my people, regardless of who they voted for, and I was going to make Starbucks a happy place.
I paid for my coffee and left behind a fifty-dollar gift card to "pay for as many people's drinks as this will last." I'm not sure how many people got free coffee that day, but I walked out of Starbucks determined to be the good I want to see in the world. For those behind me in line, it may have just been a nice little surprise, but for me it was God showing up in our sacred space and making it Holy once more.
---
The Rev. Canon Katie Churchwell is Canon for Community Outreach at the Cathedral Church of Saint Peter in St. Petersburg, Florida.
---
Image by:
Ishai Parasol
Used with
permission
https://media.myworshiptimes31.com/wp-content/uploads/sites/3/2016/11/29165855/4332255678_04819c4c94_z.jpg
428
640
Katie Churchwell
https://youngclergywomen.org/wp-content/uploads/sites/3/2017/05/YCWILogo_Vert_Black-300x229.png
Katie Churchwell
2016-11-24 04:00:29
2018-11-13 11:35:14
Making Coffee Kind Again