---
Post Author: Lee Hull Moses
---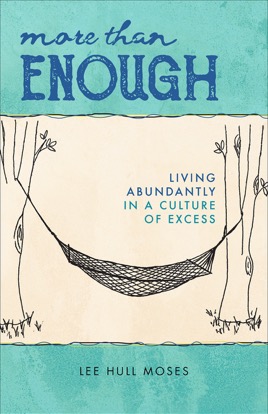 I have a very un-humble confession to make: I adore the cover of my new book. When my publisher first sent me the image earlier this year, I'm pretty sure I squealed like a teenager who has just found the perfect dress to wear to the prom.
The drawing on the cover is inspired by the hammock in our backyard. I bought it a couple of years ago, on a trip to visit some friends in Nicaragua. In real life, it's red and white, though after a few seasons in the sun and the rain, the colors aren't quite as bright anymore. It hangs between two trees, and dips low to the ground; my daughter likes to read out there, her brother likes to make it swing. I watch them through the back window, and the sight of the two of them out there playing is so beautiful to me that it takes my breath away.
Our life is very good. We live in a safe place. We have healthy kids, good jobs that we like; we're able to pay the bills and put food on the table. Sometimes, I look around at this very good life and I can hardly believe that this is the same world in which people go hungry every night. The same world in which refugees walk for months and years with nothing but the clothes on their backs. The same world in which the gap between rich and poor is growing wider all the time.
How are we supposed to live, given this reality? When every choice we make – from where we live, to what schools our kids go to, to where we buy our groceries and our clothes – has implications far beyond our own family, how do we live?
I've been wondering about this for awhile now, but as I went looking for some answers, most of the responses I found were inadequate or confusing.
We could live more simply, but simple living turns out to be kind of complicated. We could commit to only buying stuff that's sustainably produced and locally sourced, but that's not always easy to find. We could buy only organic, locally grown food…or should we buy cheaper food and have more money to give to the hungry? We could use our cars less and give the earth a break, but then how do we get to work? We could go off the grid entirely and grow all our food and make our own clothes, but what if we don't know how to do that, or want to do that? And aren't we, as Christians, called to live in the world?
I didn't exactly find answers to all these questions, but I do think there are some things we can do and do better. I think there are some faithful ways to live. We can make better choices with our stuff, all those material goods that make up our lives. We can pay attention to where it comes from and who makes it, use less of it, and be grateful for it. We can give generously from what we have. We can get to know our neighbors better. We can advocate for changing systems and laws that further exacerbate the divide between the haves and the have-nots.
The Christian tradition also offers some resources that can be helpful: Confession and lament. Sabbath-keeping. Delight, and hope. These are practices that ground us in our tradition as we try to make sense of the world we live in.
Anyway: back to the hammock. Earlier this year, one of the trees that held up the hammock had to be taken out. It was diseased up at the top, and the tree guy who understands such things said that it was too dangerous to leave standing. I was sad to lose the tree but I was even sadder to lose the hammock.
It had become a touchstone for me. Just having it out there reminds me of things I need to be reminded of: It reminds me that there are people who live different sorts of lives in different parts of the world. It reminds me of the need for sabbath and play and delight, even in the middle of regular, busy life. It reminds me that we are not without responsibility for our actions and our choices, but that there are faithful ways to live in the tension between appreciating the goodness of the world and grieving for the ways the world is broken.
I missed the hammock when it was gone.
Finally, a couple of weeks ago, my dad and my father-in-law happened to be in town at the same time. My father-in-law is an architect who knows how to figure things out, and my dad is a putterer who likes to have a little project to work on. Together they rigged up the hammock in a different part of the yard, between two different trees in a spot I hadn't considered.
There's a different view from the back window, now, but I can still see it out there, standing as a reminder for all I hold dear. I am grateful.
—
Read more about Lee's hammock (and plenty of other reflections on living faithfully in an unjust world) in her new book More than Enough: Living Abundantly in a Culture of Excess. An accompanying discussion guide and worship planning guide is available for free download here.
---
Lee is a former TYCWP board member and a regular contributor to The Christian Century magazine. She and her family live in Greensboro, North Carolina – home of the lunch counter sit-in movement and the Greensboro Grasshoppers baseball team – where she works alongside the good people of First Christian Church (Disciples of Christ). A Midwesterner at heart, she has now lived in the South long enough to appreciate the word "y'all." Connect with Lee at leehullmoses.com.
---
https://media.myworshiptimes31.com/wp-content/uploads/sites/3/2016/11/29165856/more-than-enough-featured.jpeg
169
267
Lee Hull Moses
https://youngclergywomen.org/wp-content/uploads/sites/3/2017/05/YCWILogo_Vert_Black-300x229.png
Lee Hull Moses
2016-11-22 04:00:43
2018-11-13 11:35:14
A Hammock and a Window