---
Post Author: Alex Hendrickson
---
A few months ago, a friend posted an e-card to my Facebook wall that read: "Of all the ways you've tried, I think you'll find parenting to be the most fulfilling way of ruining your life".  That, along with Karl Barth's assertion that "Grace must find expression in life, otherwise it is not grace", sums up nicely the quirky and honest tone I strive for when talking about my own Christian faith and my relationship with my three children.
Before I start my review of Hopes and Fears, by Bromleigh McCleneghan and Lee Hull Moses, it seems appropriate that I begin with a confession.  I worried about reading this book.  I mean, I knew it would be well-written.  I knew it would be thoughtful and scripturally sound.  I knew it would be kind and funny.  The cover design is lovely. The authors' photo on the back is attractive.  However, I must confess my worry that I wouldn't like this book.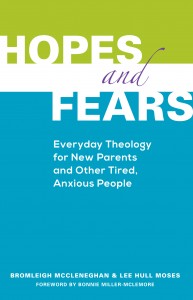 Parenting books are notoriously terrible.  The advice seems either to fall in the "No duh" category or the "I could never in a million years live up to those standards" category. Parenting books, as McCleneghan notes in chapter four ("Bedtime") are mostly ideological.   Most parents are focused more on the now than the not yet of their breakfast-to-bedtime lives and parenting books don't often understand that reality.
As someone who is nearly a decade into motherhood, I cringed at the idea of yet another parenting book that preyed upon the guilt- and fear-filled reality of modern parenting.  I don't read parenting books as goal-setting exercises; I read them for support, encouragement and humor.  And "Christian" or "faith-based" parenting books are often the worst of all; not only are you a bad mother for a whole multitude of sins, they inform you, but you're hurting your relationship with Jesus in the process.  Sanctification doesn't seem to come into play.
So, as the last week of October rolled around and my community plunged into the darkness of post-Hurricane Sandy power outages, I found myself at home from work with nothing to do but read.  It was time to put aside my concerns and read through Hopes and Fears.  What an exercise in joy and relief! What a gift to parents, this work of grace given expression through the lives of these two young clergy women.
Moses and McCleneghan alternate authoring the chapters in this book, but unlike other dual author titles, it is great to see how the authors refer to each other across chapters and how their friendship and collegial relationship is edifying for them both as pastors and as parents.  So many aspects of modern life result in isolation and loneliness; Hopes and Fears shows that people of faith can be collaborative about their parenting, not competitive.  Remember the idea that it takes a village to raise a child?  McCleneghan and Moses expand the bounds of the village to include even friends on Facebook and family in other parts of the world.
I can imagine that this book would be a great one to read with a church parenting group.  I love the playfulness, the humor, and the honesty that this book conveys.  Stories told with good faith and deep humility will resonate with new parents and even with those who may not ever plan to raise children. Judicious use of scripture and well-reasoned explanations of theological concepts make this book informative, not preachy (though both authors are tremendous preachers!)
I can't wait to hear what happens as their children grow and the authors continue to reflect on faith, parenting, and an expansive definition of family.  There is truly a wideness in God's mercy and McCleneghan and Moses have captured so beautifully what it means to seek the fullness of life that God intends for each one of us.
---
https://media.myworshiptimes31.com/wp-content/uploads/sites/3/2012/11/29170925/cover-image-193x300.jpg
300
193
Alex Hendrickson
https://youngclergywomen.org/wp-content/uploads/sites/3/2017/05/YCWILogo_Vert_Black-300x229.png
Alex Hendrickson
2012-11-22 04:00:37
2018-11-13 11:46:38
Hopes and Fears and Grace and Love