---
Post Author: Anna Doherty
Our Cloud of Witnesses" is a venue for exchanging the stories of those who surround us with strength and grace. Some may have gone before us. Some may be journeying right along side us. Some may have spoken to us out of history. Some may be our favorite characters out of a beloved book. Some may be those who are the most unexpected. Tell us who has shed light on your own journey of faith and vocation, and help us to see the many ways we are truly embraced and held up by a great cloud of witnesses. Submissions may be sent to witnesses(dot)ycw(at)gmail(dot)com.
---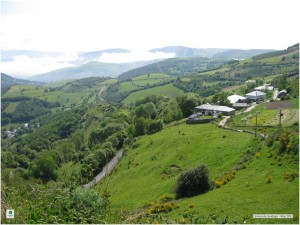 In May 2014, my mother and I walked the last 110km of the pilgrim route to Santiago de Compostela, in Spain. There have been many wonderful books, blogs and websites published about the pilgrim journey to Santiago, as well as many films, such as The Way with Martin Sheen. I commend all of these resources to you. I could fill pages with stories about the pilgrim route itself, about the wonderful experience of meeting God's people in all their infinite variety, about what it is like to go on a literal and spiritual journey…but what I really want to reflect on is what it was like making the journey with my mother. Making the journey with my mother is what truly made the pilgrimage a God-filled experience for me.
Spending ten days, walking close to seventy miles, with ones mother may sound like a nightmare to some people. It was wonderful for us! My mother and I have always had a close and loving relationship. We get along; more than that, we actually enjoy and value each other's company, insight, and conversation. I have especially enjoyed, now that I am officially in my early thirties, getting to know my mother as a fellow adult. She was a wonderful and amazing parent—she is also a wonderful and amazing woman. I feel very blessed to have such a supportive and caring relationship with my mother, knowing especially, that not everyone has such a gift available to them.
My mother and I had an interest in making the pilgrim journey to Santiago for a long time. One day, in the course of a phone conversation, we just decided to do it. We had the time, health, resources, and motivation, so why not make it happen? Until the day we boarded the plane to Spain, we literally could not quite believe what it was that we were about to do.
Previous to making the journey, my mother and I talked some about what we hoped to get out of the pilgrimage to Santiago. I was hoping for time and space for personal, spiritual and professional discernment, especially in my role as a parish priest in the congregation. My mother, who recently retired from a longtime career in clinical social work, was hoping to gain some spiritual insight into her goals and purpose post-retirement. We were both at different places in our personal and professional lives.
We were also at different places in our spiritual lives. I am an Episcopal priest. My mother attends an ELCA Lutheran church, which she joined after an extended period of spiritual seeking. While I serve God as a clergy woman in the church, in the capacity of inviting people into the life of faith, my mother has struggled for a while with the institutional practice of faith. She is a deeply religious and faithful person, but, like many people, has a difficult and sometimes painful past with the organized church, both as a child and adult. What's more, the question of what to believe and why, is a very present matter for my mother, as it is also sometimes for me. Essentially, we were both seeking some of the same things, but for different reasons, and coming from drastically different personal, professional and spiritual contexts.
To be honest, I was hoping that God would speak to me somehow, and let me know clearly and compellingly, what God wanted me to do with the rest of my life. My mother was essentially hoping for the same thing. That's not quite what happened.
Here's what did happen. We had a very long and beautiful walk together, as mother and daughter. We were up at 9am and walked steadily until 6pm, for 6 days straight. Sometimes other people would be beside us on the path, sometimes, for long stretches of time—even, for about eight hours—there would be no one but us. We walked together, at the same pace, the whole time. Sometimes we laughed and talked together. Sometimes we walked in silence, lost in our own thoughts. What was especially wonderful about our walk together is that, when you walk for such a long time and over such distances, everything else falls away. The to-do lists, the professional and personal pressures, even the big spiritual questions—all of it fades away into the background. All we needed to do was put one foot in front of the other. All we needed to do was to be together. All we needed to do was just to be. At no other time in my life, has it been quite as possible or quite as easy to fall into simply being–being so present in the current moment and present also, to the woman beside me.
Not surprisingly, neither of us received a clear and compelling vision from God for our individual futures. There were no straightforward answers. I have a friend and fellow priest who has walked the pilgrim journey in the past, and she believes that answers and insights come over time, after the journey is over. I think she is right. I am sure that I will gain even more from the journey, now that the actual walking has ended. From a practical standpoint, once the trip was over and we went back to our separate homes and lives, I found that I really missed my mother. I had just spent every day with her for ten days straight. I felt the need to call her, to email her, to hear her voice even after the trip had ended—so I did, and have continued doing all those things regularly. But what God did give my mother and me, while on the journey itself, is the ability to be freed for a while, even of the questions and the need to ask them. The questions didn't matter, and certainly not the answers either, at least not while we were walking together. We were able to simply be together, and I believe that God was with us in that space also.
I wish I could offer you wise words or a great insight at the close of this reflection. I really can't. All I can say is that being present to someone you love, taking the time and the space to do it, is absolutely worth doing. I believe God is present with us in any loving relationship–in the conversations, the laughter, the weighty matters, the long walks, and the tired feet. Yet God is present in the silences too, when no one is talking, or laughing, or asking questions, but just connected by loving presence beyond words. When we talk about being surrounded by a Great Cloud of Witnesses, I believe those witnesses are the god-filled relationships in our life—like my relationship with my mother, and all the people who I care about. I truly am blessed; I truly am surrounded by a great cloud of witnesses, people to love and who love me, and to know that God is in the midst of the relationships we share. That is so good to know again in my heart and my body and to remember into my future – whatever the journey holds.
---
The Rev. Anna Doherty is the Vicar at St. Aidan's Episcopal Church in Hartford, WI, and Leadership Development Clergy Associate at St. James Episcopal Church in West Bend, WI. She is a 2008 graduate of Yale Divinity School. Her mother has read this submission and fully approves of this reflection.
---
Image by:
Fresco Tours
Used with
permission
https://media.myworshiptimes31.com/wp-content/uploads/sites/3/2014/07/29170517/5758303675_9b833fd157_o.jpg
2124
2828
Anna Doherty
https://youngclergywomen.org/wp-content/uploads/sites/3/2017/05/YCWILogo_Vert_Black-300x229.png
Anna Doherty
2014-07-22 03:00:28
2015-08-25 18:24:19
Pilgrimage with My Mother