---
Post Author: Laura Stephens-Reed
---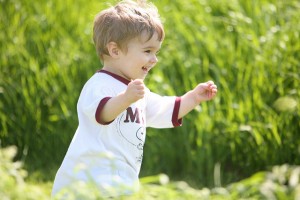 I pushed back from the table, breathless at what I had just seen. It was July 2011, and I was sitting in a room at Duke University with dozens of other female ministers. We were gathered for the last morning of The Young Clergy Women Project conference, and keynoter Winnie Varghese had invited us all to close our eyes and picture our lives in five years.
This kind of personal visioning was a luxury I hadn't afforded myself in some time. After all, I'm married to a United Methodist pastor. For the eight years before that moment, I had struggled with the reality that itineracy dictated not just where we lived and Matt served, but also what opportunities were available to me. When someone asked me where I wanted to be in five, ten, or twenty years, I usually gave a partly true, partly cop-out answer: "Oh, that's for the Holy Spirit to decide."
Winnie's invitation, however, shook something loose. I had closed my eyes for the exercise, because I'm a rule-follower, an obedient eldest child. But it wasn't long before I saw an image like an animated GIF projected on the inside of my eyelids. I was holding a toddler, who was struggling to be put down so that he could wobble excitedly over to Matt. The detail was striking: the blooms on the trees, the look of adoration on the boy's face as he looked at the man who was obviously his father. What made my breath catch in my throat, though, was the convergence of my deep ambivalence toward becoming a parent up to that point with my advancing age and my sudden certainty about wanting to be a mom.
I wasn't sure how to tell Matt that I had been clunked in the head with a God GIF. After all, he hadn't seen it, and I couldn't play it for him. What if he thought I'd lost my marbles? What if he wasn't interested in being a dad? It took me several days and a few glasses of wine to work up my nerve. As usually happens with us, though, we quickly got on the same page. "Let's go for it," Matt said.
We gave ourselves a few months to recover from this mind freak before we started trying to conceive. We were successful pretty quickly. Matt was out of town when I got the double line on the pee stick. I was out of my mind with excitement and trepidation. We kept our news mostly to ourselves—it was too sacred to share widely—and I began mentally bubble-wrapping my heart and my belly to protect this precious secret.
The days until my first prenatal visit with the OBGYN passed as slowly for me as for a child waiting on Christmas. When the day finally came, Matt and I were ushered into the ultrasound room. Almost instantly, I knew something was wrong. The tech was quiet. She was searching, searching, searching with the wand… and then she left abruptly. The doctor came in, informed us there was no heartbeat, and spouted some particularly unhelpful religious platitudes. I went home, ate sushi and drank wine, and stared at the TV, feeling completely bereft. Had I gotten the message wrong? Maybe the GIF was actually a gaffe.
The physical process of miscarrying was miserably drawn out in my case. In the midst of it, Matt received word that he was changing appointments. As soon as he got the call, we hopped in the car and drove 45 minutes to see the parsonage and the church. I had never been that far northeast in Alabama, and it was beautiful country. When we pulled up to the church, I first noticed the blooms on the trees, then the buildings behind them. I caught my breath and started to cry. "This is the place," I told Matt. "This is where I saw our son run to you."
That realization was what gave me the courage to try again to conceive. When the district superintendent called a few weeks later to offer Matt a different appointment, I said a flat "no." The GIF was no longer a gaffe but a gift from God, and I was holding onto every part of it for dear life.
Our son was born a year later. The timetable was inexact: he was toddling in 2014 rather than 2016, as the five-year exercise seemed to predict. And I never set him down so he could run to Matt in the precise spot I had envisioned. But during my pregnancy, the loop of Levi toddling to his dad allowed me to hope every time I felt a pang, spotted a bit of blood, or went to the hospital for a non-stress test. (We made three of those anxious trips.)
I still guffaw anytime someone asks me where I'll be in five years. But now it's not because I'm itinerant by marriage. It's because I am the mom of a very energetic two-and-a-half year old, and I have no idea what adventures the coming years hold. I can't wait to find out.
---
Laura Stephens-Reed is a clergy coach, congregational consultant, interim minister, and supply preacher. She is also mom to Levi, whose existence was first announced by the nausea Laura felt throughout the 2012 conference of The Young Clergy Women Project. Laura blogs at laurastephensreed.com. She previously wrote for Fidelia's Sisters about her ambivalence toward parenthood here.
---
Image by:
Juhan Sonin
Used with
permission
https://media.myworshiptimes31.com/wp-content/uploads/sites/3/2016/02/29170015/3585301578_f5744f9f42_z.jpg
426
640
Laura Stephens-Reed
https://youngclergywomen.org/wp-content/uploads/sites/3/2017/05/YCWILogo_Vert_Black-300x229.png
Laura Stephens-Reed
2016-03-29 04:00:34
2018-11-13 11:36:22
A GIF From God