---
Post Author: Stacey Midge
---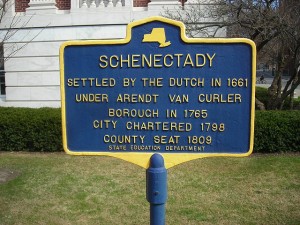 If you ever watched much of "Will and Grace," the name of my city might sound familiar.  Schenectady, oddly not a fictional name, home to fictional Grace, that unknown, upstate city that was fodder for more than a few jokes.  I never got the feeling that the writers had ever actually been here, and why would they have been?  Even the people who live in our version of suburbs only travel through the nicer parts of town.  My friends in the neighboring cities, none of which are without their own rough areas, never want to meet me here.  There's nothing to do there, people say.  It's not safe, they say.  Locals who have spent their whole lives here routinely ask me, "How did you end up here?  And why did you stay?"
"Isn't that kind of a depressed place?" people ask when I tell them where I live.  Economically,  sure, it's depressed (isn't most of the country right now?).  Like most of the river towns in New York, Schenectady lost a lot of its manufacturing industry three or four decades ago to cheaper labor abroad, and has never quite recovered from it.  GE stuck around, but in a reduced capacity.  The once elegant homes of former executives, managers, and researchers were broken up into four apartments apiece and rented out by absentee landlords.
We struggle with gang activity here, in this city of fewer than 70,000 people, and some of the highest rates in the state of drug abuse, mental illness, prostitution, teen pregnancy, and school drop-outs.  Nearly 80% of our school-aged children qualify for free or reduced-price lunches.  The police force has a reputation for corruption.  We lock our door and take the GPS out of the car; the last time I didn't, my car window was broken in the morning.
If you're living in one of the better neighborhoods, there's still plenty to complain about; believe me, we do it all the time!  It floods in the summer, the plowing is terrible in the winter, and trees fall into the power lines and take out the electricity routinely, all year round.  I've seen some of the strangest sights of my life on the streets of this city, like the man seized by steroid rage who stepped into traffic and punched the windshield of a passing car, shattering it all over the driver.  Whenever we see something peculiar happening here, my friends and I simply raise our glasses and salute, "Welcome to Schenectady."  We make a lot of those toasts.
Those of us who live here will be the first to tell you that it is a weird place, but it is my considered belief that we secretly love it.  We're like Chicago Cubs fans, never quite winning but eternally hopeful.
Or maybe it's just me who loves it – and I do.  Love it.  And I don't just love it for its proximity to other things (although being less than an hour from the Adirondacks and Catskills, just over a two-hour train ride from Manhattan, and a three-hour drive from Boston or Montreal certainly isn't one of my complaints).  Much to my own surprise, I have come to love this city.  I, the woman who has lived in seven states and lost count after twenty addresses, who has always kept my feet moving toward the next horizon, have found a place to be still for a while.  More than that, I have found myself to be part of this place, my life twined together not just with my church but with the whole city.  I have friends here, inside and outside of the church, a position I can imagine keeping a while, volunteer work on the side, investment in the city.  For the first time in my life, I feel like a citizen, not just a visitor.
That feeling is not something I thought I'd want, honestly.  I thought my lack of connection to place and space would make me a better minister, more adaptable, more able to come and go with the leading of the Spirit.  Someday I will likely leave here, that being the nature of pastoral ministry.  Whether we want to be or not, most of us are movers, not stayers.  When I leave, it will be more painful because of the breadth and depth of the connections I've made here.  All the same, I have promised myself that I will not regret making this my home for whatever time I am here.  The effectiveness of my ministry and the health of my soul during this phase of my life can be largely attributed to the fact that, for the first time, I've put down roots.
---
Stacey Midge is ordained in the RCA and serves in a church in Schenectady, New York, where her roots tie her to the church family, various non-profit organizations, a diverse network of friends and colleagues, the musical community, and her dog Laila, who has also happily made a home for herself in the city.
---
Image by:
Doug Kerr
Used with
permission
https://media.myworshiptimes31.com/wp-content/uploads/sites/3/2012/05/29171036/4356365041_a4519ac18b_z1.jpg
480
640
Stacey Midge
https://youngclergywomen.org/wp-content/uploads/sites/3/2017/05/YCWILogo_Vert_Black-300x229.png
Stacey Midge
2012-05-17 04:00:54
2019-08-20 17:21:24
Putting Down Roots