---
Post Author: Heidi Ward
---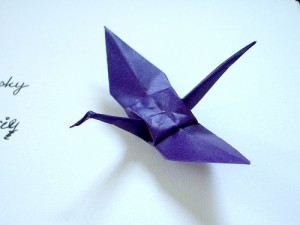 I was sitting alone in the darkness of my seminary dorm room.  There was an exceptionally sad song playing on my iPod.   The tears were pouring down my face.   As I pulled another tissue from the box, I said out loud:  "I am not equipped to do this.  I don't have what it takes to be worthy of this call that you placed on my life. I can't do it, God.  I can't."
I was one week into my very first "real, grown-up ministry job"—otherwise known as my field education placement.  I was working in a beautiful, diverse, spiritually-inclusive faith community bursting with children, and vibrant growth.  The pastor there was everything I hoped for in an internship supervisor.  Warm, brilliant, thoughtful, challenging in all of the "right ways," and the congregation LOVED her.  She had earned their trust ten fold.
This sounds amazing, doesn't it?   Like I should have been jumping for joy.  Thanking my lucky stars that I had found such a wonderful placement.
Not so much.  Instead?  Instead, I was terrified.
I had spent the last two years building roots and pursuing my call to ministry in a church that is a national UCC center for excellence.  My ministry mentors?  People literally came from all over to hear them preach.  And when my seminary classmates heard that I was in-care for ordination at THAT church, they looked at me as if I had special super powers.  Oh yes, and of course we were a teaching church.
Our interns?  They were like Midas (you know, from the Greek legends, lest it be confused with that tire place with the cheesy commercials).  Everything they touched seemed to turn to gold.   I was awed, humbled, and totally freaked out by them.  There was no way I was ever going to be THAT good.   I mean, hello y'all, let's get real.  Oh yes, and my partner?  My partner is amazing, quickly becoming a beloved clergy person in her own right.  Now, at my field placement church, here I was, studying at the feet of another beloved pastor with an outstanding reputation.  It was just all too much to live up to.
And so, I lamented.  Like the Psalmists, like Jeremiah, I cried out to God that I wasn't worthy.  That She must simply mean someone else.  I was never going to be like any of THOSE people.  What on earth was I doing in seminary?
I opened my Bible to read some of my old, favorite verses for comfort.   And onto my lap fell a beautiful, blue paper crane.  Taped to the side of the paper crane was a post-it note that read:  "You are worthy of this call."  The tears stopped as my breath caught in my throat.  I had entirely forgotten I had it.  A gift from mysterious seminary angels, paper cranes bearing inspirational sayings of all kinds had been left on our desks for the last day of classes in the spring semester of my first year. I remember being completely dumbfounded, and moved to tears when I got it.  And here it was again at a moment that I needed it most.
I gently unfolded the little paper crane.  I set him gently on top of my Bible next to a photo of my partner and me.  This was going to become my inspiration corner.  I grabbed a piece of paper and without really thinking began to write.   I just wrote the sentences as they came to my mind and one by one taped them up on the wall.  I am whole.  I am loved beyond measure.  I am affirmed just as I am.   It was then that I realized I was writing a prayer.  It was a prayer for myself, a prayer for every young, aspiring clergywoman who had ever felt this way.
And it was in that moment that it really sunk in. I don't have to be my internship supervisor, or my ministry mentor, or one of those interns at my home church whom I idolized so much.  I just have to be me.  A line from an old sermon rang in my ears.  God doesn't call the equipped.   God equips the called.   Say that with me again, sisters:  God doesn't call the equipped.  God equips the called.
Doubt is holy.  It is part of the process.  But God didn't call some super polished version of me that I might be one day.  God calls us just as we are.  We are worthy of every moment of this journey, and this call.  Lucky for us, the Resurrection teaches us that doubt and fear will not have the last word.  They are not the end. The end of this story? About 2 hours later I lit a candle into the darkness and whispered, "I think I can.  I know I can.  I can."
Along the Way is a column written by women discerning a call to ministry. Submissions are welcome and should be sent to alongtheway(dot)ycw(at)gmail.com.
Photo by Lori Hutchinson, http://www.flickr.com/photos/lorihutchinson/3405472576/, April 1, 2009. Used by Creative Common License.
---
https://media.myworshiptimes31.com/wp-content/uploads/sites/3/2012/05/29171035/blue-paper-crane.jpg
375
500
Heidi Ward
https://youngclergywomen.org/wp-content/uploads/sites/3/2017/05/YCWILogo_Vert_Black-300x229.png
Heidi Ward
2012-05-22 04:00:57
2018-11-13 11:47:49
A Blue Paper Crane