---
Post Author: Baylee Smith
---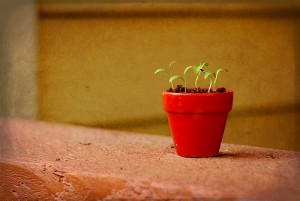 Has anyone else noticed that the liturgical calendar and the academic calendar seem to sync up from time to time? Think about Advent… The eager awaiting spirit we hold as we celebrate the birth of Jesus lines up with the anticipation of surviving fall exam week and beginning Winter Break. As a last semester divinity student, Lent's unique spirit of endurance, intentional discipline, and dim-yet-present hope echo within my soul (and on my calendar) as graduation approaches.
This final year of Divinity School has been the most challenging of the three for me. I battle daily with self-doubt, fear, and answerless questions. Beyond the countless theological questions, I cannot run from the unanswered questions within my own self that ceaselessly bombard me as I traverse these last few months. Am I really cut out for ministry? Was what I interpreted to be a call really a call? Is ordination on the horizon in the coming years? What is this ever-elusive thing I keep hearing about called self-care? What can ministry look like in non-congregational settings? Am I going to find a position in a nonprofit or organization that gives me life? Has this all been worth it? Am I any more spiritual or knowledgeable than when I started classes two and a half years ago?
As I'm thrown into a place of reflection nearing graduation (as if the entirety of divinity school wasn't reflective enough…), I think of the richness in images found in nature, particularly gardening. I'm planning spring/summer garden for this year and have been amazed over and over at the mystery of the growth process. Like planting and working a garden, my divinity school career has met its fair share of messiness, inconvenience, and failure. Plans were subverted, unexpected barriers sprung up, and chaos seemed to rule. Yet, I cannot deny that I have caught a glimpse of the breathtaking potential of beauty out of chaos, and growth out of the dirt. I may be overstating the divinity school experience, but as I think of the journey I've made throughout the years, I think of myself as a seed being gently placed into the earth. Watching the growth of a plant from its beginning as a seed to its fullness as a productive plant is undeniably an incredible experience. I feel like a rooted yet fragile sprout, not yet blooming; I have weathered an undoubtedly treacherous part of the journey with much nurture and maintenance, but I have much growth ahead of me.
Though the slow, steady walk toward my diploma this semester is nothing really like the slow, steady walk of Jesus to the cross (and resurrection), I see some parallels. The human Jesus must have had questions, doubts, and fears, wondering if his life and journey were worth it. Yet, there he was, in a particular place and time, for distinct, yet seemingly invisible purposes. This Lenten season, I await the beauty and renewal of Easter. I find myself here during Lent, in my final semester, actively waiting for the renewal of the earth in spring, the celebration of God's living presence in Easter, and a completed chapter of my life in graduation. I traverse this academic season with a similar spirit as I do the liturgical season of Lent; I walk the divinity school halls daily with the hope of endurance, strained discipline, and a dim-yet-present hope that this bud will bloom, that graduation (and the set of adventures thereafter) is coming.
photo credit: dixieroadrash via photopin cc
---
https://media.myworshiptimes31.com/wp-content/uploads/sites/3/2013/03/29170837/seedling.jpg
335
500
Baylee Smith
https://youngclergywomen.org/wp-content/uploads/sites/3/2017/05/YCWILogo_Vert_Black-300x229.png
Baylee Smith
2013-03-26 09:21:43
2019-08-20 16:50:02
Spring Comes