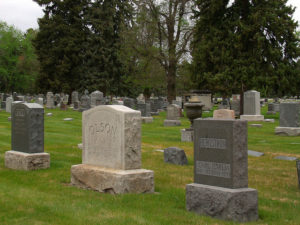 "Can you ask them if they're okay with a woman?"
It was late morning on the Friday after Christmas.  It was one of what feels like only a small handful of days each year when I didn't have anything really pressing on my to-do list, so I came into the church that morning determined to clean my office.  My time that day felt like a gift – it wasn't claimed already by someone else, and so I pulled up some music and set about making my space feel, once again, like my own, which almost never takes priority for me.  It had occurred to me, as I walked in, that these are the kinds of days when disasters usually strike, but I dismissed that thought as quickly as it had arrived.
So when the call came in from the city office, it took me a minute to wrap my mind around what the woman on the other end was asking.  Someone needed a pastor, and they needed a funeral in less than two hours.  Wait, what?  Who buries the dead that quickly?  Or if it wasn't so quick, why hadn't they called yesterday, or the day before?  Oh, I see, their priest is suddenly unavailable, okay.  And they don't speak much English.  And you say they're African immigrants?  They attend the Orthodox Church.  Okay.  It's for a 6-week-old baby?  Good God.  And just the burial.  Right, just some prayers.  Christian prayers.  They just need a Christian minister; any Christian minister.  Got it.  Okay.
I'm a Christian minister.  A Lutheran one, to be precise.  My church is the first one the city employee had called, and of course I said I was available.  To bury a baby on a moment's notice for a grieving family on the worst day of their lives?  Can there be more holy work than this?
After I had taken down the few bits and pieces of information the city employee had about the family, I was about to hang up, when I remembered one last thing:
"Can you call the family back first?" I asked the city employee.  "Can you ask them if they're okay with a woman?"
She scoffed.  I appreciated the guttural expression of support, and I knew what she meant – that this family was desperate for someone to meet this need, and I was both trained and willing to meet it – but still.  "It's the worst day of their lives," I said.  "I don't know anything about their culture, and not enough about their religious beliefs.  Can you just call and make sure?"
She agreed.
She called back within three minutes, her voice sheepish and apologetic.  "You were right to ask," she said.  "They said that they would much prefer a man."
https://media.myworshiptimes31.com/wp-content/uploads/sites/3/2017/01/29165830/13970986328_50b184b88e_z.jpg
480
640
Andrea Roske-Metcalfe
https://youngclergywomen.org/wp-content/uploads/sites/3/2017/05/YCWILogo_Vert_Black-300x229.png
Andrea Roske-Metcalfe
2017-01-31 04:00:01
2018-11-13 11:34:54
Can You Ask Them If They're Okay With a Woman?