---
Post Author: Jodi Hinrichs
---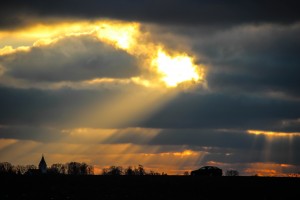 Just before Christmas, I preached at the funeral of a beloved church and community member named Wendy. She struggled with cancer for many, many years—far more years than I knew her. We became especially close in the last two years of her life: years which were also marked with my mom's cancer diagnosis and death. Wendy, my mom, and I all bonded over cancer, death, and the promises of God that we shared.
After such a long battle, Wendy's death still felt sudden. It was hard to know where to begin with the sermon, although it felt like it should have been easy. After all, not long before she died, she sent me a four page document telling me what to share and what not to say.
Wendy wanted to be sure that I shared how much her family meant to her: her dad and her mom, as well as her husband and children. She loved each of them fiercely and uniquely. Wendy loved people, including more friends than she could name. Of course, I didn't need her email to know that. Anyone who met Wendy knew that. In the years I knew her, it was obvious that she put others first consistently. Even as she did everything in her power to fight the cancer that had invaded her body, she continually gave of herself: in her classroom, at church, to her family and friends. Jesus said, "You shall love your neighbor as yourself." The only difference with Wendy may have been that she loved her neighbor more than herself.
That love for others grew out of love she received: from her family and friends, but also from God. Wendy told me not to say that she was a strong person. Some of us disagreed with that over the years. However, she wrote, "God is who got me through all the years with his strength and by surrounding me with such wonderful people that made me want to stay for as long as I could." Wendy was strong because her strength came from God, from her faith.
Jesus also said, "You shall love the Lord your God with all your heart, and with all your soul, and with all your mind, and with all your strength." Wendy loved God and was not afraid to share her faith. She was involved in teaching confirmation for many years. Those were years in which she talked openly about her faith, about what she believed, about her willingness to keep learning and growing, trusting that God was part of her life's journey. For me, Wendy was part of that great cloud of witnesses referred to in the book of Hebrews. She ran the race of this life with perseverance, looking to Jesus for her strength. And now, she's still part of that great cloud of witnesses: those who have gone before us, who point us to God.
A few months after her father died, Wendy shared with me an experience she had one evening while driving. She was on the phone but had to pull over because a cloud stopped her in her tracks. It looked just like the profile image of her dad. I told her that I believe the boundary between this life and the next is thin. Throughout the Bible, Jesus says that the kingdom of God is near. And the kingdom of God includes God's children, in this life or in the next. Wendy saw an image of her dad literally in the clouds but also as part of the cloud of witnesses who reminded her that life is not over even when life is over.
I told Wendy of an experience of mine that she asked me to share at her funeral. My life, too, has been deeply affected by the horrible reality of cancer. My dad died from cancer when I was not quite ten years old. There is much of my life he hasn't been here for, including the birth of my children, and that brings deep sadness. My oldest child, now six, takes after my dad by having sensitive skin. My dad had been a mail carrier, and the winter was particularly rough on his skin, so he used A&D cream to help. Shortly after my daughter's birth, when we used this ointment on her, I would hold her close and smell her and think, "Daddy."  When I snuggled with her six-month-old self, and when she "kissed" me (which was more like slobbers), I felt like my dad knew her and that he sent hugs and kisses for me from heaven.
It's hard to articulate this. I believe my child is a gift from God, that God knit her together, and that God knows her and loves her. I believe that God knows my dad and loves him, and I believed that before I had children. I couldn't help but feel like my dad knew my daughter and sent me a message of love through her. Both of them belong to God and are forever connected by that reality. Wendy told me that my story gave her comfort and strength. She knew she belonged to God and would forever be connected to those she loves, even those we haven't yet dreamed of. The distance between life and death is thin in the kingdom of God.
In life and death, we belong to God. Wendy knew that. Now, she is free of pain and cancer and the burdens of this life as she rests in God's presence. Her funeral was a day to rejoice in the promises of God: that she has been granted everlasting life. Even so, as Ecclesiastes states, there is a time for everything, including times of tears. There were certainly tears that day and in the days that followed. But none of us walk the journey of grief alone. Jesus lived and died and rose again so that we might live and die and rise with him. Yet God's promises aren't just for the dead, but for the living. God's promises are for us, too. God will be with us, just as God was with Wendy, on this journey through life, surrounding us with people who will share all the bad and good times with us. This is the great cloud of witnesses, who strengthen us to run the races set before us, the cloud of witnesses who invite us to live as Wendy did, loving God and loving others. In life and in death, in joy and in grief, we belong to God. We are God's beloved children always. I hope that I, like Wendy, will never forget that.
---
The Rev. Jodi Hinrichs is grateful for the cloud of witnesses at Shepherd of the Cross Lutheran Church (ELCA) in Muscatine, Iowa, where she is pastor. She is also grateful for the cloud of witnesses that make up her family, including her parents, who rest in God's arms, and her daughters, whom she still gets to hold.
---
Image by:
Susanne Nilsson
Used with
permission
https://media.myworshiptimes31.com/wp-content/uploads/sites/3/2015/04/29170238/12128900845_a6ef4b6db0_o.jpg
3456
5184
Jodi Hinrichs
https://youngclergywomen.org/wp-content/uploads/sites/3/2017/05/YCWILogo_Vert_Black-300x229.png
Jodi Hinrichs
2015-04-23 04:00:05
2019-08-15 14:54:46
The Nearness of the Clouds