---
Post Author: Sarah E. Ross
---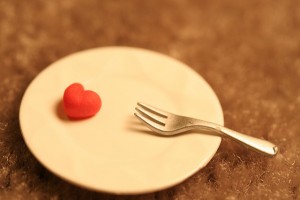 Valentine's Day can be hard for single folks. This year, since it happens to fall on the first Sunday of Lent, it may be a particular challenge for single clergywomen. I asked some single members of The Young Clergy Women Project how they deal with the mushy romance of Valentine's Day as single women. None of these strategies can prevent the ever-so-awkward comments or questions that a Single Rev. sometimes gets from well-meaning church folks, but here are a few clergywomen's tips for getting through February 14th.Just Ignore It
Several single clergywomen advised just ignoring the day. A British YCW told me that in the U.K., Valentine's is really a couples-only holiday, not celebrated by children or friends, so she ignores it as well.
"I treat it like any other day. Whatever I might do on a random no-holiday day is what I do that day."–Christa 
Embrace It
Others took the opposite approach, choosing to embrace the holiday in all its pink and red sugary splendor. Some choose to send cards or give away candy to friends and acquaintances. Others buy themselves flowers or gifts to celebrate the day.
"Valentine's Day is my favorite day of the year. I send out between 50-75 valentines every year. I use it as another day to remind the world they are loved. In seminary, I used to buy valentine's candy and give it away all day. I found that if I focus on the giving, I receive so much more."–Eleanor
Remain a Kid at Heart (and eat all the candy hearts)
For many, Valentine's Day carries memories of childhood. Some choose to keep the childlike joy alive by either celebrating with children or celebrating the same way they did as children.
"It was kind of a surprise for me as I grew up to realize that Valentine's Day was a romantic holiday. My mom always made a big deal out of it for us kids, and we would wake up to candy and presents and cards at the breakfast table. She still sends me a card and a present every year. I think, even now, in singleness, I still associate it with family and with my mom, so I don't get as sad about it as some other holidays." –Sara
"When I was young my dad used to send us Valentine's stuff in the mail if he was away on a business trip. We would get cards, candy, flowers, and all kinds of goodies. As I grew up, no matter where I was, my parents would always send me something. Even now as an adult they send me a sweet card. This taught me from very early on that it's not a holiday about having a significant other. So I say a great way to survive Valentine's Day when you're single is to make it a day to show love for your family, friends, pet, or even yourself."—Jessi
"Currently the only way Valentine's Day affects my life is having to make sure my second-grader makes cards for all his classmates."—Grace
"I prefer my Valentine's Day platonic. Sometimes I send my sister or parents small gifts, but mostly I'm in it for the candy hearts. They're mine, all mine!"–Joy
Do Unto Others
Some have used this day as a special occasion to reach out to others in need, especially women. One young clergywoman mentioned that each year on Valentine's Day, she buys several packages of new underwear for the women at her local homeless shelter. Others mentioned attending or participating in "V-Day" events, including productions of the Vagina Monologues or other events that draw attention to sexual or gender based violence.
"On Valentine's Day, I make a donation to a women's shelter in honor of every woman I know who has experienced sexual assault and/or domestic violence."–Allison
"This is the third year I am helping organize a 'One Billion Rising' event to raise awareness about gender based violence. The event is a little different every year, but always includes dance, awareness raising, personal testimonies, and access to information and resources. This year's event will include Zumba, which is very popular in my community."–Jenny
Valentine's? More Like Galentine's!
Single or not, many young clergywomen choose to take the day to celebrate the joys of female friendship. The "Galentine's Day" holiday dedicated to "ladies celebrating ladies" as introduced by Amy Poehler's character on Parks and Recreation officially takes place on February 13, but any day is a good day to gather women together for laughter and waffles.
"I reached out to my other single friends. Especially when I was super far away from them and really hating being single, Galentine's Day and/or actual Valentine's Day phone dates with my people were life saving."–Melanie 
Whether you choose to ignore or embrace Valentine's Day, may this February 14th be blessed with friendship, fun, and a total lack of awkward church questions about your love life.
---
Sarah Ross is ordained in the Presbyterian Church (USA) and serves as the pastor of First Presbyterian Church in Adrian, Michigan. She is currently serving on the board of The Young Clergy Women Project. Sarah lives in Adrian with her odd but lovable rescue dog, Molly, and has long lamented missing her kindergarten Valentine's party due to a bad case of the chicken pox.
---
Image by:
Rubyran
Used with
permission
https://media.myworshiptimes31.com/wp-content/uploads/sites/3/2016/01/29170030/2263839331_c0706b968f_z.jpg
426
640
Sarah E. Ross
https://youngclergywomen.org/wp-content/uploads/sites/3/2017/05/YCWILogo_Vert_Black-300x229.png
Sarah E. Ross
2016-02-11 04:00:30
2018-11-13 11:36:45
Valentine's Survival for the Single Rev