---
Post Author: Katherine Willis Pershey
To celebrate the release of her book Very Married: Field Notes on Love and Fidelity, the author will send a free copy to one randomly selected winner. To enter the giveaway, leave a comment, sharing one way that you show love in a covenant relationship. The winner will be selected by the author at random on September 27, 2016.
---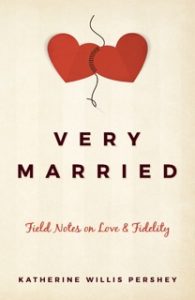 The other day I had a mortifying experience at the local breakfast cafe. A friend and I had met to go over plans for the party she's planning to celebrate the release of my forthcoming book, Very Married: Field Notes on Love and Fidelity. On our way out, we passed a table of teachers from the elementary school. As we chatted, the purpose of our lunch date came up. Of course one of the women asked about my book. I froze and frantically glanced at my friend for help, but she's on board to help with party favors, not elevator speeches. She laughed, nervously, "We're still working on that."
When I'm not paralyzed by fleeting waves of social anxiety, I could tell you that Very Married is an apologia for marriage, one that is candid about the agony, ecstasy, and tedium of wedlock. I could tell you that it's a blend of cultural commentary, theological reflection, and personal narrative. I could even mention that I received the invitation to write the book after I wrote an article for the Christian Century that became the magazine's most-read article online in 2015.
But that confident description of the book is laced with subtext – subtext which is largely responsible for my persistent unease. That tidy phrase, "personal narrative?" It means what you think it means: my book about marriage is largely rooted in stories about my marriage. It's not quite a memoir, but it is decidedly memoir-ish. I experienced searing vulnerability when I published my first memoir-ish book a few years ago. That one was mostly about motherhood, but it was my few forays into the territory of our marriage that made me feel truly exposed.
Marriage is so freaking complicated. There's sex and finances and housework and in-laws. There's fighting, and fighting, and fighting, and fighting. There's co-parenting, sometimes. We usually only catch the slimmest glimpse of what other people's marriages are like; the rest of the relationship is profoundly private. Until someone like me comes along and uses her own marriage as material.
The thing about using one's own marriage as material is, of course, that marriage is not a solitary pursuit. To write about my marriage is to write about our marriage.
Reader, meet Benjamin.
I don't actually call him that in real life. In real life, I call him Ben. When I wrote my first book, however, it struck me as absolutely critical to find a way to acknowledge that while the man I write about is the man with whom I live and love, there's a difference between flesh and foil. When I write about my husband, he becomes a character – a character in a narrative I'm controlling. And not to give too many spoilers, but Benjamin is a complicated character. A brief character sketch: my husband is a ruggedly handsome redhead, a recovering alcoholic, a devoted Cleveland Browns fan, and a great dad. He suffers from cluster headaches, which are generally considered to be one of the most painful conditions a person can have; their nickname is "suicide headaches." He lived for years with undiagnosed depression (did you know that depression frequently manifests differently in men than in women?). A few years he ago started a course of medication and therapy that has been transformative. Even still, he can be irritable and withdrawn.
This is the thing: you can't write an honest book about being married to a fairly difficult person without throwing that fairly difficult person pretty far under the tires of the proverbial bus. But I think the reason that early readers seem to be responding so positively to my book is that I am willing to fling myself under that bus just as mercilessly.
I'm not qualified to write a marriage book because we've had such an easy marriage. I'm qualified to write a marriage book because we haven't – but we've managed to wrest remarkable wisdom from our many fumbles and failures.
It goes without saying that I wouldn't have been able to write Very Married without the blessing of my ruggedly handsome redhead. That Ben continues to offer me wholesale permission to write our story blows my mind. For all of my struggles with the vulnerability of personal writing, I'd choose narrating my own story over being a character in somebody else's version of the truth any day. But my husband wants to be of service even when it costs him a portion of his pride.
And the fact of the matter is this: no matter how many misgivings I might have about publishing an intimate portrait of our marriage, no matter how badly I will stammer when I have to actually talk about the book, I believe that these field notes will be of service. I believe that my testimony of covenant, struggle, temptation, fidelity, and redemption gives glory to God. I believe that people who normally can't stomach marriage books stuffed with advice and agenda will find something altogether new in my "field notes on love and fidelity."
Maybe that's my new elevator speech: Very Married is a marriage book for people who usually hate marriage books.
---
Katherine Willis Pershey is an Associate Pastor at First Congregational Church of Western Springs, Illinois. She is the author of Any Day a Beautiful Change: A Story of Faith and Family and Very Married: Field Notes on Love and Fidelity.
---
Image by:
Herald Press
Used with
permission
https://media.myworshiptimes31.com/wp-content/uploads/sites/3/2016/09/29165917/VeryMarried_cover_final-1.jpeg
320
208
Katherine Willis Pershey
https://youngclergywomen.org/wp-content/uploads/sites/3/2017/05/YCWILogo_Vert_Black-300x229.png
Katherine Willis Pershey
2016-09-20 04:00:09
2018-11-13 11:35:36
Very Married