---
Post Author: Rev. Alexis D. Vina
The Gospel According to Rev. Lexi D. Vina are fictional tales based on the real lives of young clergy women, weaving in the wisdom of our favorite authors.
---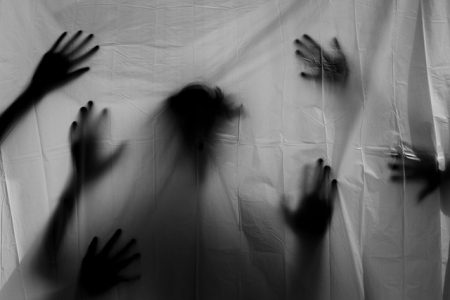 I could fall in love with a politician. I did. It happened. As forbidden and secret as it may be, it is the secret that I keep tucked in by my political hope at night. But they don't make a t-shirt that celebrates the love of retired clergy. If they did, I wouldn't wear it because this man is my nightmare.
I don't really remember how it started. I don't think I was sent to bed without dinner. I can't imagine that this sort of nightmare emerged from the recesses of my brain. Perhaps this is the kind of mischief that arrives in your third month in ministry. This may be the testing that one must endure in the wilderness of the third month of a call. Or this could just be the unfulfilled grief of a miserable old man.
The mischief may have started sooner. I only remember that one night when Jack Night lurked into my office. It was late. I had spent the day drinking tea from so many different sets of old china that I was jittery. Coherent thoughts were not possible – no matter how warmed I was by the energy that the greatest generation instilled in me. So it may have been a nightmare. But there he was.
Jack Night had just returned from visiting his daughter. They had gone to her church together, he told me. A church in our denomination, he added. On his way home from whatever retired clergy do late at night, he wanted to talk about the fateful end of our denomination.
Jack was a wild thing, right there in my office. I watched as all of those creatures from that storybook manifested themselves in his thin frame. He danced ghoulishly across my office with his rant. Up and down my walls, he crawled with his words. While the caffeine blended with exhaustion, I wondered if he had always been a monster tormenting young clergy women with their ranting insistence upon the right way of order and worship. Maybe I was just the lucky one. The lack of denominational gossip affirmed my suspicion that he had served God faithfully but not all that well. I didn't know the number of churches or their locations. I didn't know him as the minister he had been. I only knew him as the wild thing in my office.
I escaped from this nightmare to seek happier dreams. I resisted the temptation to learn vodou. I harbored my forbidden and secret desires to excommunicate him. I was trying to be faithful. I was trying – with all of my heart and soul – to love this wild thing.
Nothing had yet proved that absence makes the heart grow fonder even as Jack disappeared into the night. I didn't see him in worship or even my dreams. It seemed my nightmare had vanished until a neatly printed envelope arrived in the mail addressed to the Rev. Alexis Daphne Vina. With fear and trembling, I opened the envelope to discover a small treatise by the Rev. Jack Night. An attached post-it explained:
Some thoughts you should share.
J.N.
It was my turn to crawl the walls like a monster as I skimmed these typed pages addressed to me. In these pages, Jack articulated his hope of the Church. He cited the failures, the joys, and then some more failures. His late-night rant had accumulated into to a thick stack of paper that did not reflect upon his own failures and successes in ministry. Instead, Jack hoped that I would share these thoughts about my failures and successes in the first six months of my ministry. He had acquired three more months of data to prove his point. Though I wasn't mentioned by name nor was the name of the congregation, he offered his insights and expertise – because obviously I needed and wanted to learn from his years of experience in ministry.
My heart had not grown fonder. Jack was officially my nightmare. And the mischief wasn't over yet.
---
The Rev. Alexis Daphne Vina is a 30-year-old recently divorced woman serving God in a suburban context. Having recently been called to Corinth, Lexi navigates through the joys and frustrations of ordained young woman.
Some of her stories are based in reality with lots of flair – but most of Lexi's stories are our stories as she tells the stories of various authors doing what God has called us to do.
---
Image by:
nmagwood
Used with
permission
https://media.myworshiptimes31.com/wp-content/uploads/sites/3/2008/05/29165201/hands-silhouetted-behind-sheet.jpg
426
640
Rev. Alexis D. Vina
https://youngclergywomen.org/wp-content/uploads/sites/3/2017/05/YCWILogo_Vert_Black-300x229.png
Rev. Alexis D. Vina
2008-05-06 01:00:00
2019-04-07 18:38:26
Where the Wild Things Are