---
Post Author: Mary Davila
---
I am a newcomer.
That is an identity that I haven't worn in 18 years.  But as a newly-staying-at-home mom who also happens to be an Episcopal priest, a priest whose family spent several months seeking a church home, I see church through new eyes….the eyes of one sitting in a pew.
My husband, two year old daughter, and I have visited about ten churches in the past three months. I am here to tell you that you all are doing a great job—the preaching has been very, very good, I am inspired by the opportunities for engagement in my own spiritual formation and that of my daughter and husband, and I see plenty of places where I can jump in to serve the wider community and world in the name of Christ.
But what I don't know, is where to find the nursery. Or the bathroom. And I'm not sure where to park, or if you expect me to volunteer in the nursery, or if you consider me a member of your church.
When I reflect on my time as a parish priest, specifically one who worked with children and youth, there are a few things of which I so wish I had been more aware.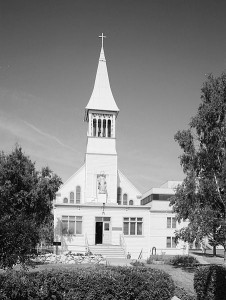 Signs, Signs, Everywhere Signs (or not)
Once my GPS has finished its work and I am parked somewhere near your church, I am 100% at your mercy. God blessed me with an excellent sense of direction, but even I don't know where to go. Churches have many, many different entrances, at least 600 per church, and most bear not one sign. We newcomers really do read signs. Maybe ask some folks who don't worship at your church to do a site visit, and have them tell you where they need direction. Those signs are a welcome sight for a newcomer, and they speak volumes about the hospitality of a congregation.
First Responders
Now that I have made my way into your church, I might need a little more direction from a live human being. I might need to know where a certain Sunday school classroom is or where the bathroom is. Churches are doing a much better job of appointing people to serve as "greeters," a separate ministry from "ushering." The challenge is that these greeters like to talk—with each other! I like that people are happy to see each other! But they forget to welcome newcomers! Train your greeters to be on the lookout for newcomers and to make a step towards us. (We are easy to pick out. We look lost and gravitate to the pews in the back.)
First Responders Part II
I was in charge of our church's childcare ministry. I've been the one to receive the 8:55 phone call saying no one can work in the nursery at the 9:00 service. These things happen. And not every church has the finances or the ethos to offer childcare during worship, and that is okay. But, if your church does have a nursery, know that it is both a wonderful gift and an awesome responsibility. We newcomers are nervous about leaving our most precious treasures with you. If you are calm (not rushing in a minute before the service starts), ask about allergies, ask about preferences around being called if our child is upset, and ask about pottying, we will rest much easier. I sat through one service not listening to one word because I was worried about my child. A calm, professional, warm childcare provider makes a hugely positive impression!
Website
Not every church has a website, but if yours does, keep it up to date. Yes, a nice, crisp website is a good start. But if the information is outdated, the value of having a website is severely compromised. An outdated website does not a good first impression make.
Vocabulary
Even those of us who are well versed in church talk are sometimes at a loss when it comes to announcements about ministry gatherings. For example, "St. Margaret's is meeting on Sunday, March 3, at 5:00 in the Parlor. Newcomers welcome!" I am wracking my brain to remember who St. Margaret is, and what the focus of her namesake group might therefore be. Many announcements use insider language. The person who proofs announcements serves newcomers well by asking if the language is inviting or informational to those who have forgotten Saints 101.
Expectations
My final thought is that the "welcome" stage is but the first phase of embracing newcomers. The second phase is newcomer integration. Now that we've decided to make yours our church home, what are you going to do with us? What are we supposed to be doing? Pledging? Transferring our membership? Volunteering in the nursery? Making cookies for coffee hour? I dare say, the newcomer integration part is probably more critical than the original welcome. We newly-committed newcomers are nervous that we're not doing something that we're supposed to be doing. Tell us what you expect from us, whether that is via newcomers classes, being connected to other members who can shepherd us, or a meeting with the clergy.
Welcoming newcomers is intentional work, and it takes time, training, and money. And, it's often difficult for existing church members to have an objective perspective about their congregation, because they already speak the language and know every nook and cranny of the building. Don't be afraid to visit other churches (hard for clergy) or have members of the newcomers committee visit other churches to walk in the shoes of a visitor. Or, think about the most hospitable places in your town (ours is probably the YMCA), and talk about what it is that makes those places feel so warm and welcoming. Then, do what they do! In the eyes of a newcomer, a little bit….a sign, a "Hi, can I help you?" or "Does your child have any allergies?"…. goes a very long way.
---
https://media.myworshiptimes31.com/wp-content/uploads/sites/3/2013/04/29170823/452px-Immaculate_Conception_Roman_Catholic_Church_115_North_Cushman_Street_Fairbanks_Fairbanks_North_Star_Borough_Alaska.jpg
599
452
Mary Davila
https://youngclergywomen.org/wp-content/uploads/sites/3/2017/05/YCWILogo_Vert_Black-300x229.png
Mary Davila
2013-04-25 04:00:20
2018-11-13 11:45:56
A View From the Pew