---
Post Author: Askie
---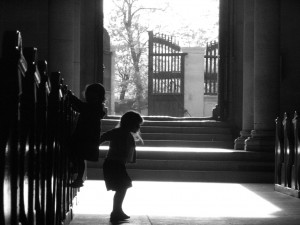 Dear Askie,
My husband and I are both clergy, and parents of three kids, ages 3, 5, and 6. Although we're a clergy couple, we never actually both had Sunday morning churches until recently. (I stayed home with the kids when the first two were babies, and then I pastored a church and he worked as a chaplain; now, we're each pastoring a congregation.) When only one of us was working as a pastor, the other one would get the kids ready and bring them to church. Now that we're both working Sunday mornings, we're struggling. From deciding who gets them ready and which church they're going to, to supervising them during the long stretch of pre- and post-worship activities — not to mention dealing with congregants' expectations that our children be perfect angels all the time, and handling actual misbehavior — we are totally overwhelmed. We know that other clergy couples do this, though. How do they do it, Askie? How?
-Frazzled Pastor Mom
Dear Pastor Mom,
This is one of those really weird aspects of pastoral ministry… There aren't many other professions where people are expected to bring their children along on the busiest work day of each week! Askie's clergy couple colleagues have some good news and some bad news for you. The bad news is that it might never be easy — Sunday mornings are tricky for almost all pastors and PK's. The good news is that getting through Sundays with two pastor parents and multiple children can be done!
Your Sunday morning strategies will likely evolve based on your children's ages and changes in your respective congregations. As you discern what will work for this season of your family's life, give some thought to what your values as a family are about children and church…How important is it to you that your children attend church each week? Do you prefer it to be the same church every time? Will all of your kids go with only one parent? How do you feel about having them in worship versus children's programming/childcare? Once you decide what your hopes for them are, you can better determine how to approach Sunday mornings as a clergy family.
After thinking through your values, you probably need to think about your respective congregations' cultures around children, pastors, and church. What childcare and family ministries do each of your congregations already offer? Do they want your children to be present, or is there anxiety about your children distracting you from your work? What experiences with previous pastors might color their perceptions and expectations of your family? You might not be able to meet their expectations (and you might not want to), but thinking through your churches' cultures about children will help you assess how best to navigate Sunday mornings.
Of course, you should probably ask your children what their hopes and preferences are as well. You may not be able to give them exactly what they want, but seeking their input will help them feel included and may give you valuable information.
Once you've thought through the (likely conflicting) hopes, expectations, and preferences of the various parties involved, you'll need to decide on your approach, knowing that you can change it if it doesn't work. Here are a few strategies that have worked for other clergy couples and their kids:
Assess your children's ministries: Think about which of your needs your church's children's ministries are meeting, and where you're filling in the gaps. You may have needs that are unique to the pastor's family, or your struggles may point out places where your congregations can better meet the needs of families. If you're struggling to get through pre-worship programming and post-worship meetings with children in tow, maybe there are other parents who would appreciate having church-provided childcare at those times as well.
Rely on your faith family: In denominations that baptize or dedicate children, the whole church promises to raise them in the faith, and that goes for your children, too. One way that many clergy couples handle Sunday mornings is identifying trusted church members who can be "pew pals" with their kids while mom or dad is leading worship. The dynamics around this one can be tricky: sometimes people are offended not to be asked; sometimes congregational leadership sees this as the pastor "imposing" on congregants; sometimes a "pew pal" or parent finds that this arrangement isn't quite what they were hoping for. So tread lightly and thoughtfully, but do consider this as a possibility. If it works well, it can be very meaningful for everyone involved!
Divide and conquer: Some clergy parents have had success with splitting their kids up on Sunday mornings. One parent takes one, the other takes the other two. This works especially well if your churches have strengths with different age groups (for instance, if one of your churches has lots of preschoolers and a great Sunday school for that age group). It also can be a good approach if you're dealing with a lot of Sunday morning sibling squabbles.
Seek (paid) support: Some families find that, at least for a season, hiring a babysitter is the best option for getting everyone through Sunday morning with a manageable level of chaos. If it's financially feasible and you are still struggling to figure out how to manage the logistics of two pastor-parents and three kids, this might be your answer. Ideally, the sitter can come to your home before you leave, get your kids fed, dressed, and to church, supervise them there, and if necessary take them home while you wrap up. It might feel like overkill, but you may find that having plenty of support on Sunday mornings allows you and your spouse to pastor more effectively, and your children to have a less stressful church experience… and isn't that what we all need?
If you, your spouse, and your three kids figure out how to make Sunday mornings easy, fulfilling, and holy, Pastor Mom, please let us all know your secret! But if you don't, know that you're in good company. I hope that your congregations are understanding, your kids are cooperative, and your Sunday mornings get easier.
Blessings,
Askie
---
Image by:
James Doepp
Used with
permission
https://media.myworshiptimes31.com/wp-content/uploads/sites/3/2015/10/29170101/159308752_a4e58a5e57_b.jpg
768
1024
Askie
https://youngclergywomen.org/wp-content/uploads/sites/3/2017/05/YCWILogo_Vert_Black-300x229.png
Askie
2015-11-03 04:00:50
2018-11-13 11:37:17
Ask a Young Clergy Woman: PK's in the Pews Edition