---
Post Author: Askie
---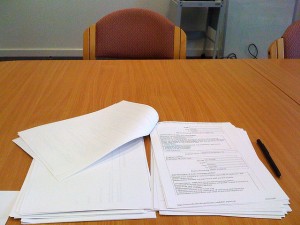 Dear Askie,
I'm a UCC laywoman serving on my church's search committee as we try to discern who God is calling to be our next pastor. I'm also a working mom of two kids (ages 9 and 13), so I've been through some of the difficulties that face working moms. I think that's why I've been particularly concerned that our search process be fair and appropriate to female candidates, especially female candidates who have young children, or might become mothers during their pastorate here. We haven't had a woman as a settled pastor here yet, but we did have a wonderful sabbatical interim who was a woman whose children were grown and "out of the nest." I think that the congregation would be open to calling a female pastor, but I'm a little worried about some of the things other members of the search committee have said about young female candidates as we've read through their information: "I wonder if she'd be able to give this work her full attention?" "Does she mention whether she has children?" "I don't know if she'd make the kind of commitment to a long-term pastorate that we're looking for." It sounds to me like thinly-veiled assumptions that a young clergy mom would be less committed or less available than a man or an older woman, and it rubs me the wrong way. What can I do to make sure we give young clergy women a fair shake?
Thanks,
Searching for a (YCW) Pastor
Dear Searching,
Thank God for you. This question makes Askie's heart sing because it is so encouraging to know that thoughtful, faithful Christian moms (and others) are out there on search committees, trying to make sure we young clergy women get a chance to do the work we're called to.
First of all, Searching, I hope you get some support from your denomination. Since you're UCC, it's likely that you have an Associate Conference Minister or someone similar who is available to help with your search process. Part of that person's job is to be attentive to the overt and subtle ways that prejudices can influence your search process. I would draw their attention to what you've heard, and ask them to work with you to make sure that young female candidates aren't discriminated against.
I'd also encourage you to start challenging some of those assumptions about young female candidates as soon and often as possible, so that your committee has given these issues some thought before interviewing candidates. Many incredibly gifted YCWs have said "thanks but no thanks" to churches because they sat down to talk about God and ministry, but ended up answering questions about their reproductive plans or childcare arrangements. A church that telegraphs "no moms in the pulpit" throws up red flags that may cause a pastor who would be a great match for your church to end the interview process.
When another member of the search committee makes a remark or asks a question you find troubling, try asking them to elaborate. Aim for a tone that is curious rather than combative, as you invite them to explore the assumptions underlying their words. You might ask, "What do you think might prevent her from giving her work her full attention?" or, "Why wouldn't she make a long-term commitment?" or simply, "I'm not sure I understand. Can you say more?"
As you help guide your committee toward openness to God's best fit for your congregation, here are a few thoughts that might help the more "old school" members rethink their assumptions about clergy moms:
We are all whole people: Mothers of young children are not the only ones who struggle with work/life balance. All of us—young and old, male and female, parents and non-parents, pastors and laypeople—have other parts of our life beyond our work. And that is a very good thing! God creates us as multi-faceted, multi-dimensional people, and we are called to live fully and richly. That means that there should be things that your pastor loves and devotes time and attention to beyond the church. Perhaps she is a mom to young children; perhaps he is caring for an aging parent; perhaps she runs marathons and trains every day, rain or shine; perhaps his deepest joy is volunteering at a Malawian orphanage he travels to twice a year. These are not "distractions" from pastoral ministry. Rather, our commitments outside the church broaden our perspective. They inform our ministry. And they allow us to model a life guided not by the demands of an employer, but by our desire to live fully into the gifts and passions God has entrusted to us.
Familial roles are shifting: While search committees sometimes wonder whether a pastor who is also a mom will be able to give the church her full attention, they tend to assume that a pastor who is also a dad won't face the same challenges. These assumptions rely on dated cultural norms of families with a working father, a stay-at-home mother, and a division of labor based on traditional gender roles. Even fifty or sixty years ago, not every family conformed to that image. These days, few families do. Most two-parent families are also two-income families, and many clergy dads take a more active co-parenting role than your average sitcom dad. Long story short, a clergy dad might prioritize his family more than you would expect (and good for him!), and a clergy mom might have more support from her spouse or her family than your search committee is envisioning.
Pastor-mothers offer unique gifts: It's easy to imagine the drawbacks of having a pastor who is a mom, or who might become one: she might have to take maternity leave. There might be days when her child is sick or childcare has fallen through, and her work may be affected. She might be reluctant to attend as many weekend and evening events as the church would like. It can be harder to picture how motherhood might enrich her ministry to your church, but I promise it will! Maybe bringing an infant with her on nursing home visits will brighten the days of elderly women and men. Maybe her conflict resolution skills are sharper because she uses them daily to mediate disputes between her five-year-old and her six-year-old. Maybe she will be able to pastor more effectively to parents and families in your congregation because of their shared experiences.
The Kingdom of God: Secular employers tend to see working and parenting as conflicting roles, and to stake out their claims on employees' time and attention. But the church is called to model a better way. By being the kind of church that embraces and celebrates your pastor's family and commitments, whatever they are, your congregation can do just that. You can be the kind of community that shows what it looks like to value people for all their gifts, talents, roles, and responsibilities, in all seasons of life. Who wouldn't want to be part of a church like that?
Best of luck, Searching. Prayers for you, your search committee, and your congregation.
Blessings,
Askie
---
Image by:
David Davies
Used with
permission
https://media.myworshiptimes31.com/wp-content/uploads/sites/3/2015/07/29170208/3288235207_959eebbf7d_z.jpg
480
640
Askie
https://youngclergywomen.org/wp-content/uploads/sites/3/2017/05/YCWILogo_Vert_Black-300x229.png
Askie
2015-07-02 04:00:13
2018-11-13 11:38:34
Ask a Young Clergy Woman: Search & Call Edition