---
Post Author: Askie with Guest Columnist Layton Williams
---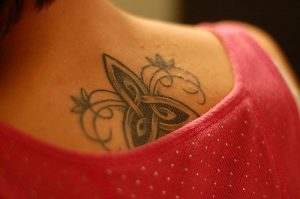 Dear Askie,
I'm in my first call as a Presbyterian minister. My congregation is a small, wonderful group of folks, mostly older, all over the theological spectrum, who do great work with hunger ministries and refugee ministries. I've been thinking about getting a tattoo, and I'm worried about what they would think about it – it would be something that's of personal religious significance to me, but not obviously religious. If having a tattoo would be a huge impediment to my ministry, I'd like to take that into consideration. But I'm just not sure, and I don't want to ask my congregation because I don't want them to think that they get to make the decision for me. Most of the people I go to for ministry advice are folks of a certain generation, ones I fear might have a knee-jerk reaction to a question about being a pastor with a tattoo. What would you do?
Sincerely,
Rev. Blank Canvas
Dear Blank Canvas,
No matter what you decide, you are not the only one. While a tattooed pastor might have been unheard of a few decades ago, younger clergy enjoy somewhat more freedom when it comes to tattoos and piercings. While Askie admires the tattoos of her colleagues, she herself remains, for now, uninked, so she's called in some reinforcements for this question. Our guest columnist, Rev. Layton Williams, is Pastoral Resident at Fourth Presbyterian Church in Chicago. Layton writes:
Hi, Blank Canvas. I'm excited for you that you're considering a tattoo! I believe they can be a beautiful and meaningful method of self-expression. I also respect you for thinking about how such a permanent decision may impact your ministry. For better or worse, those of us in ministry are subjected to a level of scrutiny (even about our bodies) that most people aren't –and we each have to decide how to manage that scrutiny. That said, there are plenty of pastors like me who have tattoos, so you would be in good company!
I got my first tattoo when I was 21, long before I decided to pursue ministry. I now have six tattoos, with plans to get at least one more. I got three of mine during seminary, and two more during my first call. Personally, I believe very strongly that nobody gets to decide what happens to my body except me. Still, I knew that having tattoos would likely impact some people's impression of me, and may even affect my job prospects in ministry. I decided that if a tattoo would be enough to keep me from getting hired at a church, I was okay with not being considered for a position there, because we would likely have more significant divergences of opinion and approach.
That said, I was thoughtful about where on my body I got my tattoos and what they looked like. Several of mine are on my ankles and are therefore easily made visible, but also not hard to hide when necessary. Two are almost always hidden. Only one of my tattoos is difficult to hide because it's on my wrist. When I got that tattoo (a trinity knot that celebrated my graduation from seminary), I made the decision to get it in grey ink rather than black. I did this primarily for one reason: the tattoo felt very connected to my presiding at Table, but I didn't want it to be a distraction to others while offering Communion. In grey ink, it is considerably less noticeable, especially at a distance.
I work at a large, relatively progressive church, and in my two years here I don't believe I've had anyone comment negatively on my tattoos. However, I haven't hidden them, and I've been prepared to respond to any questions that people might ask or concerns they might express. Rather than spending a lot of time defending my ink, I've actually been able to have a number of meaningful conversations with congregants and others about why my tattoos are significant to me. Each of my tattoos has a story behind it, and most of them are tied to my faith. They've provided me with a surprising invitation to share my faith story and values with others, which has opened the door for others to share with me in turn. I wouldn't want it any other way!
My advice is to decide what makes sense for you and move forward unapologetically. I would think carefully about what you want and where, but don't overthink it. Believe it or not, my least favorite tattoo is the one I planned for the longest.  Think about the contexts in which your tattoo might spark reaction and whether you're willing to share your story when people are curious. Be prepared to be asked why you would permanently mark your body and how you could ever choose something so lasting, but also trust yourself and your own reasoning. The only answer to those questions that matters is the answer you decide for yourself. Good luck to you!
So there you have it, Blank Canvas. While having a tattoo could have a possible professional impact (positive or negative), and while your body is your own, the reality is that you'll need to weigh the balance of the decision to get inked for yourself. Choosing designs, locations, and ink colors that are more easily concealed is an option, but as Layton notes, there's also a likelihood that your visible tattoo(s) will open up space to talk about your journey, your theology, and your identity with congregants and others. No matter what you decide, Blank Canvas, may God richly bless you and your ministry!
Blessings,
Askie
---
Layton E. Williams is a writer, activist, and PC(USA) minister working at the intersection of faith, justice, progressive policy, and culture. She has just completed a two-year pastoral residency at Fourth Presbyterian Church in Chicago, and is relocating to Washington, D.C., to pursue work in faith-based advocacy.
---
Image by:
Sawyer Pangborn
Used with
permission
https://media.myworshiptimes31.com/wp-content/uploads/sites/3/2016/08/29165929/2834571741_8c0b73f7df_z.jpg
332
500
Askie with Guest Columnist Layton Williams
https://youngclergywomen.org/wp-content/uploads/sites/3/2017/05/YCWILogo_Vert_Black-300x229.png
Askie with Guest Columnist Layton Williams
2016-08-02 04:00:44
2018-11-13 11:35:37
Ask a Young Clergy Woman: Inked Edition