---
Post Author: Courtney Young
---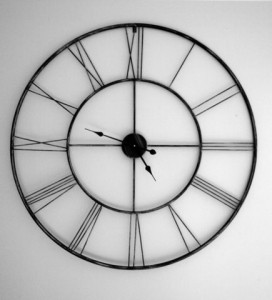 May 17 – Almost exactly five years after my husband proposed to me, we flipped over a pregnancy test to see a small plus sign.  In that moment our life changed.  We had taken one huge step toward being parents.  I found myself between simply being an adult who could focus almost completely on my wants and needs, on my plans, and being a mother who must consider the wants and needs of this unknown child.
May 20 – I graduated from seminary with my M.Div.  After attending my husband's graduation from pharmacy school the year before and seeing how that day marked the achievement of all that he had worked for – his Pharm.D. – I was ready for my special day.  I was ready to receive my own velvety hood.  I was ready to hold my over-sized and embellished diploma and place it in the specially bought frame.  I was ready to no longer be Mrs. Young but the Rev. Young.  I was ready to hear the resounding trumpets sound to tell the world what I had done, what I had become, but they never sounded.  Though I felt like the sky should turn gold to tell all the world all the papers I had written, all the hoops I had jumped through, graduation was a little underwhelming.  The hoods were narrower and less lustrous than I had expected.  The diploma was smaller and plainer than I had imagined.  The lack of superfluous language and no mention of my emphasis left me deflated.  The bookstore didn't even sell diploma frames.  My title wouldn't change until after I was called to a specific church and ordained.  I just wanted something to cling to that told the world that I was different.  I had changed.
In reality, graduation catapulted me between.  Now I existed in some space between being a pastor and being a parishioner.  I had my M.Div., but wasn't ordained.  I still lived on seminary campus.  I still had the same student worker job.  I was still just waiting for a bishop or church call committee member to call me and say, "We might have something here."  Until that moment, I waited to complete my metamorphosis into the Rev. Young.
June 23 – My husband and I moved from our home on seminary campus sandwiched between Minneapolis and St. Paul to an apartment in a small town where my husband has his job.  We moved with no intention of being there long since I had not been cleared to accept a call in the area.  We moved so that we could continue to wait for our new church home to appear.  We moved to a place between our two homes – our home at seminary and our new home by our church.  Now I am trying to do more than just exist in this town and enjoy my time while knowing that this is temporary.
In the course of one whirlwind month, I have found myself between so many aspects of life.  I am almost a mother, almost a pastor, and almost home.  But not yet.  And, as seminary has trained me to always ask, where is God in all of this?
All I can say as the seasons change and I am still waiting for a call, is that I have no idea.  And that is okay.  Seminary also trained me not to pretend like I have all the answers.
During my between time, I have been reading a few more of Anne McCaffrey's dragonrider stories set in the world of Pern.  In these stories, the dragons have the ability to teleport, but it is not instantaneous. After the dragon and their rider blink away from their departure point, but before arriving at their destination, they enter a place called between.  Between is frigid and lightless, with no air to breathe.
I feel like one of those dragonriders carried between, holding my breath until I come out the other side where I am a confident and loving mother and a capable and encouraging pastor, where I am home.  And hopefully God will make some modicum of sense again.
Until then, I'm counting the seconds to see just how far God is taking me – one…two…three…
photo credit: Nina Matthews Photography via photopin cc
---
https://media.myworshiptimes31.com/wp-content/uploads/sites/3/2012/11/29170923/clock.jpg
480
435
Courtney Young
https://youngclergywomen.org/wp-content/uploads/sites/3/2017/05/YCWILogo_Vert_Black-300x229.png
Courtney Young
2012-11-27 04:00:08
2019-08-20 16:54:38
Between