---
Post Author: Emily Mitchell
---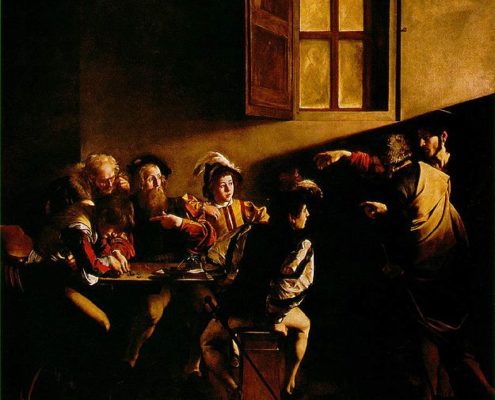 This past summer, I explored Rome for an afternoon during a layover, and I prioritized visiting the San Luigi dei Francesi church where three paintings by Caravaggio hang. I became fascinated by one of Caravaggio's paintings there in particular: "The Calling of Saint Matthew." It depicts Matthew 9:9, which says, "As Jesus was walking along, he saw a man called Matthew sitting at the tax booth; and he said to him, 'Follow me.'"
For the last decade, I've frequently drawn upon the tradition of Lectio Divina but less so upon Visuo Divina, the practice of prayerfully considering an image or visual representation in order to experience the divine. I am therefore grateful that God shook me out of the haziness of my playing tourist on a humid August day. In the midst of my fatigue and my feelings of being overwhelmed (so little time in Rome; so much to see!), the Holy Spirit invited me to stop and consider the truth of this painting by Caravaggio.
On the right side of the painting, Jesus gestures towards Matthew. Bathed in light, Matthew points to himself, expressing surprise. I, too, was surprised. Caravaggio decided to place Jesus largely in shadows. One can clearly tell which man is Jesus because of a faint but luminous halo around his head, but, really, it's so dark around Christ that all one can see are his cheek, ear, neck, wrist, and right hand; everything else is obscured. I found this strangely encouraging. For me, ministry has been less than satisfying of late. Too often I feel like a functionary chained to my desk instead of a pastor. Sometimes it feels like the call of Jesus has been obscured by my busyness and attention to the urgent tasks at hand. Things have been a bit dusky and gloomy: the money changers' table is drenched with light and the person of God is…not so much. Caravaggio's painting reminded me that Jesus may be on the margins of our lives, dimly visible, but he is still present. He is still gesturing towards us, choosing us, regarding us as worthy to join him.
In the painting, Jesus and his companion are dressed in first-century clothing. Unlike Jesus, Matthew is wearing the attire of the 16th century, which is contemporary to the time of Caravaggio. I learned from the literature at the church that this was Caravaggio's way of being evangelistic, making known that Jesus continues to call people today and the viewer of the painting, like Matthew, must respond in the present age.
Pope Francis shared that when he was younger and living in Rome, he would visit the church often to contemplate the painting. He resonated with Matthew, saying, "This is me, a sinner on whom the Lord has turned his gaze." I pray that we, too, would find ourselves in the story of Christ calling Matthew, the sinful tax collector. Though we may be initially incredulous of his beckoning towards us sinners, God is indeed beckoning and turning the Lord's healing gaze in our direction. I pray that we would not respond with inactivity or disobedience but rather with faith. God has called each of us. Let us open our eyes and peer into the shadows of our busy lives. Jesus waits there, calling us to follow.
---
Emily began as Associate Pastor of First Presbyterian Church in Maumee, Ohio, in 2015. She previously served as a pastoral resident at Bellevue Presbyterian in Washington State. She holds degrees from Princeton Theological Seminary and Whitman College.
Emily grew up in Seattle; therefore, she recycles, makes her own granola and enjoys spending time outdoors. She averages reading over 25 books a year.
---
Image by:
Wikimedia Commons
Used with
permission
https://media.myworshiptimes31.com/wp-content/uploads/sites/3/2016/12/29165847/calling-of-st-matthew-featured.jpeg
200
300
Emily Mitchell
https://youngclergywomen.org/wp-content/uploads/sites/3/2017/05/YCWILogo_Vert_Black-300x229.png
Emily Mitchell
2016-12-15 07:57:52
2018-11-13 11:34:55
Called from the Shadows