---
Post Author: Mariclair Partee
Leading up to the election, Fidelia's Sisters will publish articles written with a political flair. We will consider what it means to be political, to be clergy and to be young women.
---
"Election Day Communion- Tuesday,  Nov 6 at 12:15PM in the upper chapel. As our nation goes to the polls, let us gather at God's table- not as Republicans, Democrats, or Independents, but as brothers and sisters in Christ".
"Election Day Communion- Tuesday,  Nov 6 at 12:15PM in the upper chapel- As our nation goes to the polls, let us gather at God's table to celebrate that we are all one in Christ".
"Election Day Communion- Tuesday, Nov 6 at 12:15PM, Upper Chapel. In the midst of a day of elections, let us gather without regard to political affiliation, but as brothers and sisters in Christ sharing in the One Body and the One Bread."
"Election Day Communion-12:15PM in the upper chapel, Tuesday, Nov. 6"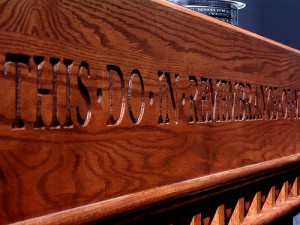 As I tried to craft the perfect non-partisan, guaranteed-not-to-get-anyone's-dander-up bulletin announcement, I began to wonder if joining my congregation in the nationwide celebration of Election Day Communion was a good idea after all. If I couldn't even manage a two line description of it without worrying someone would think I was being "political", how was I going to manage an entire service, including a sermon, designed very much to make a statement in a nation at the polls?
It seemed like a great idea when I first heard about it. Congregations across the country gathering on November 6 to share the holiest meal- not to support one candidate or another, but to do quite the opposite, something that, at its heart, is much more controversial. To say loud and clear, "We are Christians before all else, and we will not be turned against each other by the political machine." To quote a passage from the website www.electiondaycommunion.org,
On November 6, 2012, Election Day, we will exercise our right to choose. Some of us will choose to vote for Barack Obama. Some of us will choose to vote for Mitt Romney. Some of us will choose to vote for another candidate. Some of us will choose not to vote. During the day of November 6, 2012, we will make different choices for different reasons, hoping for different results. But…while our nation turns its attention to the outcome of the presidential election, let's again choose differently. But this time, let's do it together.

Let's meet at the same table,

with the same host,

to remember the same things."
Election Day Communion, while ecumenical in its intent, was the brainchild of two Mennonite pastors. The genesis was a thought almost all of us in the religion business have had at one time or another during this most recent round of campaigning, debates,  news coverage, commercials, forwarded emails from family and friends that cause increasing shock or dismay and possible rethinking of future holiday plans, etc.- how do we rise above the activism and the sometimes aggressive language on all sides, and remember that the most important figure in all of our lives isn't the President, or a Congressperson, but Jesus Christ? How do we remind each other that as Christians, before we can talk about political platforms, we have to live into God's new commandment to love God above all else, and love our neighbors as ourselves? The answer is simple: we stand beside each other at the Lord's table, reciting the prayers that Christians have prayed in one form or another for two thousand years, speaking words that have outlasted empires and all manner of human institutions, and take, bless, break, and share.
I'm a proud priest in a mainline denomination well known for its emphasis on living out the Gospel, preaching justice rooted in God's love – I couldn't believe someone else had beat me to this simple idea. But now that I was looking at the reality of what hosting an Election Day Communion service might look like in my congregation, I started to worry. What if someone misunderstands and thinks that I am taking sides? What if the poll workers who volunteer in our lower chapel every election think we are trying to disrupt their work, or somehow endorse a political candidate or party? Will we get an angry call from the IRS? Will my head of staff get angry calls from members about me?
I'll have to let you know, since I've decided the message at the heart of this celebration is worth all of those risks. This Election Day, I will stand with members of my congregation, and members of congregations across the country, and reaffirm that Gentile or Jew, slave or free, male or female, Republican, Democrat, Independent, or Other- we are all one in Christ Jesus.
---
Mariclair Partee is the Canon for the Ministry of the Baptized at the Episcopal Cathedral Church of the Nativity in Bethlehem, PA, and will proudly exercise her right to delete forwarded emails and avoid all political Facebook commentary until Nov. 7.
---
Image by:
pastorbuhro
Used with
permission
https://media.myworshiptimes31.com/wp-content/uploads/sites/3/2012/10/29170956/medium_9608022.jpg
375
500
Mariclair Partee
https://youngclergywomen.org/wp-content/uploads/sites/3/2017/05/YCWILogo_Vert_Black-300x229.png
Mariclair Partee
2012-10-16 04:00:30
2018-11-13 11:46:39
Election Day Communion