---
Post Author: Name withheld
---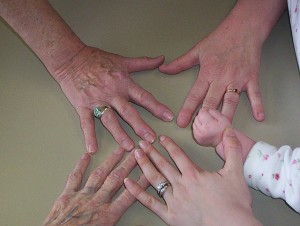 I come from a long line of strong women. While our last names and family trees follow the men in our lives; there is a deep current that runs through the women in my family.
I am the great-granddaughter of Marie, who was born in 1892, and went on to raise 3 daughters and 6 sons. She died before I was born, but I've come to know her through the stories that have been passed down to me, and in what I witness in the lives of her adult children. In them, I see women who were raised to believe they are valuable and love. They could expect equality in marriage and be women who work, marry, and raise children. The men they marry should be faithful men of God, strong, loving and good. And that being in good relationship with God, and serving Christ was of utmost importance – and that treating others with love, value and respect is one way that we live faithful Christian lives.
I am the granddaughter of Elizabeth, who was born in 1921, and went on to raise 3 daughters and 5 sons; teaching them to be people of integrity. She taught them to be leaders in their work and in the church, and modeled it by being a lay leader within the church at a time before women were ordained. She taught them to take a stand for equality and that all people are children of God. She modeled this through advocating for her adopted Korean daughters during a time when race relations in rural America were divisive. Significantly, she also modeled the importance of community, of worshiping and serving Christ together, even as we disagree in our beliefs, in how we vote, in what we drink at dinner, or in how we raise our children. That Sunday morning needn't be, as Martin Luther King Jr called it, the "most segregated hour in America"; but that Sunday morning could be the time where we are united in Christ, hoping that one day this unity would remain long after the benediction.
I am the daughter of Elaine, who was born in 1958, and went on to raise 2 daughters and 1 son. She taught us to be confident, opinionated, and empathetic. She taught us that faith and discipleship is lived out in the world: wiping the tears of a grieving spouse, stopping to provide aid to the stranded car on the road, picking up the check for dinner for the family who's crops didn't make it, or telling and retelling stories to loved ones in the memory care unit.
I am Amelia, the next generation in this great line, born in 1984. Early in my life, long before I'd ever seen a woman preach or preside over the sacraments, I knew that God was calling me to be a pastor. I played pastor the way that most young girls school or house: my Barbies were congregation members, my blanket became my first stole. In so many ways, I believed I was not only following God's call to enter ministry; but was also fully living into the lineage of women in my life. Equipped with all of the lessons I'd inherited from the women in my family, I'd teach people to love God and serve their neighbor; I'd encourage people to be caring, to stand for equality, to expect all people to be treated with respect and love. And I'd do so not only because of my call, but because of the women who prepared me for it. I am proud to be part of a denomination that shares my belief that all people have been created in the image and likeness of God – and  whether male or female, old or young, whether gay or straight – all are loved, valued, and part of God's good creation. And I am hopeful that one day, I will live in a state, a country, and a world that recognizes and embraces this as well.
And here is the painful truth of the long line of strong women I am part of: not all the women in my life agree with me. Not every generation of women in my life believes in marriage equality; instead upholding a "love the sinner, not the sin" theology. The respectful, conflict-averse, Scandinavian part of me focused on living in community with my family, silently holding my beliefs while "respecting my elders".
Until one day, during a discussion on the marriage amendment that will be on our state's ballot in November, Grandma asked: "Do you believe two men should be allowed to marry?" And I was faced with a decision: to remain silent and avoid the question, or to speak truth in love. Bravely, I chose the latter: "Yes, Grandma, I do. I believe that God created us to live in community with one another and rejoices with us when we find someone to share our life with, male or female." My honesty caused her to gasp; giving me a sense of relief and fear. But the response I heard, coming from the woman I hoped to one day name my daughter after, was a bullet to the heart. "Well I am glad I do not attend your church. And I don't think, if you truly believe that is what God intends, that you should be a pastor."
I held back tears, anger and hurt; knowing that I had hurt her just as much as Grandma's words hurt me. I swallowed the lump in the my throat, and spoke three words: "I love you." It's the only thing I could muster, needing to both remember and declare these words. Those painful words came from one woman, with one voice; but what I felt was a sudden disconnect in the family line. That suddenly all of the things that  generations of  women taught me were the same things that suddenly separated me from them.
This was the moment I learned the dangers of being a recipient of such strength. Because it meant that I had been taught and empowered to speak my mind, to love all people, and to work for equality; even in times and in places where the very women who modeled these values for me didn't approve. And it reminded me of the danger of responding to God's call. Because when I responded to God's call on my life, I chose to live a life that honors God and all of God's creation; dedicating my life to sharing Christ's love with all people. No exceptions.
I've realized that despite the painful response I received, in word and in deed, in that very moment I was living into the long line of strong women in which I have been born. That my courage, convictions, and understanding of equality are precisely the values shown to me through the women in my life; and in speaking these hard truths, I am making my mark and fulfilling my role as the next generation.
I am Amelia, the next generation of a great line of women, born in 1984 – who will, I pray, one day raise a beautiful and wise daughter to carry on this heritage. I pray that when that day comes, I will teach her to be a faithful, daring, beloved child of God. And just as the women before her, to stand for equality, justice, and  love in the unique way the church and world needs. I pray that she will have the strength and courage to make a stand, even if her words cause her Mother, Grandmother, or Great-Grandmother to gasp; and in doing so – may she know, that she is not only responding to God's call on her life, but that she too is fulfilling her role as the next generation of strong women.
Editor's Note: Leading up to the election, Fidelia's Sisters will publish articles written with a political flair. We will consider what it means to be political, to be clergy and to be young women.
Photo credit: scooteroo2002 via photopin cc
---
https://media.myworshiptimes31.com/wp-content/uploads/sites/3/2012/10/29170954/generations-hands.jpg
483
640
Name withheld
https://youngclergywomen.org/wp-content/uploads/sites/3/2017/05/YCWILogo_Vert_Black-300x229.png
Name withheld
2012-10-18 04:00:43
2018-11-13 11:46:39
Generation to Generation