---
Post Author: Katie Yahns
---
Flip to a scene of Thanksgiving or Christmas festivities with family and friends gathered around, laughing and joking, preparing to finally chow down on turkey and stuffing and pie, until one lone person raises the question: "So, who's going to say grace?" And the entire room falls silent in an attempt to de-volunteer.  Another holiday role emerges, less public but just as valuable: the designated pray-er.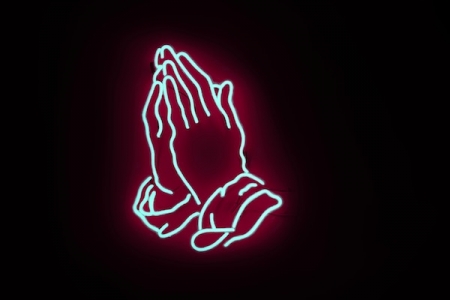 The designated pray-er (DP), like the designated driver (DD), has become a crucial role for many families. The DD takes on sobriety in order to ensure the safety of all. The DP assumes a mantle of leadership and ritual that allows festivity to be carried out in the name of God. And both positions have the distinction of being cherished most by those who do not occupy them.
It's easiest to find a DP if you can find someone in your family who actually enjoys praying out loud. Another alternative is to establish a DP based on someone's position within a family. You might choose the matriarch or patriarch of your clan, or let the honor rest with the person hosting the meal. Others might cast lots for the privilege, or draw numbers from a hat, or come up with another equitable way to share the responsibility. If all else fails, there's always the time-honored solution of waiting until the silence becomes unbearable for someone, who bursts out with, "Okay, I'll do it!"
My family has been lucky enough to have a DP for as long as I can remember: my uncle. Sometimes self-elected, sometimes asked by the host or hostess, he is often the de facto choice. He is, after all, a responsible oldest-child type and the crown patriarch after his father passed away twenty-nine years ago. Not only that, he actually enjoys the responsibility. He owns it. He takes it very seriously. He IS
the Prayer Master. He frequently becomes emotional while engaging in prayer. One Thanksgiving, my cousin actually said, "My dad has disappeared into my room with the Bible and a dictionary…I'm not
quite sure what we're going to get."
So perhaps you can imagine what happened when I announced I was going to seminary to study to become a pastor. Perhaps you can imagine the way my emerging identity sent the established role of designated pray-er into a bit of a tailspin. Perhaps you can imagine the new confusion over who was going to be saying grace before family meals. After all, pastors become pastors because they love to pray in public, right? (Hint: Not always.)
To my uncle's credit, he was more than happy to share the responsibility of being the DP. He repeatedly invited me to say grace before the family meal, to the point of urging me to please take a turn. And I deeply appreciate the gesture — to say through this action that I, too, had a right to be the Prayer Master, the designated pray-er, and it was not a role that was his to monopolize.
But now I wonder: Why is it that we are loath to accept power like this? Because for whatever reason, I did not want this role of DP. As much as it goes against my ecclesiology and my hopes for family, I wanted to continue participating in a system where one person could wear the mantle of holiness and do the praying for us all. Perhaps in some sense it was easier for me to continue on as before; a young woman, low on the power scale and uneasy with "grabbing" more. But most of all, I wanted a break, at least for a day, from being paid to pray.
Bearing the power and responsibility of prayer like this is exhausting. And Thanksgiving and Christmas nostalgia apparently means, for me, a return to those days when I was no different from anyone else gathered around the table; a time before I was marked by the collar or the stole. Holidays — holy days — for me are a chance to remind myself of my humanity, my commonality with others, and to celebrate
the fact that God called me, not some Prayer Master version of me, to this ministry.
But I have a feeling that one day, whether I like it or not, I will inherit the role of designated pray-er. Let's hope that day is far in the future.
---
The Rev. Katie Yahns is not merely "paid to pray," but is also called to serve as the pastor of two small-ish Lutheran churches in western New York state. A transplanted native of the Pacific Northwest, she will jump on a plane early Christmas morning to be at Christmas dinner with her family and once again receive the gift of prayer from her uncle.
---
Image by:
Chris Liverani
Used with
permission
https://media.myworshiptimes31.com/wp-content/uploads/sites/3/2007/11/29165107/prayer-hands-neon-ones-we-love-katie-yahns.jpeg
400
600
Katie Yahns
https://youngclergywomen.org/wp-content/uploads/sites/3/2017/05/YCWILogo_Vert_Black-300x229.png
Katie Yahns
2007-11-15 05:00:00
2019-05-29 23:07:59
It's Not Too Late to Designate